Afghanistan May Get 2,000 Trainers for Forces, NATO Chief Says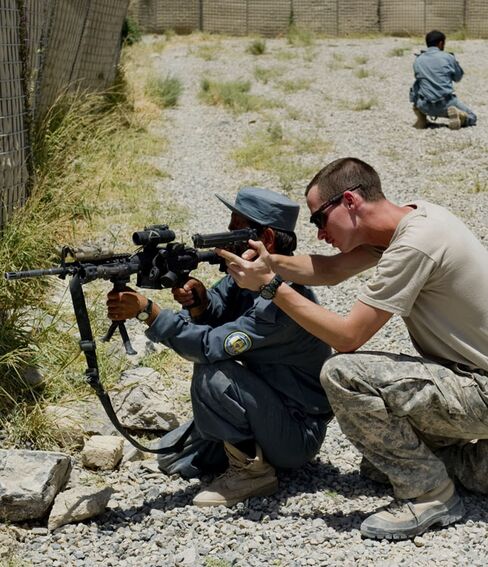 NATO Secretary General Anders Fogh Rasmussen said U.S. partners in the Afghan war may provide 2,000 more personnel to train the country's soldiers and police in preparation for a transition of control starting next year.
"There is no contradiction between a request for more trainers and a gradual transition to lead Afghan responsibility to start next year," Rasmussen told reporters in Washington today during a visit to meet President Barack Obama at the White House. "On the contrary, you might say that trainers are the ticket to transition."
The U.S. needs the 46 other nations fighting in the NATO-led coalition to provide more trainers to complement the 30,000 troops Obama authorized for combat and training duties in December. The quantity and quality of trained Afghan security forces will help determine the pace of a gradual drawdown that Obama has said will begin in July.
NATO members and other allies in the war contributed an additional 7,000 troops in December after Obama announced his decision to increase the number of U.S. forces to almost 100,000. Most of those troops are on the ground, and additional pledges may occur before the 28 heads of state in the North Atlantic Treaty Organization are due to meet in Lisbon on Nov. 19-20.
The NATO alliance probably will announce a plan at the meeting for a transition to Afghan control starting next year, as political leaders face electorates tiring of the nine-year conflict.
Progress on Corruption
Any transition will take time and will be based on conditions on the ground, including progress on corruption and the quality and quantity of Afghan forces.
"We will not leave until we have finished our job," Rasmussen said.
Afghan national police officers number about 109,000 and 134,000 soldiers have completed training for the Afghan National Army, for a total security force of 243,000.
The coalition has a goal of expanding that number to 304,000 by late next year, a target made more difficult by attrition rates even after the government began paying higher wages this year.
The U.S. and its partners are fighting to reverse gains by the Taliban, which harbored al-Qaeda before the U.S.-led invasion in the wake of the Sept. 11, 2001, attacks on New York and the Pentagon.
The coalition aims to strengthen Afghanistan's government and security forces to take control, and is pressing the Afghan leadership to crack down on corruption and improve governance.
Rasmussen also condemned reported plans by a church in Florida, the Dove World Outreach Center, to burn copies of the Koran to mark the ninth anniversary of the Sept. 11 attacks. Any backlash against the move may endanger the safety of coalition troops in Afghanistan, he said.
"I strongly condemn that," Rasmussen said. "I think such actions are in strong contradiction with all the values we stand for and fight for."