Gillard's 'Ferrari' Web Plan Returns Her to Power in Australia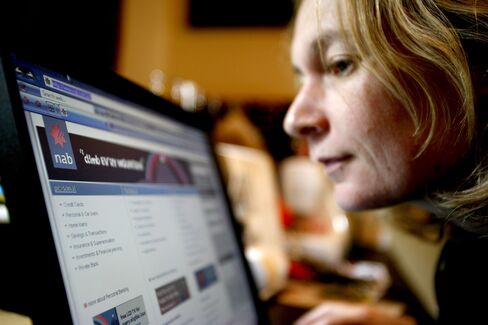 Prime Minister Julia Gillard's proposal to bring high-speed Internet access to Australia's remotest corners helped her win the support she needed to secure power as the head of a minority government.
Independent lawmakers Tony Windsor and Rob Oakeshott, who represent districts outside major cities, both cited the planned A$43 billion ($39 billion) fiber-optic National Broadband Network as helping push them into Gillard's camp. Their backing gave her incumbent Labor Party the 76 lower house seats it needed to form an administration after the Aug. 21 election delivered a hung parliament.
"You do it once, you do it right and you do it with fiber," Windsor told reporters in Canberra yesterday, referring to the web project. "There is an enormous opportunity for regional Australians to engage with the infrastructure of this century."
Tony Abbott's opposition Liberal-National party coalition, which proposed spending A$6.3 billion on a rival plan, failed to convince the independents to support what he called an "affordable" alternative.
The debate over broadband symbolized the challenge of connecting people and providing services in the world's most sparsely populated continent, according to analyst Zareh Ghazarian.
"It is the opportunity for rural and regional Australians to get something on parity with city dwellers," said Ghazarian, a political analyst at Deakin University in Melbourne. "There is a tendency in regional areas of getting substandard government services, whether it's rail or hospitals or broadband," said Ghazarian, co-author of "Australian Politics for Dummies."
'Ferrari' Option
James Spenceley, Chief Executive Officer of internet provider Vocus Communications Ltd., likens the NBN to the performance and price of a Ferrari. As for the Abbott plan, he viewed it more like the General Motors Co. Commodore, the nation's top selling car and about one tenth the price.
"If you went to Australians and said the government will fund giving everyone a Ferrari, nobody would complain," Spencely said in a telephone interview. "In reality most Australians choose to drive a Commodore not a Ferrari."
Labor won 71 seats in the 150-seat House of Representatives. It leads in the only district in doubt and forged agreements with Greens Party member Adam Bandt and independent lawmaker Andrew Wilkie before the deal with Oakeshott and Windsor.
Abbott won 73 seats and gained support from the remaining independent Bob Katter.
Rural Funding
Gillard, Australia's first female prime minister, and the independents agreed to a A$10 billion package for regional development, which will give priority to construction of the NBN in rural areas as well as funding for health and hospitals.
Labor's broadband network is scheduled to be completed by 2018, laying fiber that would reach 93 percent of the population at a speed of 100 megabits per second while the rest would be served by wireless and satellite.
"NBN will bring forward the introduction of wireless services and satellite services so that regional Australia can get access to better broadband straight away," Gillard said in a statement yesterday.
It will be the nation's biggest single infrastructure project and will cost more than the A$42 billion stimulus package Labor announced in Feb. 2009 as it sought to protect Australia from the global recession.
Telstra Deal
"It is not yet clear what concessions have been made to the independents, but we think it likely that the NBN rollout will focus on rural Australia," Kevin Noonan, research director at telecommunications consultant Ovum, said in e-mailed comments yesterday.
The Labor policy includes a non-binding agreement with Melbourne-based Telstra Corp., the nation's biggest phone company, to shut down its rival copper wire network and transfer customers to the NBN in exchange for an A$11 billion compensation package.
"When it comes to purely future-proofing the country there is only one way to do it and that is fiber optic," said Theo Maas, who helps manage A$5 billion of equities at Arnhem Investment Management in Sydney. "The big questions is what happens with the compensation agreement with Telstra."
Under the coalition plan Telstra would have kept its copper wire network, where its profit margins are widest. The compensation agreement still has to be approved by investors and the nation's antitrust regulator.
"The current non-binding financial heads of agreement is a fair outcome but it's only at the early stages," Telstra Chief Executive Officer David Thodey said in an interview with Bloomberg Television this week. "We have repeatedly said we are apolitical and will work with any government of the day."