Transneft Risks Downgrade on Sale, Bonds Sink: Russia Credit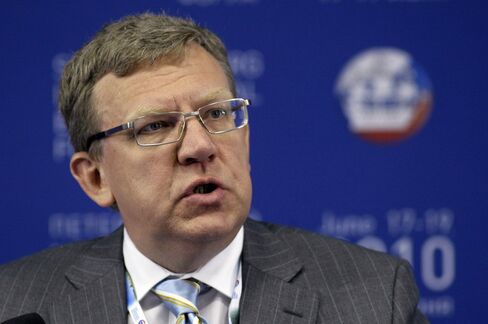 OAO Transneft bonds are sliding as the Russian government's plan to sell a stake in the oil pipeline operator threatens to trigger credit rating downgrades.
A slump in Transneft's dollar bonds due March 2014 pushed up the yield to 4.23 percent from an all-time low of 3.5 percent on Aug. 16, according to data compiled by Bloomberg. The yield is 28 basis points below similar-maturity bonds of OAO Gazprom, the gas export monopoly that's 51 percent owned by the government, compared with a gap of 74 basis points on Aug. 31.
Finance Minister Alexei Kudrin is seeking to raise $29 billion by selling shares in 10 of Russia's largest companies, including Transneft, to help plug its budget deficit. Transneft Chief Executive Officer Nikolai Tokarev said Sept. 3 the stake sale would be the "worst thing" as the company may have to repay $4 billion of Eurobonds at higher rates. A decline in the government's holding may prompt lower debt ratings, Standard & Poor's analyst Andrey Nikolaev said in an interview yesterday.
"There is an uncertainty premium built in the price," said Michael Schmid, who helps manage $5.5 billion of bonds for Credit Suisse Asset Management in Zurich, including Transneft debt. "If they want to reduce their stake, then the next question will be to what level do they want to reduce it and over what time? If that was something that could happen immediately, then definitely that would make us reassess the viability of the positions in some of the portfolios."
The government owns 100 percent of Transneft shares that provide voting rights and 78 percent the equity capital, Transneft spokesman Igor Dyomin said by telephone from Moscow today. The stake sale would trigger clauses forcing the repayment of Eurobonds should the state's control fall below 75 percent, Tokarev said in response to questions from Bloomberg.
China Pipeline
Transneft's projects include some of Prime Minister Vladimir Putin's key initiatives to expand Russian exports, including a pipeline to China and the Pacific region. Transneft and state-run OAO Rosneft, Russia's largest oil producer, will begin delivering 15 million tons of oil a year to China from 2011 as part of the 770 billion-ruble East-Siberian Pacific Ocean pipeline project. China Development Bank Corp. provided Transneft with a $10 billion loan to help fund construction last year.
Transneft listed borrowings and lease obligations totalling 528 billion rubles ($17.2 billion) as of March 31, according to a financial statement on its website.
"Having a sovereign rating like Russia, one of the highest, gives us the chance to take credit at minimal rates," Tokarev said. A stake sale would mean "different rates, different terms. For us it would be a serious loss of money," he said.
Three-Year Plan
The state will seek to sell shares in Transneft over the next three years to help cut its budget deficit to 2.9 percent of gross domestic product by 2013, from 5.4 percent this year, Kudrin said July 28.
Prosperity Capital Management, based in Moscow, and East Capital Holding AB of Stockholm, Russia's two largest portfolio fund managers, and Bermuda-based commodity investment manager Vostok Nafta Investment Ltd. urged Putin to sell 25 percent of Transneft, according to a letter dated Aug. 6.
As well as raising an estimated 150 billion rubles, the sale would turn Transneft into a "proper company with investor meetings, regular phone calls with analysts, a dividend policy and its price-to-earnings would then catch up on its peers," said Denis Evstratenko, associate director at Prosperity Capital, which has $4 billion in assets under management.
'Strategic' Status
Transneft is rated BBB at Standard & Poor's, the second lowest investment-grade ranking, and Baa1 at Moody's Investors Service, the third lowest. Gazprom has the same ratings.
"If the government's share in Transneft decreases it may have a negative impact on our assessment of potential government support and potentially the rating," S&P's Nikolaev said in a phone interview from Moscow.
The government is unlikely to significantly reduce its stake in Transneft, given its "strategic" status, according to Marina Vlasenko, a credit analyst at Commerzbank AG in London.
"Transneft is a natural monopoly and I think the government will not go below 75 percent participation," Vlasenko said by e-mail yesterday.
The narrowing yield difference between Gazprom and Transneft is partly because of "increased demand" for the natural gas company after it tripled its first-quarter profit, Vlasenko said.
Ruble, NDFs
The ruble slid 0.6 percent to 30.8038 per dollar today. Non-deliverable forwards, or NDFs, which provide a guide to expectations of currency movements and interest rate differentials and allow companies to hedge against currency movements, show the ruble at 31.0137 per dollar in three months.
The yield on Russia's dollar bonds due in 2020 was little changed at 4.622 percent, near the lowest level since Aug. 23. The price of country's ruble notes due November 2014 was unchanged, leaving the yield at 6.85 percent.
The cost of protecting Russian debt against non-payment for five years using credit-default swaps rose four basis points to 166, according to data provider CMA. The contracts pay the buyer face value in exchange for the underlying securities or the cash equivalent should a government or company fail to adhere to its debt agreements.
Russia credit-default swaps cost the same as the contracts for Turkey, which is rated four levels lower at Ba2 by Moody's. Russia swaps cost as much as 40 basis points less on April 20.
Stand-Alone Rating
The extra yield investors demand to hold Russian debt rather than U.S. Treasuries rose 7 basis points to 220, according to JPMorgan Chase & Co.'s EMBI+ Indexes. That compares with 162 for debt of similarly rated Mexico and 219 for Brazil, which is rated two steps lower at Baa3 by Moody's.
The so-called yield spread on Russian bonds is 63 basis points below the average for emerging markets, down from a 15-month high of 105 in February, according to JPMorgan Indexes.
Without the government's support, Transneft would be rated BBB-, the lowest investment-grade level by S&P.
The state's stake "is one of the important factors we are looking at when we assign ratings to a government-related entity like Transneft," said S&P's Nikolaev.