Shenzhen Marks 30 Years as Pioneer of China Reforms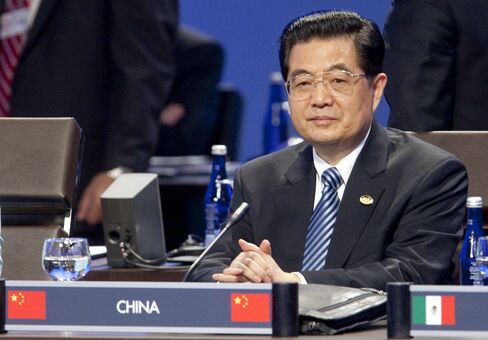 Shenzhen marked its 30th anniversary as the cradle of China's capitalist reform with a gathering of top Communist Party officials and company executives including President Hu Jintao and Hong Kong's richest man Li Ka-Shing.
China will uphold the southern city's position as a "special economic zone," Hu said today at a ceremony in the city. "The central government will continue to support the development of special economic zones as a first experimenter and a brave innovator."
Late Chinese leader Deng Xiaoping's orders to create a special economic zone in Shenzhen sparked the reforms that would transform the nation's economy into the world's second-biggest and turn the city from a cluster of fishing villages with a population of 30,000 into a metropolis of 8.9 million. Shenzhen, which opened China's first stock exchange for start ups in October, continues to be a location for economic trials.
Shenzhen, located in the southern Chinese province of Guangdong bordering Hong Kong, will continue to bolster its reforms and to lead the nation's opening to the outside world, Guangdong Communist Party chief Wang Yang said at the ceremony.
Deng proposed establishing "special economic zones" in 1979. By August 1980, Shenzhen, Zhuhai and Shantou within Guangdong had received that designation. Among other measures, tax subsidies were granted to attract Hong Kong manufacturing tycoons and foreign direct investment.
Continued Reform
A decade later, Deng famously visited Shenzhen in 1992, during which he reaffirmed through a series of speeches China's commitment to continuing economic reform. A statue of Deng stands in front of Shenzhen's stock exchange, which has more than 1,000 listed companies and counted total initial public offering proceeds of 154.3 billion yuan (US$22.7 billion) in this year's first half.
China's economy has grown more than 90-times in the three decades since Deng's reforms began. The nation surpassed Japan as the world's second-largest economy in the second quarter of this year. Hu praised Deng in his remarks today.
The Shenzhen Stock Exchange, smaller of China's two equities markets after Shanghai, was established Dec. 1, 1990, is focused at supporting the development of small- and medium-sized businesses as well as China's national strategy of independent innovation.
The exchange launched the Small and Medium Enterprises Board (SEM board), an independent segment of the main board, in May 2004. The ChiNext market, a Nasdaq-like start-up board which has fewer listing requirements than the two main boards in Shanghai and Shenzhen, began trading in October 2009.
Shenzhen's future as an international city is just "around the corner," said billionaire Li, chairman of Cheung Kong Holdings Ltd.
Before it's here, it's on the Bloomberg Terminal.
LEARN MORE