London Subway Workers' Strike to Disrupt Travelers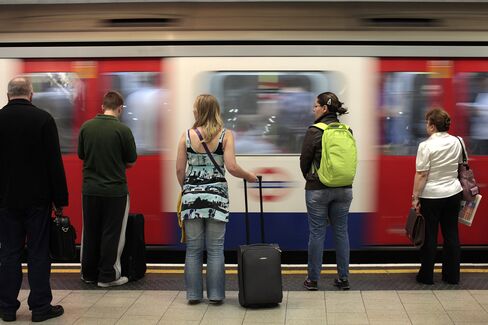 London's 3.5 million Tube travelers face disruption today, with as many as 10,000 of the subway's drivers, station staff and engineers staging the first of a series of 24-hour strikes over employment cuts.
The walkout protesting against 800 job eliminations and restricted hours for ticket offices started at 5 p.m. after talks broke down last week. London Mayor Boris Johnson called in 100 extra buses and a 500-berth boat that will carry 10,000 people on the River Thames to help commuters.
The stoppage, the fourth to shut the London Underground since 2002, may cost the economy 48 million pounds ($74 million), according to estimates by the London Chamber of Commerce and Industry. Picket lines will appear at all main stations and depots, and the action will cause "wholesale disruption to services across the entire Tube network," according to Geoff Martin, a spokesman for the Rail, Maritime and Transport Union.
"I pumped up my bike last night," said Ali Sadiq of Wimbledon, a UBS AG employee in the City, London's financial district, who said he hasn't used his fold-up bicycle for six months. "Now I'm ready."
Maintenance and engineering workers walked out at 5 p.m. They were followed four hours later by drivers, signalers and station workers. More stoppages are scheduled for Oct. 3, Nov. 2 and Nov. 28. London Underground employs about 19,000 workers.
'Huge Disruption'
"London can ill afford disruption to its transport network at the best of times, but with economic conditions as tough as they are, this will put further strain on businesses when they need it least," said Helen Hill, director of policy at the London Chamber of Commerce and Industry. There will still be "huge disruption" even with Transport for London's plans for extra services, she said.
Some locations across the city will have organized cycle escorts, and volunteers will be positioned at subway, bus and rail stations to help Londoners with their journeys. Marshals will also be stationed at taxi stands, said TFL, which oversees the capital's transport network.
"I'm going to use overland train and Boris Bikes," said Philip Moore, 21, a consultant for Great East London Software Co. He was referring to a London public bike-hire plan started in July. "They'll probably be full, but I'll give it a whirl."
His twin, Russell, of the Bow section of London, said he'll be riding his own bike. "I'd been meaning to start; it's a good excuse to get going," he said.
Public Finances
In a separate dispute over pay and conditions, some RMT rail workers at Jubilee and Northern line depots began a 24-hour walkout at 7 p.m. last night. The stoppage didn't affect operations this morning, with no major line disruptions reported, according to Transport for London's website.
"These tube strikes are bad for passengers, bad for business and bad for London," U.K. Transport Secretary Philip Hammond said in a statement. "At a time when public finances are under pressure, strikes by tube workers are seriously damaging and undermine the case we are making within the spending review for continued investment in the tube."
In France, unions are set to strike nationwide tomorrow as lawmakers start debating President Nicolas Sarkozy's bill to raise the retirement age.
The Paris metro says it expects about one in two trains to run, with some lines running normally and others as few as one in four. On the RER commuter network, line "A" will have one train in two, while line "B," which connects the airports to downtown, will be virtually shut.