E.ON, RWE Shares Surge on Merkel's Nuclear Lifeline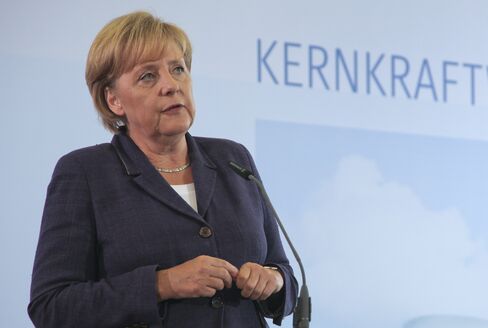 E.ON AG and RWE AG rallied in Frankfurt trading after German Chancellor Angela Merkel's government agreed to extend the lifespan of nuclear-power plants by as much as 14 years in exchange for renewable-energy funding.
E.ON, the country's biggest utility, had its biggest intraday gain since May 27, advancing as much as 3.7 percent. RWE, based in Essen, climbed as much as 3 percent. Before today, the stocks had tumbled 21 percent since the start of the year, putting them among the DAX Index's three biggest losers.
The agreement amounts to a repeal of a 2002 law that would have shut all nuclear plants by about 2022 and allows Merkel to claim she's enacted a key plank in her 2009 re-election campaign. Parties that pushed through the nuclear-shutdown timeline vowed to block or reverse Merkel's policy.
"I think we can say our energy system will be the most efficient and environmentally friendly in the world," Merkel told reporters today in Berlin. She reiterated her party's position that nuclear and coal energy will be used as a "bridge technology" to pave the way for full renewable energy by 2050.
Coalition leaders agreed late yesterday to allow seven reactors built before 1980 to run eight years longer than planned and 10 newer plants to remain open an additional 14 years. That would mean an average extension of 12 years from the original 2022 shutdown date.
Avoiding Opposition
The extension, which will considered by Merkel's Cabinet on Sept. 28, will be written to avoid a vote in the Bundesrat, the upper house of parliament, where the chancellor lacks a majority, Environment Minister Norbert Roettgen said today.
Merkel said she's confident that the agreement has a solid legal foundation and that she takes "seriously" protests decrying the extension as a giveaway to industry and harmful to the environment. Opposition leaders were among those protesting in front of the Federal Chancellery yesterday.
The opposition Social Democratic Party and the Green Party, whose combined support in opinion polls exceeds that of Merkel's coalition, vowed to annul any nuclear-plant operating extension if they win 2013 elections, the Frankfurter Allgemeine newspaper said, citing SPD leader Sigmar Gabriel and Green co-chairwoman Claudia Roth.
Environmental activist group Greenpeace decried the decision and predicted a wave of public unrest and legal challenges to the nuclear extension.
'Grave Mistake'
"This is not only a decision against the environment and putting people's lives at risk, it is also a decision against the German economy," Greenpeace activist Jan Beranek said in an e-mailed statement. "Merkel is making a grave mistake by reversing the gear and Greenpeace will fight it."
Merkel's government last week said the four nuclear power utilities, E.ON, RWE, EnBW Energie Baden-Wuerttemberg AG and Vattenfall AB would pay an atomic fuel tax from next year valued at 2.3 billion euros ($3 billion) annually. Government leaders agreed that the tax will be levied through 2016.
Overall, the agreement will raise 3 billion euros a year to fund research into areas such as energy storage and grid technology. Roettgen said a primary focus will be on building offshore wind installations.
"This is definitely a good result that makes good economic sense. Power will remain affordable while renewable energy will get a new kick-start," said Klaus Breil, the ruling Free Democratic Party energy spokesman, who took part in the talks.
Combined profits at the companies may grow by about 6.4 billion euros for each year that the lifespan of the nuclear plants is extended, the DIW economic institute said in a July 29 report. The government will reap a total of 30 billion euros from the extension, Economy Minister Rainer Bruederle said.
Share Gains
E.ON, based in Dusseldorf, rose 72 cents, or 3.1 percent, to 23.65 euros as of 1:45 p.m. RWE climbed 1.34 euros, or 2.5 percent, to 54.57 euros, and Energie Baden-Wuerttemberg gained 1.30 euros, or 3.6 percent, to 37.40 euros.
Merkel has championed a revival of nuclear power, saying that industry and consumers need affordable electricity until renewable energy prices fall and grid and storage capacity for the power source expands. Germans pay the third-highest rate for power in the 27-state European Union after Denmark and Italy, according to the Energy.EU website.
Merkel's government set a target for renewable energy sources such as wind and solar power to contribute 30 percent of power consumption in Germany by 2020 from about 14 percent last year. Nuclear reactors supplied 23 percent of Germany's power in 2009, according to the Economy Ministry.
While the utilities pressured the coalition to make a quick decision on nuclear power to unlock investment, Cabinet members including Roettgen raised concerns that plant extensions might trigger a legal and political backlash.
Before it's here, it's on the Bloomberg Terminal.
LEARN MORE