Mark Hurd in Talks to Join Oracle as 'Top Executive', WSJ Says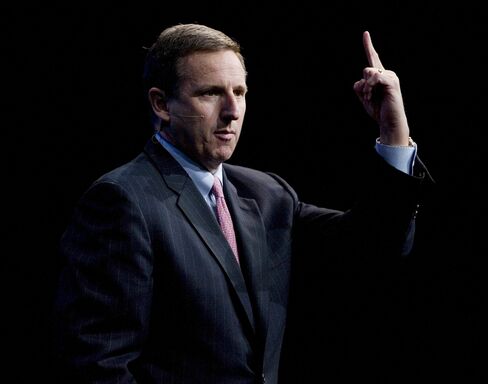 Mark Hurd, who last month stepped down as Hewlett-Packard Co.'s chief executive officer, is in talks to join Oracle Corp. as a "top executive," the Wall Street Journal reported, citing unidentified people familiar with the matter.
Larry Ellison, who founded Oracle and has been the company's only CEO in the more than 30 years since then, won't vacate his position, the newspaper reported. The exact nature of Hurd's post couldn't immediately be learned, the Journal said.
Hurd, 53, resigned from Hewlett-Packard in August following allegations of sexual harassment by a former marketing contractor. Ellison criticized the company's board for letting Hurd go.
Oracle, based in Redwood City, California, is the world's second-biggest software maker.
Val Russell, a U.K.-based spokeswoman for Oracle, said she couldn't immediately comment on the report.
Hurd ran Hewlett-Packard, the world's biggest maker of personal computers and printers, for more than five years. During his tenure, the Palo Alto, California-based company regained leadership in the PC market from Dell Inc. and used acquisitions to expand into new areas, such as computer services. The company's stock-market value almost doubled in that period.
Ellison, who is friends with Hurd, wrote in a letter to the New York Times a week after Hurd stepped down from Hewlett-Packard that: "In losing Mark Hurd, the HP board failed to act in the best interest of HP's employees, shareholders, customers and partners."
Oracle Acquisition Spree
Ellison termed the ouster the "worst personnel decision" since the board of Apple Inc. fired Steve Jobs in 1985.
Ellison, 66, has spent about $42 billion buying 67 companies since January 2005. That spree, including the $7.3 billion purchase of Sun Microsystems Inc. this year, pushed Oracle beyond its hallmark database software. The economic recovery is spurring customers to buy more kinds of Oracle programs even as they pay maintenance fees for software they already own.
Microsoft Corp. is the world's largest software maker.