Stocks Surge, Treasuries, Dollar Retreat on Employment Report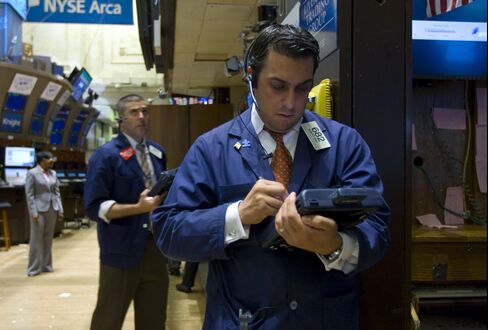 Sept. 3 (Bloomberg) -- Stocks rallied, extending the biggest weekly gain since July for the Standard & Poor's 500 Index, while Treasuries and the dollar fell as better-than-estimated growth in private payrolls bolstered optimism the economy will avoid relapsing into a recession.
The S&P 500 climbed 1.3 percent to 1,104.51 at 4 p.m. in New York, its fourth day of gains in the longest winning streak since July. The MSCI World Index of developed-markets' stocks jumped 1.2 percent. The drop in 10-year Treasuries sent yields up 9 basis points to 2.71 percent, while the dollar, yen and Swiss franc weakened against most major peers and gold fell as investors pursued riskier assets. Wheat and corn led commodities higher after dry August weather dimmed the outlook for supply.
Stocks surged this week, adding about $1.2 trillion to the value of global equities and erasing the Dow Jones Industrial Average's loss for 2010, and Treasuries slid as reports on manufacturing and home sales tempered speculation the economic rebound is in peril. Today's data showed private payrolls excluding government jobs rose by 67,000 after a revised 107,000 increase in July that was more than first estimated, easing concern unemployment will thwart the recovery.
"The fact that the surprise looks broad-based is an indication that slowly, but steadily, we're getting some improvement in the data," said Eric Teal, chief investment officer at First Citizens Bancshares Inc. in Raleigh, North Carolina, which manages $4.5 billion. "Right now the market centers around jobs and housing -- those are going to be the two areas that are going to drive investors. In the market this will generally be viewed as a positive sign."
Financials, Industrials Lead
Stocks pared gains in early trading after a gauge of services fell more than forecast, with benchmark indexes resuming their advance in the afternoon. The Institute for Supply Management's index of U.S. non-manufacturing businesses, which covers about 90 percent of the economy, declined to 51.5 in August from 54.3 the prior month.
The increase in private jobs compares with a forecast gain of 40,000 jobs, according to the median estimate in a Bloomberg survey of economists. Total payrolls, which include government agencies, fell by 54,000, reflecting a 114,000 decrease in temporary census workers.
"It's encouraging to see that the labor market is not deteriorating further," said Jeffrey Kleintop, chief market strategist at LPL Financial Corp. in Boston, which manages $280 billion. "It's not a blowout number, but it provides some instant relief. The numbers suggest this is only a soft spot for the economy rather than a double dip."
Stock Bulls Increase
Indexes of financial and technology companies rose at least 1.7 percent as all 10 industry groups in the S&P 500 advanced. JPMorgan Chase & Co. and Cisco Systems Inc. rallied more than 2.5 percent as all 30 companies in the Dow Jones Industrial Average advanced, sending the gauge up 127.83 points, or 1.2 percent, to 10,447.93 and erasing its decline for the year.
Optimism about U.S. stocks has rebounded from a 17-month low in an Association of Individual Investors survey, increasing by the most since July as economic reports emboldened investors following three straight weekly losses in the S&P 500.
The proportion of investors who anticipate a gain in the next six months jumped to 30.8 percent in the week ended Sept. 1, the biggest increase since the period that ended July 15. That compares with the 17-month low of 20.7 percent the previous week and the historical average of 39 percent, according to the Chicago-based company, which has tracked individual investors' projections since 1987.
'Wild Positive'
"Sentiment was so bad," said Richard Campagna, chairman of 300 North Capital LLC, which manages $600 million in Pasadena, California. "The level of bearishness and fear in the market a week ago was so high that anything that makes it appear that the economy's not getting worse is a wild positive."
The S&P 500 rebounded from its worst August in nine years, rallying 3.8 percent this week. It closed above its average level over the past 50 days for the first time since Aug. 18 yesterday and just under its 100-day moving average today, two inflection points that may signal more gains to investors whose decisions are influenced by chart patterns.
Yields on 30-year U.S. bonds rose 7 basis points to 3.79 percent, while 2-year yields climbed 3 basis points to 0.52 percent.
The U.S. bond market is signaling that the world's largest economy will probably avoid slipping back into a recession. The economy has never contracted with the difference between short-and long-term Treasury yields as wide as it is now.
Yield Curve
That gap, at about 2.19 percentage points for 2- and 10-year notes, signals a recession in the next year is unlikely, according to the Federal Reserve Bank of Cleveland.
A gauge of U.S. corporate credit risk fell for a third day. The Markit CDX North America Investment Grade Index, which investors use to hedge against losses on corporate debt or to speculate on creditworthiness, declined 1.2 basis points to a mid-price of 105.04 basis points, the lowest since Aug. 10. The index typically falls as investor confidence improves.
The Stoxx Europe 600 Index rose 0.9 percent, extending this week's advance to 3.7 percent. Credit Suisse Group AG and BNP Paribas SA led banks higher and Rio Tinto Group paced a rally in raw-material producers. The MSCI Asia Pacific Index climbed 0.6 percent, with the region's exchanges closing before the U.S. jobs data.
The MSCI Emerging Markets Index rose 0.8 percent to extend its five-day gain to 3.5 percent, the biggest weekly advance since early July.
Taiwan, Brazil
Taiwan's benchmark Taiex index climbed the most in a month, led by flat-panel maker Chimei Innolux Corp. on speculation fourth-quarter demand for consumer electronics will improve.
Brazil's Bovespa stock completed its best weekly gain in more than a month, up 1.7 percent over the past five days, as Petroleo Brasileiro SA rallied on speculation a planned equity offering will bolster its oil exploration program, offsetting a plunge by OGX Petroleo & Gas Participacoes SA.
Emerging-market stocks may outperform for the rest of the year as below-trend growth and low inflation in developed nations drive inflows to "healthy" developing economies, JPMorgan Chase & Co. analysts led by Adrian Mowat in Hong Kong wrote in a report today. The MSCI index of emerging markets is up 1.4 percent in 2010, while the S&P 500 is down 1 percent.
Dollar, Yen, Franc
The dollar fell against 13 of 16 major peers and the yen weakened against all but the Swiss franc and Brazilian real. The franc slid against all but the real.
Wheat and corn rallied the most of the 19 components of the Thomson Reuters/Jefferies CRB Commodity Price Index, with December corn futures surging 3.8 percent to a 14-month high of $4.645 a bushel in Chicago.
"We are going to be very tight on supplies into next year," as U.S. corn production falls below projected demand, said Jeff Beal, a market consultant for the Gulke Group Inc. in Rockford, Illinois. "Prices could rally into next year to encourage importers to slow purchases of U.S. corn and provide an incentive for farmers to plant more."
China, the second-biggest user of the crop, may increase imports more than three-fold in 2010-2011 to meet demand and help cool prices, according to estimates from Li Qiang, managing director at Shanghai JC Intelligence Co. The U.S. corn and soybean crops will be smaller than the government predicted in August, though still the biggest ever, as hot, dry weather reduces yields, said Allendale Inc., citing a survey of farmers.
Wheat surged after Russia, the world's third-largest grower, extended a ban on grain exports into next year, raising the prospect of higher food prices that already have sparked riots in Mozambique. Wheat for delivery in December jumped 3.9 percent to $7.4125 a bushel on the Chicago Board of Trade, the third consecutive advance.
The October crude oil contract slipped 0.6 percent to $74.60 a barrel in New York. Crude oil may continue to fall next week as U.S. refineries perform seasonal maintenance, reducing demand, a Bloomberg News survey showed. Fourteen of 34 analysts, or 41 percent, forecast oil will decline through Sept. 10. Ten respondents, or 29 percent, predicted that futures will rise, and 10 projected prices will be little changed.
To contact the reporter on this story: Kelly Bit in New York at kbit@bloomberg.net.
To contact the editor responsible for this story: Nick Baker at nbaker7@bloomberg.net.