Banks Face Costs, Lawsuits in EU Asset-Freeze Law, Lawyers Say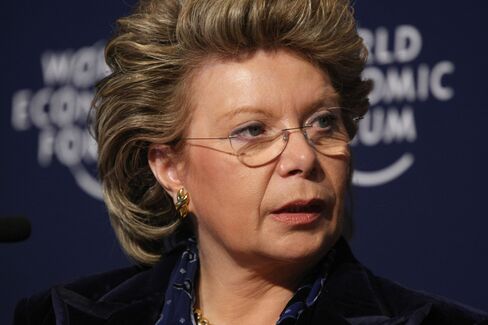 European Union banks may face new costs and liabilities next year under a law allowing claimants to freeze debtors' assets in the bloc with court orders from any EU jurisdiction, lawyers say.
The European Commission wants the proposal in place as soon as March, allowing judges to grant cross-border account freezes in secret and apply them to banks in other EU nations before a debtor is aware of the claim.
The legislative arm of the 27-nation EU says 63 percent of cross-border debt can't be recovered, and it blames a network of diverging national laws and the high cost of winning separate freezes in each country where assets are located. Lawyers aren't convinced the new law will help.
"It's like using a sledge hammer to crack a nut," said Helen Carty, a litigation lawyer with the law firm Clifford Chance LLP in London who has been advising several U.K. banks on the proposal. The law "hasn't been thought through enough and doesn't necessarily serve a public interest."
The commission wants a common procedure for seeking the orders and serving them on banks. The details aren't finalized and the bloc is still conducting an impact-assessment study to determine if bank costs will increase under the new system.
EU Justice Commissioner Viviane Reding has said the current system thwarts justice and hurts the bloc's economic recovery by preventing many claimants from collecting debts.
Cross-Border Litigation
"There is a lack of an effective mechanism for assuring bank account freezes in cross-border litigation," Reding's spokesman, Matthew Newman, said in an interview. "Funds may be moved from one member state to another and there's no way to retrieve them."
Claimants can already sue debtors in any EU country, and apply for separate freezing orders based on where the assets are located. The commission didn't say if the low recovery on cross-border debt is directly related to money being moved before a judgment.
"If this new procedure is intended to deal with a problem of judgment debts going uncollected, it would be useful to have more evidence about the scale and causes of this problem to try to ensure that what is being proposed will solve it," said Mona Vaswani, a lawyer with Allen & Overy LLP in London.
Jon Holland, a banking-litigation lawyer at Hogan Lovells LLP in London, said the law won't cause a "seismic shift" in the amount of cross-border debt recovered, or lead to a big increase in the use of freezing orders.
'Two Different Issues'
"The law is only going to help in the same minority of cases in which freezing orders are obtained already," Holland said in an interview. "If this is about making the enforcement of judgments more efficient, then I think the commission is confusing two different issues."
Without protection for the industry, the law may trigger lawsuits against banks both by claimants and debtors alleging a freeze was implemented too slowly or without enough evidence, said Brian Capon, a spokesman for the British Bankers' Association, a London-based trade group.
"If someone in Poland wants to freeze an account in the U.K., there are time differences, language differences and other barriers that could cause a delay," Capon said. "Would the bank be liable? It might seem straightforward and logical, but that's not always the case when new legislation is introduced."
Those concerns may be addressed if the EU uses rules from English courts, letting banks charge claimants processing fees, according to Hogan Lovells's Holland.
The law was proposed in 2006 and revived in March in response to the financial crisis.
The European Banking Federation, Europe's biggest trade group for the industry, said in filings with the EU that the law should ensure banks are repaid for costs incurred by account seizures and free banks from the need to verify them. The group supports the proposal.
The current system "can be very complex and time consuming," the trade group said in a paper filed with the commission in June. "A European bank attachment order would simplify and speed up the process."
Before it's here, it's on the Bloomberg Terminal.
LEARN MORE