Schnabel Urges Palestine Peace at Screening of 'Miral': Review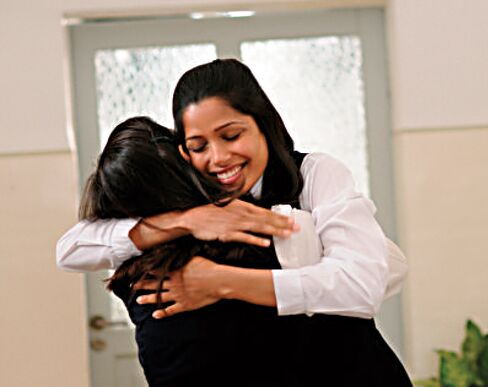 Julian Schnabel, the New York artist and filmmaker, lobbied for peace as he presented "Miral," his movie about the Palestinians, at the Venice Film Festival.
"I think this conflict has to end as soon as possible," he told a mob of reporters after the premiere. "I can't see how an artist can do any worse than politicians have done so far."
Schnabel, 58, in dark glasses and a lumberjack shirt, sat beside his partner, Palestinian journalist Rula Jebreal, 37, who wrote the script and the novel it's based on. "Miral" -- about a motherless Palestinian girl raised in a Jerusalem orphanage -- is largely her story.
The film opens with a dead woman being shrouded for burial. She is Hind Husseini, who in 1948 took 55 orphaned Palestinian girls home and set up the now-famous orphanage where Jebreal and generations of others were schooled and reared, escaping life in the refugee camps.
Husseini is the first of four women portrayed. She is seen picking a gaggle of sobbing kids off the street and giving them lasting care and comfort.
The focus then shifts to Nadia, a teenager sexually abused at home, who runs away and is later jailed for slapping a woman. Her cellmate is the nurse Fatima, arrested for attempting to blow up a movie theater. Nadia marries Fatima's brother, and bears a child who becomes the central character: Miral, played by Freida Pinto (from "Slumdog Millionaire").
Palestinian Issue
Schnabel said he long stayed away from the Israeli-Palestinian issue, because his family were supporters of Israel's creation in 1948, and his mother a member of Hadassah (a volunteer body defined on its website as the Women's Zionist Organization of America). Reading Jebreal's novel "Miral," he said, opened his mind to the Palestinian reality.
"Maybe I spent most of my life receding from going to Israel, receding from my responsibility as a Jewish person," he said.
Schnabel's other movies focused on creative types like himself: New York artist Jean-Michel Basquiat ("Basquiat," 1996); Cuban dissident author Reinaldo Arenas ("Before Night Falls," 2000); and Jean-Dominique Bauby, a French writer-editor crippled everywhere but in his left eye ("The Diving Bell and the Butterfly," 2007). He subtly profiled them, delivering layered, complex close-ups.
Schnabel seems less at ease chronicling recent history -- and a conflict that, by his own admission, he knows little about. He kept Jebreal close by as a living reality check, to determine how things should look and sound. "She acted as an assistant director," he said, describing the effect on some cast members as "very confusing."
Simplistic Melodrama
Perhaps because of the delegating, "Miral" falls short of Schnabel's usual standards. A flatly narrated and sometimes simplistic melodrama, it lacks the mystery and mastery of "Diving Bell." Schnabel's judgment seems blurred by his personal feelings.
Where his talent shines through is in the visual effects. Nadia's abuse is shown through her eyes: A pole representing her bedstead appears on the screen while the camera makes bobbing vertical movements. Subsequent sequences -- a belly dance, a drowning -- are shot in a swooping, hazy style, as if they were hallucinations.
These artistic touches are a highpoint of the film. So are the Arab cast members, who give the story a lived-in quality, and Schnabel's daughter Stella, who has a cameo as a fun-loving, open-minded Israeli girl.
The film's other plus is its timely message: that violence and maximalism are no substitute for dialogue. It's a message Schnabel seeks to convey for the foreseeable future. He told the assembled media that he'd stop making films for a couple of years, the better to promote this one. Rating: ** 1/2.
What the Stars Mean:
****       Excellent
***        Good
**         Average
*          Poor
(No stars) Worthless
(Farah Nayeri writes for Bloomberg News. The opinions expressed are her own.)
Before it's here, it's on the Bloomberg Terminal.
LEARN MORE