Petrobras Plans to Raise $75 Billion in Biggest Sale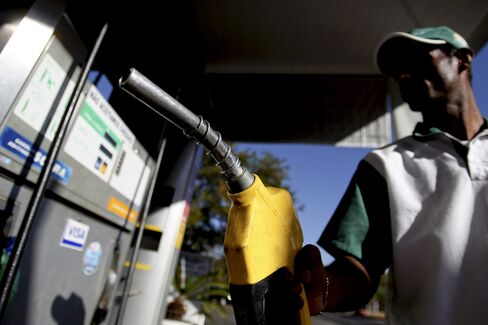 Petroleo Brasileiro SA, Latin America's largest company by market value, plans to raise as much as 129 billion reais ($75 billion) in the world's largest share sale as it seeks cash to develop offshore oil fields. The shares rose 4.4 percent for the biggest gain since May.
Brazil's state-controlled oil producer will offer as many as 1.59 billion new preferred shares and 2.17 billion new voting shares, according to a regulatory filing today. The company may also sell an additional 564 million preferred or voting shares depending on demand, with the price to be announced Sept. 23. The offer includes about $42.5 billion Petrobras will sell to Brazil in exchange for the right to develop oil reserves.
The share sale, including the stake being exchanged for 5 billion barrels of oil, would be the biggest on record and more than three times the $22.1 billion raised by the Agricultural Bank of China Ltd., the world's biggest-ever initial offering, data compiled by Bloomberg show. While share-sale announcements have rebounded in 2010, postponed or withdrawn sales have also increased 13 percent from the same period a year earlier.
"Demand should be fairly strong," said Ted Harper, who helps manage about $6.8 billion including Petrobras stock at Frost Investment Advisors in Houston. "The estimated pre-salt reserves make Petrobras very attractive."
Petrobras's preferred shares rose to 28.80 reais at the close of trading in Sao Paulo at 4 p.m. New York time. The stock gained 8.4 percent for the week, the biggest increase since the week ended May 8, 2009.
Tupi Field
Petrobras is selling shares to fund the development of offshore fields such as Tupi, the largest discovery in the Americas in three decades, and to save its investment grade credit rating.
Of the planned stock sale, 80 percent of the shares will be offered to existing shareholders as of Sept. 10 on a priority basis, Petrobras said in a prospectus for the sale today. The global offering will probably lead to an increase in the government's stake in the company, Petrobras said.
Brazil's government owns a 32 percent stake in Petrobras and controls the company through 55.6 percent of voting shares.
"This is only the first of many operations that will happen in the future with the pre-salt," Brazilian Finance Minister Guido Mantega said today in a conference call with reporters, referring to the oil-for-stock swap in fields located beneath the seabed under a layer of salt.
5 Billion Barrels
The oil producer in a Sept. 1 accord agreed to buy the rights to the 5 billion barrels from Brazil after almost two weeks of negotiations. Petrobras will pay $8.51 per barrel on average for the reserves, more than the $7.50 per barrel that UBS AG analysts Lilyanna Yang estimated in an Aug. 11 note.
Appetite for the offering may be sufficient "despite the price being a bit higher than many investors would like," Frost Investment's Harper said in e-mailed comments.
UBS estimated in a report yesterday that Petrobras would raise about $12 billion from minority investors, excluding any potential government-run buyer such as state-controlled banks and the country's sovereign fund.
Petrobras has plunged 22 percent in Sao Paulo this year on concern it would pay more for the oil than it's worth, diluting earnings.
Soros Sells
Billionaire George Soros's Soros Fund Management LLC, which oversees $25 billion, sold its Petrobras stock in the second quarter, dumping its biggest company holding. BlackRock Inc., the world's biggest asset manager, and Banco BTG Pactual SA also sold Petrobras in the quarter, according to Bloomberg data.
"Overall market conditions still remain volatile," Oliver Leyland, an analyst at Mirae Asset Global Investments Brasil in Sao Paulo, said in a telephone interview. "How big the appetite will be is the million-dollar question now. I would be very, very surprised if you had a 100 percent take up."
The public share offering will help raise funds for a $224 billion plan to develop offshore fields including Tupi, which may hold 8 billion barrels of oil. Chief Executive Officer Jose Sergio Gabrielli plans to double output to 5.38 million barrels a day by 2020, compared with 2.7 million barrels in 2010.
Start Trading
The price of the shares will be announced Sept. 23 and the American depositary receipts start trading Sept. 24 in New York, while the new shares will start trading Sept. 27 in Sao Paulo, according to the filing.
The company had planned to issue the new shares in the first half and pushed back the timeline as it waited for Congress to approve a bill allowing the government to sell it the deepwater reserves in exchange for stock. The measure was part of a package of bills introduced last year by President Luiz Inacio Lula da Silva, who sought to boost state control over the oil industry.
"There's going to be a lot of money entering Petrobras that comes from global funds and non-dedicated emerging-market funds," said Greg Lesko, head of emerging-market equity at Deltec Asset Management in New York, which oversees about $750 million. He holds Petrobras shares and said he may buy more.
Of the 5 billion barrels the government plans to sell the company, about 3.1 billion barrels will come from the Franco field while the Iara and Florim fields will account for another 1.07 billion. Petrobras, based in Rio de Janeiro, will also receive the rights to oil at Tupi Northeast and Sul, as well as the Guara East fields.
The company's debt as a percentage of equity climbed to 34 percent in the second quarter, compared with 32 percent in the previous quarter and 28 percent a year earlier, Chief Financial Officer Almir Barbassa told reporters on Aug. 13. A ratio of 25 percent to 35 percent is "ideal," he said.
Banco Bradesco BBI SA is coordinating the offering, according to the prospectus.
Before it's here, it's on the Bloomberg Terminal.
LEARN MORE