London Turns to River Boats to Combat Subway Strike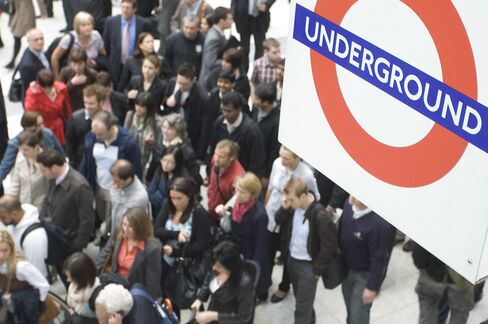 London Mayor Boris Johnson will use 100 extra buses and a fleet of shuttle craft on the River Thames to help commuters get to work next week after talks to head off strike action by workers on the subway or Tube broke down.
About 10,000 more people will be carried on the Thames by using larger boats on existing services and drafting in an extra 500-berth shuttle, Transport for London said in a statement today. Groups of cyclists will be escorted across the city, marshals will control taxi lines and volunteers will be deployed at subway, bus and rail stations to help people with journeys.
As many as 10,000 London Underground employees will walk out after talks on 800 job cuts and restricted hours for ticket offices broke down yesterday, according to the RMT union, which says the measures will imperil safety at understaffed stations. The subway carries 3.5 million people each working day.
"Instead of meaningless public relations gimmicks from the London mayor he should start putting Tube safety before the dash to slash budgets," RMT General Secretary Bob Crow said in a statement. "He should get a grip on the lethal consequences that Tube cuts will have for staff and the travelling public."
A 24-hour strike by maintenance and engineering workers will begin at 5 p.m. on Sept. 6, joined four hours later by drivers, signalers and station staff. Further stoppages are scheduled for the same times on Oct. 3 and on Nov. 2 and 28.
Depot Workers
In a separate dispute over pay and conditions, almost 200 RMT workers at depots on the Tube's Jubilee and Northern lines will strike for 24 hours from 7 p.m. on Sept. 5, the union said yesterday in a statement. Further action is scheduled at the same hour on Oct. 2 and Nov. 1 and 27.
Jobs cuts on the subway will be voluntary, no ticket offices will close and all stations will be staffed, according to London Underground Chief Operating Officer Howard Collins.
Only one in every 20 Tube journeys now involves a visit to a ticket office after booth sales fell 28 percent over the past four years, according to London Underground. The decline has been spurred by the introduction of Oyster travel cards, which open gates automatically after being charged with credit.