Fed May Face Less Pressure to Add Stimulus After Jobs Report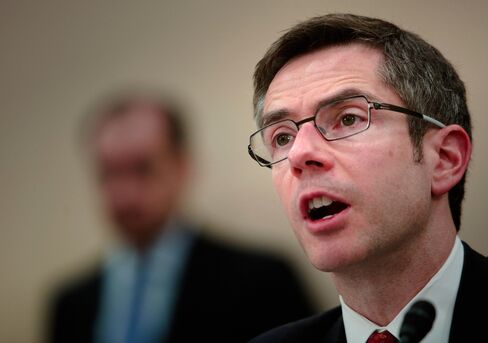 Higher-than-forecast U.S. private job gains may reduce pressure on Federal Reserve policy makers to add monetary stimulus this month without closing the door to a move later this year, economists said.
Private payrolls climbed 67,000 in August after a revised 107,000 increase in July that was more than initially estimated, Labor Department figures in Washington showed yesterday. The jobless rate rose to 9.6 percent as more people looked for work.
"I don't think this is going to provide a foundation for any major move" when policy makers meet on Sept. 21, former Fed Governor Randall Kroszner, a professor at the University of Chicago's Booth School of Business, said in a Bloomberg Television interview.
The report reduces the odds of a relapse into a recession while also reinforcing the view of Fed policy makers that the economy is recovering more slowly than they would like. The Federal Open Market Committee may still consider a second round of large-scale purchases of securities, a strategy known as quantitative easing, this year.
"This could change the timing of QE2, but I think QE is on the horizon and should be on the horizon," Paul McCulley, a portfolio manager and partner at Pacific Investment Management Co. in Newport Beach, California, said in a Bloomberg Television interview.
President Barack Obama said there's "no quick fix" for the economy and promised to lay out new ideas next week to boost growth and hiring. The president, speaking at the White House yesterday, urged Congress to pass a package of measures to help small businesses, including tax breaks and aid to ease credit.
'Broader Package'
"I will be addressing a broader package of new ideas next week," he said. The economy is moving in "the right direction; we just have to speed it up."
Public opinion polls show jobs and the economy are top concerns among voters two months before November congressional elections in which the Democrats are at risk of losing their majorities in the House of Representatives and the Senate.
A USA Today/Gallup Poll completed Aug. 30 found Americans believe Republicans in Congress would do a better job on the economy than Democrats, by 49 percent to 38 percent.
The gain in private payrolls in August exceeded the 40,000 median forecast in a Bloomberg News survey. Overall employment fell 54,000 for a second month as the government fired census workers. The unemployment rate rose to 9.6 percent from 9.5 percent as more people joined the labor force.
Stocks Advance
The Standard & Poor's 500 Index climbed 1.3 percent to 1,104.51 at the close of trading in New York yesterday, its fourth day of gains in the longest winning streak since July. Treasuries fell, pushing the yield on the 10-year note up 8 basis points, or 0.08 percentage point, to 2.71 percent.
Manufacturing payrolls decreased by 27,000 after gaining 34,000 the previous month. The median forecast called for a 10,000 increase.
"We're always cautious about hiring, because we want to be absolutely certain that this isn't some temporary growth," George Buckley, chief executive officer at 3M Co. said in an interview on Bloomberg Television from Cernobbio, Italy, yesterday. St. Paul, Minnesota-based 3M is a maker of 55,000 products from dental implants to Post-It Notes.
A separate report yesterday from the Institute for Supply Management showed service industries in the U.S. expanded at the weakest pace in seven months.
The economy remains on a "gradual recovery track," Atlanta Fed President Dennis Lockhart said yesterday in a speech in Johnson City, Tennessee.
First Move
The Fed on Aug. 10 made its first move to shore up the recovery, deciding to reinvest principal payments on mortgage assets it holds into long-term Treasuries. Policy makers put a $2.05 trillion floor on the Fed's securities holdings to prevent money from draining out of the financial system.
"I do not believe this change necessarily heralds the beginning of a period of further expansion of the Fed's balance sheet," Lockhart said. "Nor do I think the decision precludes a return to a policy of allowing the balance sheet to shrink on its own."
Fed Chairman Ben S. Bernanke said in an Aug. 27 speech that while the "preconditions" for a growth pickup next year are "in place," the Fed was prepared to embark on more stimulus, such as asset purchases, if needed.
The payrolls data follow another report this week showing manufacturing expanded faster than forecast in August.
"The sense of urgency probably recedes to a great degree after not just this number but some of the numbers we've gotten over the last week or two," said Stephen Stanley, chief economist at Pierpont Securities LLC in Stamford, Connecticut, and a former Fed researcher.
Before it's here, it's on the Bloomberg Terminal.
LEARN MORE