Employment Probably Cooled as U.S. Slowdown Shook Confidence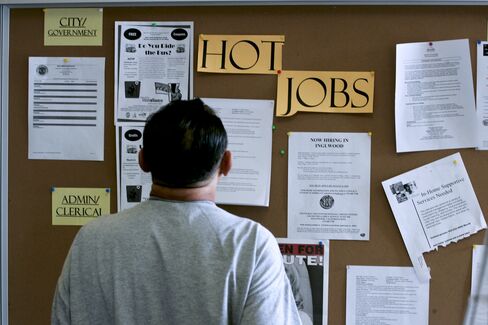 Employment probably cooled in August as slower economic growth caused some U.S. companies to lose confidence the recovery will be sustained, economists said before a report today.
Private payrolls that exclude government agencies rose by 40,000 after a 71,000 July gain, and the jobless rate climbed to 9.6 percent, according to the median estimate of economists surveyed by Bloomberg News. Total employment may have dropped for a third consecutive month as census workers were let go.
"Companies are still absolutely devoted to cost control," said Chris Low, chief economist at FTN Financial in New York. "The labor market has just gotten worse, and is consistent with consumer spending that's treading water."
Job cuts at companies like Northrop Grumman Corp. underscore the risk a retrenchment in hiring presents for American households, whose spending accounts for 70 percent of the economy. Federal Reserve Chairman Ben S. Bernanke last week said growth and employment have slowed more than projected, and the central bank "will do all that it can" to maintain the expansion.
The Labor Department's report is scheduled for 8:30 a.m. New York time. Private payroll estimates of the 55 economists surveyed ranged from a decline of 12,000 to a 120,000 increase.
Overall payrolls fell by 105,000 last month, according to the survey median, reflecting the dismissal of temporary workers hired by the government to conduct the decennial population count. The jobless rate in July was 9.5 percent.
Slowing Services
Another report today may show services, the biggest part of the economy, expanded at a weaker pace.
The Tempe, Arizona-based Institute for Supply Management's services gauge dropped in August to a six-month low of 53.2 from 54.3 the prior month, the median estimate of economists surveyed showed. Figures greater than 50 represent expansion for the industries that cover almost 90 percent of the economy.
The group's factory report this week showed manufacturing unexpectedly picked up last month, propelled by gains in production and employment.
Economists forecast factory hiring climbed by 10,000 workers last month, the smallest gain this year.
The Standard & Poor 500 Index lost 4.7 percent last month, making it the worst August since 2001, as concern grew that the world's largest economy was faltering. The Treasury 10-year note rallied the most on a monthly basis since late 2008.
The U.S. economy grew at a 1.6 percent annual pace in the second quarter after expanding at a 3.7 percent rate in the first three months of the year and 5 percent at the end of 2009.
Factory Cutbacks
Some manufacturers are shedding workers. Northrop Grumman's shipbuilding unit last month announced 292 job cuts, with plans to slash another 350 by the end of the year, and United Technologies Corp.'s Pratt & Whitney jet engine unit will trim 129 hourly employees in Connecticut.
"We are seeing the worst economy in my 35-plus years" of industry experience, William Johnson, chief executive officer of H.J. Heinz Co., said on a conference call with analysts this week. "Consumer confidence has not returned."
Heinz, the world's biggest ketchup maker, is looking to boost sales overseas as U.S. are dining more at home, limiting restaurant traffic.
Voters are increasingly skeptical of the Obama administration's economic policies heading into November elections that will determine which political party leads congress.
Obama's 'Central Mission'
"Our most urgent task is to restore our economy and put the millions of Americans who have lost their jobs back to work," Obama said in a speech this week declaring the end of the U.S. combat mission in Iraq. "This will be difficult. But in the days to come, it must be our central mission as a people."
The 650,000 increase in payrolls in the seven months through July shows it'll take years to recoup the 8.4 million jobs lost during the recession that began in December 2007, the biggest employment slump in the post-World War II era.
Unemployment, which reached a 26-year high of 10.1 percent in October 2009, will average more than 9 percent through 2011, according to a Bloomberg survey.
"The painfully slow recovery in the labor market has restrained growth in labor income, raised uncertainty about job security and prospects, and damped confidence," Bernanke said in a speech in Jackson Hole, Wyoming, on Aug. 27.
State and local government cutbacks in the face of mounting budget deficits are aggravating the problem. The number of workers employed by state and local agencies fell in July to the lowest levels since 2007. Miami, the seat of Florida's most-populous county, on Aug. 31 imposed $76.9 million of salary, health-insurance and pension cuts on city employees to address a budget gap.
                         Bloomberg Survey

==============================================================
                           Nonfarm  Private Unemploy  ISM Non-
                          Payrolls Payrolls     Rate     Manu
                            ,000's   ,000's        %    Index
==============================================================

Date of Release              09/03    09/03    09/03    09/03
Observation Period            Aug.     Aug.     Aug.     Aug.
--------------------------------------------------------------
Median                        -105       40     9.6%     53.2
Average                        -98       40     9.6%     53.2
High Forecast                   75      120     9.8%     55.5
Low Forecast                  -190      -12     9.5%     51.0
Number of Participants          81       55       79       67
Previous                      -131       71     9.5%     54.3
--------------------------------------------------------------
4CAST Ltd.                    -190     ---      9.6%     53.0
ABN Amro Bank                  -30      120     9.6%     54.0
Action Economics               -90     ---      9.6%     54.5
Aletti Gestielle SGR           -85       62     9.7%     53.0
Ameriprise Financial Inc      -100       40     9.6%     53.5
Banesto                       -105     ---      ---      54.1
Bank of Tokyo- Mitsubishi     -125       12     9.6%     51.9
Barclays Capital               -70       60     9.5%     53.0
Bayerische Landesbank         -110     ---      9.6%     54.0
BBVA                           -90       50     9.6%     53.0
BMO Capital Markets           -115     ---      9.6%     53.5
BNP Paribas                   -160      -10     9.7%     53.0
BofA Merrill Lynch Research   -100       30     9.7%     53.5
Briefing.com                  -106       10     9.6%     51.0
Capital Economics              -65     ---      9.6%     52.0
CIBC World Markets            -120     ---      9.6%     ---
Citi                          -120     ---      9.6%     52.0
ClearView Economics             75      100     9.5%     53.0
Commerzbank AG                -100       50     9.6%     53.5
Credit Agricole CIB           -106       60     9.6%     ---
Credit Suisse                 -125       10     9.6%     53.0
DekaBank                       -80       40     9.6%     53.5
Desjardins Group               -40     ---      9.6%     53.5
Deutsche Bank Securities       -65       40     9.6%     ---
Deutsche Postbank AG           -90     ---      9.6%     54.0
DZ Bank                        -80     ---      9.6%     53.6
Exane                          -80     ---      9.7%     ---
First Trust Advisors           -55       75     9.5%     54.0
FLAR                           -70       55     ---      ---
FTN Financial                 -115       30     9.5%     53.0
Goldman, Sachs & Co.          -125        0     9.6%     53.0
Helaba                         -60       70     9.5%     53.5
High Frequency Economics      -125     ---      9.6%     52.0
HSBC Markets                  -150       -5     9.7%     52.5
Hugh Johnson Advisors          -50     ---      9.5%     54.0
Ibersecurities                -130       32     ---      ---
IDEAglobal                     -60       80     9.5%     55.0
IHS Global Insight            -105       30     9.6%     ---
Informa Global Markets        -125     ---      9.6%     53.0
ING Financial Markets         -150       50     9.7%     53.8
Intesa-SanPaulo                -66     ---      9.6%     54.0
J.P. Morgan Chase             -110     ---      9.7%     52.5
Janney Montgomery Scott       -123       28     9.6%     53.2
Jefferies & Co.               -115       45     9.6%     55.5
Landesbank Berlin             ---      ---      9.5%     52.0
Landesbank BW                  -70       90     9.5%     53.5
Maria Fiorini Ramirez         -140        0     9.7%     53.5
MFC Global Investment          -50       65     9.6%     53.0
Mizuho Securities             -125       24     9.6%     ---
Moody's Economy.com           -140       40     9.7%     53.1
Morgan Keegan & Co.           -106     ---      9.5%     ---
Morgan Stanley & Co.           -75       50     9.6%     ---
National Bank Financial         20     ---      9.5%     54.0
Natixis                        -80     ---      9.6%     53.5
Nomura Securities Intl.       -105       15     9.7%     53.0
Nord/LB                       -130       20     9.6%     53.0
Paragon Research              -112       10     9.7%     ---
Pierpont Securities LLC        -70       60     9.6%     52.5
PineBridge Investments         -30       58     9.6%     53.5
PNC Bank                       -50     ---      9.7%     52.0
Prestige Economics            -125     ---      9.7%     52.0
Raiffeisen Zentralbank        -110       70     9.5%     ---
Raymond James                  -95       35     9.6%     53.8
RBC Capital Markets            -98       38     9.6%     52.0
RBS Securities Inc.           -110       30     9.6%     53.8
Saxo Bank                     -125        5     9.6%     ---
Scotia Capital                 -90     ---      9.6%     53.2
Societe Generale               -80       50     9.6%     ---
Standard Chartered            -162      -12     9.6%     52.0
State Street Global Markets   -112       36     9.7%     53.1
Stone & McCarthy Research      -90       50     9.7%     53.9
TD Securities                 -150       20     9.8%     52.1
Thomson Reuters/IFR            -85       45     9.6%     53.0
Tullett Prebon                 -95       55     9.6%     53.8
UBS                            -70       75     9.6%     53.0
Union Investment              -100     ---      9.6%     ---
University of Maryland        -115       47     9.6%     54.8
Wells Fargo & Co.             -107       48     9.6%     53.4
WestLB AG                      -90     ---      9.6%     54.0
Westpac Banking Co.           -180        0     9.7%     52.0
Woodley Park Research         -128     ---      9.5%     52.4
Wrightson ICAP                -140        0     9.7%     54.0
==============================================================