Unions Spurn Democrats Seen as Turncoats on Issues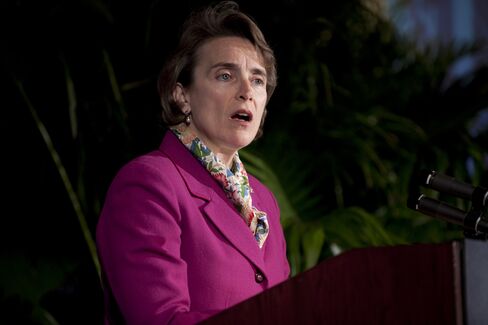 Representative Zack Space, a two-term Democrat running for re-election in Ohio, faces an online campaign urging voters to boycott his candidacy. The anti-incumbent pitch isn't from Republicans or Tea Party activists.
The website, skipaspace.com, is backed by four unions that say they refuse to work for Space's return to Congress after he voted against President Barack Obama's health-care legislation.
Leaders of organized labor helped Democrats win the White House and expand their control of Congress two years ago, only to find some candidates they supported didn't return the favor with votes for the health-care measure that passed or a union- organizing bill that stalled. Now, unions say they may spend $88 million on campaigns in the November election, and certain Democrats shouldn't count on getting a share.
"Each union should have the right to support whoever they want to support based on the issues they care about," Karen Ackerman, political director of the 11 million-member AFL-CIO, the largest U.S. labor federation, said in an interview.
While union leaders say they are determined to keep Congress under Democratic control, they risk undermining that goal by settling scores with incumbents, said Matt Bennett, who was the White House liaison to governors in the Clinton administration.
Congress in Balance
"Labor has chosen to take one or two issues and make an example of some Democrats at a moment when control of one or more house of Congress hangs in the balance," Bennett, vice president of the Third Way, a group that advocates free trade and deficit controls, said in an interview. "The first off-year election in a Democratic administration is the wrong time to be punishing your friends for insufficient loyalty."
Republicans hold an unprecedented lead of 10 percentage points over Democrats ahead of the November midterm elections, indicating potentially "significant gains" for the Republicans in Congress, according to a Gallup poll taken Aug. 23 to 29. The result "underscores the fast-evolving conventional wisdom that the GOP is poised to make significant gains in this fall's midterm congressional elections," wrote Frank Newport, Gallup's editor-in-chief.
Space's 'Wrong Position'
Space, 49, was one of 34 House Democrats who voted against the health-care overhaul earlier this year.
"When accounted for, he took the wrong position," said Seth Rosen, Cleveland-based regional vice president for the Communications Workers of America. "Our activists' energy is not a blank check that people can take for granted. We're not part of the Democratic Party."
Andrew Ricci, communications director for Space's campaign, said in a phone interview yesterday, "We're not going to pick a fight with anyone because they don't agree with us one time, when 99 percent of the time we share their priorities."
Unions are also sitting out two House races in New York and a Senate contest in Arkansas while backing a challenger against an incumbent in a Massachusetts Democratic House primary.
Representative Chris Van Hollen, chairman of the Democratic Congressional Campaign Committee, said unions and Democratic leaders "have had our differences."
'Stakes Are High'
"The stakes are high for working Americans, and we simply cannot afford letting Republicans bring back the exact same disastrous economic agenda that drove the economy into a ditch," Van Hollen of Maryland said in an interview.
In New York, the 2.5-million-member state AFL-CIO withheld its endorsement from two Democratic incumbents: Representatives Mike McMahon of Staten Island, who voted against the health-care bill, and Greg Meeks of Queens, whose 2005 vote for the Central American Free Trade Agreement still rankles the unions.
Unions are also holding back their support from Democratic Senator Blanche Lincoln of Arkansas after failing in a $10 million effort to defeat her in the party's primary in June. Lincoln didn't back the "card-check" legislation that would make union organizing easier, a labor priority that fell short in the Senate.
Arkansas Lieutenant Governor Bill Halter, who won labor's backing against Lincoln in the primary, lost after Obama, former President Bill Clinton and Democratic Party leaders all backed Lincoln.
"We had a united labor movement, taking a stand on an issue we believed in," Ackerman said.
Massachusetts Primary
In the Sept. 14 Democratic primary in Massachusetts, the Service Employees International Union is supporting a challenge by Mac D'Alessandro, the union's regional political director, against five-term Democratic incumbent Stephen Lynch of South Boston. Lynch got his start in politics though his local ironworkers union, only to defy labor leaders by voting for the Iraq war and war-funding bills and against Obama's health legislation.
As in Lincoln's primary fight, the union in Massachusetts is going against the Democratic establishment. Clinton and other party leaders are campaigning for Lynch.
AFL-CIO President Richard Trumka said disagreement over a handful of issues, such as health-care legislation, between unions and some Democrats doesn't signify a divorce of the labor movement from the party.
"You can have a legitimate disagreement over an issue without severing your relationship," he told reporters at briefing today. "We can fight over an issue, but people can still be friends."
Firewall Strategy
Labor's stand against some Democratic incumbents won't risk turning control of Congress over to Senate Republican Leader Mitch McConnell of Kentucky and House Republican Leader John Boehner of Ohio, Ackerman of the AFL-CIO said.
The labor federation is working on a "firewall" strategy in which it concentrates its money and ground troops on 26 races in states where there are large pools of labor activists, she said. Included on the list are New York, Illinois, California, Nevada, Pennsylvania and Ohio.
"We want to hold individual Democrats accountable to our members," Ackerman said. "But when you look at the big picture, the possibility of a Speaker Boehner -- who trashes workers as special interests -- it's horrifying."
Before it's here, it's on the Bloomberg Terminal.
LEARN MORE