Three People Die in South Korea as Storm Lashes Seoul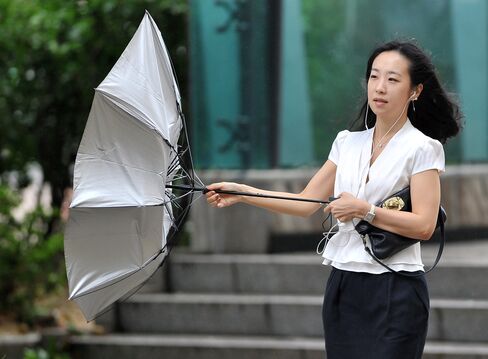 Three people were killed after Tropical Storm Kompasu came ashore in South Korea, lashing Seoul with rain and strong winds that knocked out power, forced flight cancellations and delayed the opening of schools.
Kompasu, which weakened from a typhoon as it approached land, passed near Seoul earlier today before crossing the Korean peninsula and heading out to sea toward Japan, the Korea Meteorological Administration said on its website. The storm was 203 kilometers (126 miles) from Kangnung on South Korea's east coast at 3 p.m. local time, the administration said.
Two people were killed by falling debris south of Seoul as the storm crossed over the peninsula, the Ministry of Public Administration and Security said in a statement. A third person died by electrocution in an incident related to the storm in Mokpo, on the south-west of the peninsula.
"Four big glass windows are lying inside my living room after the pounding from the wind all night," said Lee Soo Yong, a 39-year-old architect who lives on the 25th floor of an apartment building near Seoul. "I felt like I was dying this morning as I tried to stop them blowing in with my hands. It was so scary."
The government had more than 14,000 emergency workers monitoring the impact of the storm, the ministry said. Debris littered the streets of the South Korean capital.
A total of 45 flights, domestic and international, were canceled due to the storm, according to the security ministry, including services from South Korea's two biggest airlines Asiana Airlines Inc. and Korean Air Lines Co.
Power Restored
Incheon Port Authority said work at the port was expected to resume this afternoon after stopping to allow vessels to dock to avoid Kompasu.
Electric power distribution systems in Seoul and surrounding provinces were damaged, according to Korea Electric Power Corp. Power has been restored to 92 percent of the 1.56 million houses that lost electricity during the storm, which caused about 1 billion won ($845,000) of damage to the network, the power distributor said in a statement.
School hours for elementary and middle schools in Seoul, Incheon and nearby areas were delayed by 2 hours today, according to the Ministry of Education, Science and Technology.
Onshore typhoon warnings were lifted as of 3:30 p.m., with a warning still in place for waters off the east coast, the Korea Meteorological Administration said.
Kompasu's winds slowed after the storm reached land and they were blowing at 72 kilometers per hour, down from 176 kph overnight, the administration said.
North Korea
Hyundai Heavy Industries Co., the world's largest shipyard, said earlier its Gunsan yard was unaffected by the storm. Doosan Infracore Co., South Korea's biggest construction equipment maker, said earlier its Incheon plant was operating normally.
Kompasu caused heavy rain and windstorms over North Korea, the state-run Korean Central News Agency said in an e-mailed statement today. As much as 165 millimeters (6.5 inches) of rain fell in some parts of the country earlier today as winds as high as 65 kph buffeted the country, the agency said.
More than 5,000 people were rescued last month during floods, the agency reported at the time. Flooding is a recurring problem in North Korea due to a deforestation program introduced by former North Korean dictator Kim Il Sung. The conversion of hill forests and marginal land to farmland, aimed at increasing agricultural yields, stripped the land of its natural defense against floods, academics say.
Northern Japan Tomorrow
Kompasu's winds are forecast to decrease to 83 kph by 9 p.m. today as the storm passes the coast of North Korea before approaching northern Japan tomorrow, the U.S. Navy Joint Typhoon Warning Center website.
About 1,800 kilometers to the south, Tropical Storm Lionrock made landfall near Xiamen on China's south coast at about 8 a.m. local time, the U.S. center said.
The storm was packing winds of 93 kph that are forecast to weaken as it heads inland, the center said in its final update.
Chinese authorities evacuated about 160,000 people in Fujian province yesterday as Lionrock approached, the official Xinhua News Agency reported. No casualties were reported and residents were warned of landslides that may be triggered by the storm, according to the report.
Lionrock skirted southwest Taiwan as it approached the China coast. There were no immediate reports of damage or casualties.