Sad Sack Hack Sleeps With His Emmy in 'It Must Be Him': Review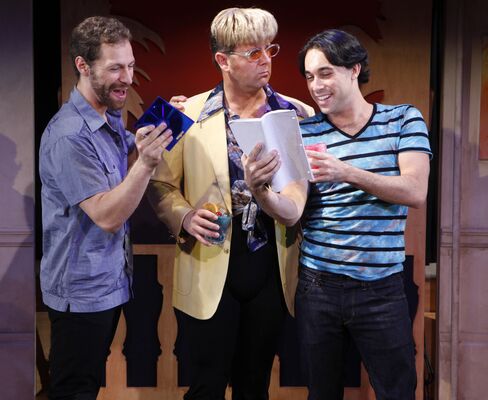 When Louie Wexler cuddles the lump under the covers in bed next to him, we expect to see a dog. It's not. It's his Emmy statuette.
In "It Must Be Him," which opened last night in Manhattan, a gay television writer facing midlife crisis has to decide whether it's time to come out of the closet. By the end of Kenny Solms's excruciating play 75 minutes later, we wish he'd stayed in bed and just shut up. Louie's irredeemably annoying.
Louie, played by wiry and disheveled Peter Scolari, has written a romantic screenplay he hopes will revive his career. Both his agent (John Treacy Egan) and his live-in boy toy (Patrick Cummings) think he should turn the hetero tale into a gay love story. So does his Hispanic housekeeper (sometimes called Ana, sometimes Anya and played by Liz Torres), who voices strong opinions when she isn't avoiding work or mispronouncing words, I kid you not.
You have to wonder what decade Solms is writing in, since this kind of sketch comedy shtick went out with Bill Dana's "My Name Jose Jimenez" act in the 1960s.
Bob Ari and the delightful Alice Playten are dragged in to play Louie's parents, shocked at the idea of his coming out even though they're dead. More colorful are the hangers-on who help turn Louie's screenplay into -- what else? -- a Broadway musical. Under the lackluster direction of Harold Prince protege Daniel Kutner, they only look like they wish they were dead.
Solms has the bona fides (his full-page bio in the program lists "The Carol Burnett Show" and "The Smothers Brothers Comedy Hour" among many other television credits) and apparently the money to hire a cast of first-rate New York actors. None of which makes "It Must Be Him" any less maudlin or hackneyed than the '60s pop song from which it takes its name.
The moderately amusing special material by composer Larry Grossman and lyricist Ryan Cunningham pumps some energy into the show, but there's no chance "It Must Be Him" will spring to life.
Through Sept. 26 at the Peter Jay Sharp Theater, 416 W. 42nd St. Information: +1-212-279-4200l; http://www.ticketcentral.com Rating: *
What the Stars Mean:
****       Do Not Miss
***        Excellent
**         Good
*          Poor
(No stars) Worthless
(Jeremy Gerard is an editor and critic for Muse, the arts and leisure section of Bloomberg News. The opinions expressed are his own.)
Before it's here, it's on the Bloomberg Terminal.
LEARN MORE