Pending Sales of U.S. Existing Homes Probably Dropped in July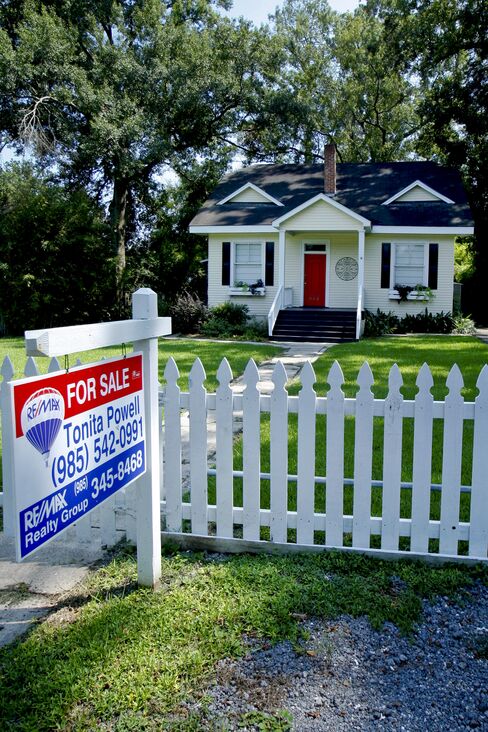 The number of contracts to buy U.S. previously owned homes probably fell for a third straight month in July, signaling housing will be depressed for the rest of the year.
The index of pending home resales fell 1 percent from the prior month, figures from the National Association of Realtors will show today, according to the median of 37 economists in a Bloomberg News survey. A separate report may show initial jobless claims increased last week.
Demand has plunged following a government tax credit of up to $8,000 that required contracts be signed by April 30. Even with mortgage rates at record lows, housing has been unable to build on the gains and is one reason the economy is slowing in the second half of the year.
"People are more wary to purchase homes given the uncertain economic outlook," said Michelle Meyer, senior U.S. economist at BofA Merrill Lynch Global Research in New York. "Housing demand will remain very soft through the end of the year."
The Realtors group is scheduled to release the report at 10 a.m. in Washington. Estimates in the Bloomberg survey range from a drop of 5 percent to an increase of 4 percent. The last time pending sales declined three straight months was September-November 2008.
Initial jobless claims probably increased to 475,000 last week from 473,000, according to the median estimate in a Bloomberg survey before the Labor Department's 8:30 a.m. release.
Factory Orders
Another report at 10 a.m., from the Commerce Department, will probably show that factory orders increased 0.2 percent in July, following a 1.2 percent decline the prior month, according to the Bloomberg survey.
Unemployment near 10 percent and a lack of job creation are making Americans guarded about large purchases such as homes. Economists forecast the Labor Department will report tomorrow that the U.S. lost 100,000 jobs in August and the unemployment rate rose to 9.6 percent.
To help homeowners who've lost income avoid foreclosure, the Obama administration plans to offer $1 billion in zero-interest loans as part of $3 billion in additional aid targeting economically distressed areas.
Minutes of the Federal Reserve's Aug. 10 meeting, released this week, showed that while housing probably "had bottomed out," more foreclosures would increase the number of homes for sale and damp construction.
"A sustained upturn from very low levels was not imminent," the central bankers said.
July Sales
Sales of previously owned homes, which account for about 90 percent of the housing market, fell 27 percent in July, the Realtors' group said Aug. 24.
Purchases will be "soft for at least two more months as the housing market works through the effects of the end of the tax credit," Lawrence Yun, the group's chief economist, told reporters at a press conference.
New-home purchases, which make up the rest of the market and are tabulated when a contract is signed, declined to a record low in July, Commerce Department figures showed last week.
Pending home sales are considered a leading indicator because they too track contract signings. Deals are typically closed on a month or two later.
Home Foreclosures
Foreclosures and short-sales are another reason the housing market continues to restrain the economy. Home seizures increased almost 4 percent in July from the previous month, with 325,229 properties getting a notice of default, auction or bank repossession, RealtyTrac Inc. said Aug. 12.
Toll Brothers Inc., the largest U.S. luxury homebuilder, reported its first quarterly profit since 2007 after a tax benefit and drop in writedowns. The acceleration in deposits and traffic through the first few weeks of May was not sustained the rest of the quarter that ended July 31, Horsham, Pennsylvania- based Toll said.
Demand "has continued to be very bumpy and relatively slow," Chief Executive Officer Douglas Yearley said on a conference call with analysts and investors on Aug. 25. "We don't blame our buyers, they're skittish."
Homebuilder shares have slumped since the end of April. The Standard & Poor's Supercomposite Homebuilder Index, which includes Pulte Group Inc. and Lennar Corp., has dropped 27 percent since April 30, through yesterday. The broader S&P 500 is down 9 percent during that same period.
                        Bloomberg Survey

==============================================================
                           Initial    Prod-  Factory  Pending
                            Claims uctivity   Orders    Homes
                            ,000's     QOQ%     MOM%     MOM%
==============================================================

Date of Release              09/02    09/02    09/02    09/02
Observation Period          28-Aug       2Q     July     July
--------------------------------------------------------------
Median                         475    -1.9%     0.2%    -1.0%
Average                        474    -1.8%     0.3%    -0.4%
High Forecast                  485    -0.5%     2.5%     4.0%
Low Forecast                   460    -2.4%    -1.2%    -5.0%
Number of Participants          40       56       64       37
Previous                       473    -0.9%    -1.2%    -2.6%
--------------------------------------------------------------
4CAST Ltd.                     485    -1.9%    -0.1%     0.5%
Action Economics               465    -2.0%     0.0%     1.7%
Aletti Gestielle SGR           470    -1.8%     0.1%     ---
Ameriprise Financial Inc       475    -1.8%    -0.1%    -2.0%
Banesto                        475     ---      ---      1.5%
Bank of Tokyo- Mitsubishi      467    -1.3%     0.4%     ---
Barclays Capital               465    -2.0%     0.0%    -1.0%
Bayerische Landesbank         ---      ---      0.3%     ---
BBVA                           483    -1.1%     0.8%     0.3%
BMO Capital Markets            470    -2.0%     0.7%    -2.0%
BNP Paribas                    475    -2.0%    -1.2%     ---
BofA Merrill Lynch Research    480    -2.0%     0.5%    -1.0%
Briefing.com                   475    -1.4%     0.1%    -1.0%
Capital Economics             ---     -1.5%     0.0%    -2.0%
Citi                          ---     -2.4%     2.2%     ---
ClearView Economics           ---     -1.4%     0.5%    -5.0%
Commerzbank AG                 470     ---      0.0%    -3.0%
Credit Agricole CIB           ---     -2.0%     0.0%     ---
Credit Suisse                  470     ---      0.1%    -2.0%
DekaBank                      ---     -2.0%     0.5%    -1.5%
Desjardins Group               475    -2.0%    -0.5%     ---
Deutsche Bank Securities      ---     -0.5%     ---      0.0%
Deutsche Postbank AG          ---      ---     -0.5%     ---
DZ Bank                       ---     -2.4%     0.4%     ---
Exane                         ---     -1.6%     1.3%     3.0%
First Trust Advisors           469    -2.0%     0.3%     ---
FTN Financial                 ---     -1.5%     ---      ---
Goldman, Sachs & Co.          ---     -1.9%     0.0%     ---
Helaba                         480     ---      0.7%     ---
High Frequency Economics      ---     -1.9%     0.0%     0.0%
HSBC Markets                   480    -1.9%     0.4%     4.0%
Hugh Johnson Advisors         ---      ---      1.5%     ---
IDEAglobal                     460    -1.6%     0.8%    -0.5%
IHS Global Insight            ---     -1.9%     ---      ---
Informa Global Markets        ---     -2.0%     2.5%     0.0%
ING Financial Markets         ---     -1.7%     0.8%     3.0%
J.P. Morgan Chase              470    -1.9%     0.2%    -1.0%
Janney Montgomery Scott       ---     -1.6%     1.1%    -4.5%
Jefferies & Co.                465    -2.0%     0.2%     ---
Landesbank Berlin              480     ---     -0.1%     ---
Landesbank BW                 ---     -1.8%     0.6%    -1.0%
Maria Fiorini Ramirez          475     ---      0.0%     ---
MFC Global Investment          470    -1.8%     0.3%     ---
Mizuho Securities              480    -2.4%     0.2%    -1.5%
Moody's Economy.com            475    -1.9%     0.2%    -3.0%
Morgan Keegan & Co.           ---      ---      0.0%     ---
Morgan Stanley & Co.          ---     -1.9%     0.1%     ---
Nomura Securities Intl.       ---     -1.9%     0.3%     ---
Nord/LB                       ---     -1.6%     0.5%     ---
Pierpont Securities LLC        470    -1.9%     0.0%     ---
PineBridge Investments        ---     -1.6%     0.1%     2.5%
PNC Bank                      ---     -1.7%     0.3%     ---
Raiffeisen Zentralbank        ---     -1.5%     1.2%     3.0%
Raymond James                  470    -1.9%    -0.1%     ---
RBC Capital Markets            484     ---      ---      3.0%
RBS Securities Inc.            465     ---      0.0%     ---
Scotia Capital                 465     ---      0.4%    -2.3%
Societe Generale              ---     -2.2%     ---      ---
Standard Chartered             480     ---      ---      1.0%
State Street Global Markets    478    -2.0%     0.1%     ---
Stone & McCarthy Research      475    -1.9%    -1.0%     ---
TD Securities                  480    -2.0%    -0.4%    -2.0%
Thomson Reuters/IFR            485    -1.3%     0.4%     1.7%
Tullett Prebon                 475    -2.0%     0.5%     ---
UBS                            470    -2.0%    -0.1%    -1.5%
University of Maryland        ---     -1.8%     1.0%     ---
Wells Fargo & Co.             ---     -1.2%     0.4%     ---
WestLB AG                     ---     -1.7%     0.5%    -2.0%
Westpac Banking Co.            485     ---      0.8%     0.0%
Woodley Park Research         ---     -2.1%     0.1%     ---
Wrightson ICAP                 475    -1.9%     0.1%    -2.0%
==============================================================