Pakistan Cricketers Charged, Suspended by Ruling Body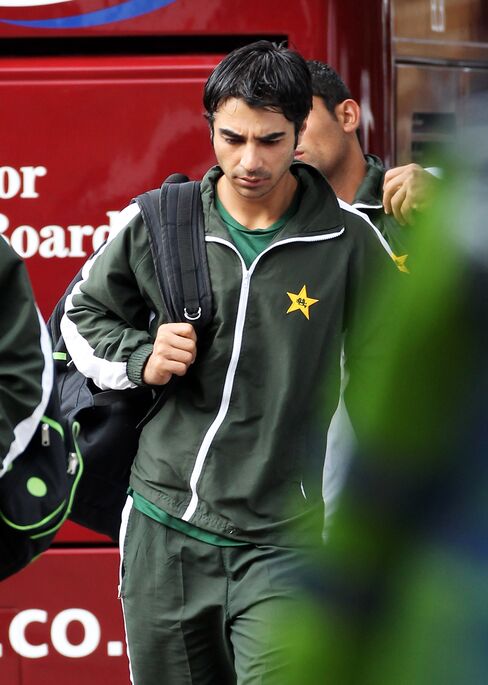 Three Pakistani cricketers at the center of an alleged betting scandal were suspended and charged with breaches of the sport's anti-corruption laws.
Pakistan captain Salman Butt and fast bowlers Mohammad Asif and Mohammad Amir have an "arguable case to answer" of alleged offenses under the sport's anti-corruption code, Ronnie Flanagan, head of the International Cricket Council's security unit, said in a televised news conference today.
London police are questioning the players again today after taking statements and confiscating their mobile phones when the News of the World linked them in an Aug. 29 report with a scheme to rig incidents during the fourth Test match against England at Lords in London last month. The players deny the allegations.
"We've been clear that we won't tolerate any level of corruption in the sport," ICC Chief Executive Officer Haroon Lorgat said today at a press conference. "We've promised to be decisive. We've had a week to conduct due diligence to the point where we got last night when we charged three players."
The players have 14 days after receiving notification of the charges to decide whether they want a hearing. A tribunal can fine and ban them for as long as life if they're found guilty.
Until the case is completed, the trio, who met with Pakistan High Commissioner Wajid Shamsul Hasan yesterday in London, are barred from any play or related activities.
In a statement late yesterday, Lorgat said it's important "that we do not pre-judge the guilt of these three players. That is for the independent tribunal alone to decide."
'Entirely Innocent'
Before the ICC announcement, the players asked the Pakistan Cricket Board not to select them for the remainder of the tour because "they are not in the right frame of mind to play," Hasan said. "They mention that they are entirely innocent in the whole episode and shall defend their innocence as such."
As part of the continuing criminal investigation, a 35-year-old man was bailed to appear at a later date before Metropolitan Police in London after being arrested "on suspicion of conspiracy to defraud bookmakers."
Cricket authorities have spent the decade since the formation of the Anti-Corruption and Security Unit trying to fend off the threat posed by both match and spot fixing, whereby gamblers seek to profit from rigging incidents during a game, such as the number of no-balls bowled or the number of runs a batsman makes.
Not Widespread
"I don't think the problem is widespread," Lorgat said today.
The cricketers have been given classes on what to do if they're approached by people wanting to fix matches, according to the ICC's Flanagan.
The 1990s were blighted by scandals linking players with passing information to bettors and colluding in match fixing.
In 2000, the then South Africa captain Hansie Cronje was banned for life after confessing to taking bribes from bookmakers and offering money to two teammates to play badly.
The same year, life bans were handed to former India captain Mohammad Azharuddin for fixing matches and accepting payoffs from betting syndicates, and to former Pakistan captain Salim Malik, though that sanction was overturned by a Pakistan court in 2008.
Other Cases
The anti-corruption unit was set up by the ICC in 2000. It educates players about the rules, which require them to report approaches from bookmakers. It also gathers information about potential conflicts and investigates possible violations.
Four Australian players have said they were approached during last year's tour of England by an individual who was later identified as being an illegal bookmaker.
Bangladesh's Shakib Al Hasan and Tamim Iqbal were approached by bookmakers in January, the Cricinfo website reported. All the incidents were reported to the ACSU.
Australia all-rounder Shane Watson, who reported two approaches last year, said two days ago the Pakistan case "might be only the tip of the iceberg."
"The ICC anti-corruption unit isn't really working," Watson said during a sponsor's function in Sydney.
The ICC spent $640,000, excluding staff costs, on the ACSU last year, according to financial statements for the year ended Dec. 31. That's less than 1 percent of the Dubai-based organization's $84.7 million surplus for the same period.