EU May Limit Naked Shorts of Stocks, Government Debt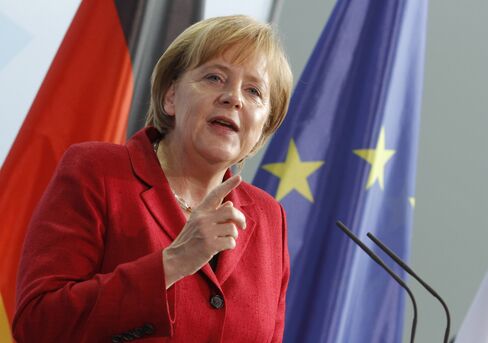 Sept. 2 (Bloomberg) -- Naked short sales of shares and government bonds may be limited by European Union proposals that say the practices cause a "disorderly market and possible systemic risks."
Under the proposed rules, traders would be required to submit proof they can access the underlying security to settle a trade designed to profit from falling prices, according to a European Commission document obtained by Bloomberg News. The rules would need approval of the full commission before being submitted to the Parliament and national governments.
The rules would bring the EU closer to the stance taken by Germany, where Chancellor Angela Merkel banned some naked short selling in May. Merkel and French President Nicolas Sarkozy argued that some bets against stocks and government bonds should be banned as the Greek debt crisis made markets more volatile.
The proposed legislation would ban most naked short selling depending on "what you mean by naked," said Simon Gleeson, a regulatory lawyer at Clifford Chance LLP in London.
"They're attempting to construct something that can be sold to the French and Germans as a ban, and to the U.K. and everyone else as pragmatic," he said.
Phone a Lender
"Nobody opens a short without intending to settle it, and you settle a short by borrowing stock or buying it," Gleeson said in an e-mail. "What this comes down to is a rule that you can't open a short unless you have first phoned a lender."
The U.K. Treasury today said it opposed an EU-wide ban or curbs on naked short selling and that sovereign bonds should be excluded from efforts to limit short selling.
The draft rules would also force traders to notify EU regulators about "significant exposures in credit-default swaps that relate to EU sovereign debt issuers," the document said. The rules wouldn't apply to company shares that principally trade on an exchange outside the EU.
The rules also won't apply to market makers because they play a "crucial role in providing liquidity to European markets" according to the draft. "Moreover, market makers do generally not take significant short positions except for during very brief periods," the document said.
For naked short sales of shares it's "probably healthy" for the market, said Philip Keevil, a senior partner at Compass Advisers LLP in New York.
"One potential problem is that it may preclude legitimate hedging activities by owners of convertibles" who don't own the underlying security, Keevil said. "This would be very negative to new issues of convertibles if that is the case."
Emergency Power
The proposed law would also give regulators emergency powers to require more disclosure or put "temporary restrictions on short selling and credit-default swap transactions," the document said.
Credit-default swaps are derivatives that pay the buyer face value if a borrower -- a country or a company -- defaults. In exchange, the swap seller gets the underlying securities or the cash equivalent. Traders in naked credit-default swaps buy insurance on bonds they don't own.
The European Parliament, finance ministers from EU member states and the commission will debate the draft rules with a focus on harmonizing different approaches to short selling regulation. The proposed rules are in the form of a regulation, which would become law once lawmakers sign off on it, rather than a directive, which gives national governments room to interpret the bill.
German Ban
Germany largely failed to persuade other EU nations to follow its May 19 prohibition on naked short-selling and speculation on European government bonds, which led to increased volatility.
"The people that buy too high are much more problematic than the ones selling," Bertrand des Pallieres, founder of SPQR Capital LLP, a London-based hedge fund firm with about $700 million in assets as of April this year, said in an e-mail. "The ones selling are merely the messenger of the bad news. Like in antique ages, we still cut the head off the messenger. We haven't progressed much."
While the EU-wide regulation would help "resolve uncertainty," a group representing hedge funds said it opposed any bans on short selling.
The Alternative Investment Management Association "would not wish to see short-selling banned even in extreme market circumstances," Andrew Baker, the London-based group's chief executive officer, said in an e-mailed statement. "The crisis experience has shown that imposing such bans does little to calm a market panic."
To contact the reporters on this story: Ben Moshinsky in Brussels at bmoshinsky@bloomberg.net;
To contact the editor responsible for this story: Anthony Aarons at aaarons@bloomberg.net