Bernanke Says He Wasn't 'Straightforward' on Lehman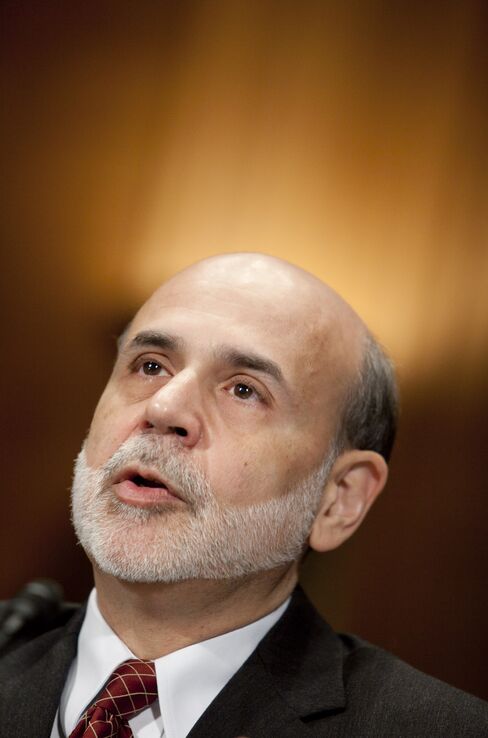 Federal Reserve Chairman Ben S. Bernanke said he regretted not saying in congressional testimony shortly after the failure of Lehman Brothers Holdings Inc. in 2008 that the central bank had no authority to save the firm.
The testimony at the time "has supported this myth that we did have a way of saving Lehman," Bernanke said today in response to questions during a Financial Crisis Inquiry Commission hearing in Washington. "I regret not being more straightforward there because clearly it has supported the mistaken impression that in fact we could have done something."
Bernanke made the remarks to explain the disparity between his September 2008 testimony that the Fed and U.S. Treasury "declined to commit public funds to support the institution" and later statements that the government had no option to save Lehman because of inadequate collateral. The Fed decided at the time against saying Lehman was unsalvageable because it may have risked further panic in financial markets, Bernanke said today.
"It was a judgment at that moment, with the system in tremendous stress and with other financial institutions under threat of a run or panic, that making that statement might have even reduced confidence further and led to further pressure," Bernanke said today.
In January, U.S. senators approved Bernanke, a former Princeton University economist, for a second term, with the largest number of opposing votes since lawmakers began confirming central bank chiefs in 1978.
Didn't Commit Funds
In September 2008, Bernanke told the Senate Banking Committee that the Fed and Treasury didn't commit funds and that investors and counterparties had enough time to prepare for the firm's failure. The next month, he said at the Economic Club of New York that "Lehman was not allowed to fail in the sense that there was some choice being made. There was no mechanism, there was no option, there was no set of rules, there was no funding to allow us to address that situation."
The bankruptcy intensified the worst financial crisis and recession since the Great Depression. Bernanke said today he had believed a Lehman failure would have been "catastrophic" and that the government, which was trying to arrange a private merger, had to do all it could to avert that outcome.
"This is my bread and butter," said Bernanke, who studied the Great Depression before joining the Fed as a governor in 2002.
Pressed Bernanke
Members of the commission, including Peter Wallison, co- director of financial policy studies at the American Enterprise Institute, and Douglas Holtz-Eakin, former director of the Congressional Budget Office, pressed Bernanke on why the central bank didn't exercise emergency powers to prevent Lehman's failure as it did with Bear Stearns Cos. and American International Group in 2008.
The Fed chief said he was prepared to ask the Board of Governors to approve aid to Lehman, then backed off when he was informed that the central bank wouldn't get sufficient collateral to back any loan. Lehman probably would have failed even with Fed assistance, Bernanke said.
"It was the judgment made by the leadership of the New York Fed and the people who were charged with reviewing the books of Lehman that they were far short of what was needed to get cash to meet the run," Bernanke said. "That was the judgment that was given to me."
Holtz-Eakin said in an interview that he accepted the chairman's explanation and was "very sympathetic to policy makers' need to worry about market reaction to their public testimony."
During Crisis
"If he is modulating a testimony in the midst of the crisis, with an eye to hoping to get a better outcome, I understand that," said Holtz-Eakin, an adviser to Arizona Senator John McCain's 2008 Republican presidential campaign. "I forgive them."
Bob Graham, a former Democratic senator from Florida who sits on the inquiry panel, said he didn't see any ulterior motive in Bernanke's omission from the earlier testimony.
"Should a public official testify fully on a matter of this importance? The answer is yes," Graham said in an interview. "Do you have to ascribe bad motives if some significant piece of information was not included? I don't think so, given the circumstances in which this was developed."
U.S. stocks rose, adding to the biggest rally in the Standard & Poor's 500 Index since July. The S&P 500 climbed 0.4 percent to 1,084.18 at 1:39 p.m. in New York. The 10-year Treasury note's yield rose 5 basis points to 2.62 percent.
Better Job
In prepared testimony to the panel, Bernanke said the central bank and other regulators could have done a better job tackling mortgage and banking risks that helped precipitate the worst financial crisis in seven decades.
"The Fed was slow to identify and address abuses in subprime lending, especially those outside the banking firms that the Fed regulates directly," Bernanke said in written testimony. While the lack of broader statutory oversight of financial companies was a major gap, "regulators could have done more to try to identify risks to the broader financial system," he said.
Since the crisis, Bernanke, 56, has pledged to tighten supervision of financial companies and said new Wall Street regulations signed into law in July will help the government wind down failing firms. Senate Banking Committee Christopher Dodd, a Connecticut Democrat, and other lawmakers have faulted the Fed for lax regulation before the crisis.
"If the crisis has a single lesson, it is that the too-big-to-fail problem must be solved," Bernanke said, citing financial firms whose failure could pose risks to the broader financial system. "A promise not to intervene in and of itself will not solve the problem."
Before it's here, it's on the Bloomberg Terminal.
LEARN MORE