BOJ May Forego Further Stimulus Until Forecast Review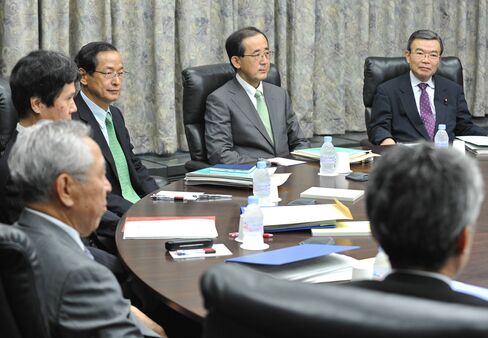 The Bank of Japan may seek to delay implementing further monetary easing until at least October, waiting to see whether the yen's gains and a U.S. slowdown will force it to abandon a forecast for a sustained recovery.
Governor Masaaki Shirakawa and his board will probably forego fresh liquidity injections at a two-day meeting ending Sept. 7, according to all but one of 15 economists surveyed by Bloomberg News. The board will keep the benchmark rate at 0.1 percent, where it's been since 2008, all 15 economists predicted.
The risk of continued appreciation in the yen and more declines in share prices will probably encourage the central bank to preserve its monetary-policy arsenal. Shirakawa this week said the bank stands ready to implement "appropriate action as needed" after this week's emergency decision to expand a credit program by 10 trillion yen ($119 billion).
"Board members will have no other choice but to come up with a more pessimistic scenario in the October outlook report because the yen's strength is eroding profits and the currency's advance likely won't be stopped anytime soon," said Akio Makabe, an economics professor at Shinshu University in Matsumoto City, central Japan. "Political pressure on the bank to act will keep growing."
This week's unscheduled BOJ gathering followed a call by Prime Minister Naoto Kan, who is facing a challenge for his leadership of the ruling party, for "swift" action by the BOJ.
Intervention Debate
While Kan's opponent, Ichiro Ozawa, has called for intervention in the currency market to halt gains in the yen, three government officials said on condition of anonymity that likely U.S. opposition is an obstacle to such a move.
The yen advanced against the dollar and the Nikkei 225 Stock Average dropped a day after the Aug. 30 meeting as the result disappointed some observers. The bank expanded a credit program for lenders to 30 trillion yen after the currency reached a 15-year high against the dollar last week.
The Nikkei was up 0.7 percent at 9,125.04 as of 9:34 a.m. in Tokyo, while the yen was little changed at 84.36 per dollar.
Nobuyuki Nakahara, who served as a BOJ board member between 1998 and 2002, characterized the latest measure as "too little and too late." He said in an interview this week that the bank can't hope to stop the yen's strength unless it cuts the key rate to zero, narrowing the rate gap between Japan and the U.S.
Slower Growth
Japan's gross domestic product expanded at an annualized 0.4 percent pace in the second quarter, decelerating from 4.4 percent in the prior three months, as consumer spending stalled and exports cooled.
The BOJ predicted in July the economy will expand 2.6 percent in the year to March 2011 and 1.9 percent in the following 12 months. Shirakawa this week said the possibility of revising the bank's current view "can't be ruled out" as downside risks to growth are increasing.
A 10-yen gain of the Japanese currency against the dollar would trim GDP by 0.3 percentage point, estimates Kiichi Murashima, chief economist at Citigroup Global Markets Japan Inc. in Tokyo.
An appreciating exchange rate risks making exports less competitive and reducing the yen value of overseas earnings.
Toshiyuki Shiga, chief operating officer of Nissan Motor Co., this week said curbing the currency is "the number one priority." Suzuki Motor Corp. Chairman Osamu Suzuki said last week the strong yen will have a "very big" effect on profit.
Recovery Intact
The likely reluctance to take further action little more than a week after the Aug. 30 meeting comes amid some signs that Japan's recovery is holding up.
Industrial production unexpectedly expanded 0.3 percent in July, a government report showed on Aug. 31. The unemployment rate fell in July for the first time in six months, to 5.2 percent.
A government report today showed that capital spending fell less than forecast in the second quarter, with demand from abroad spurring earnings. Outlays excluding software fell 1.5 percent in the three months through June from a year earlier, the least since 2007.
Economists said that the BOJ has several alternatives for more stimulus.
The most acceptable measure for the bank may be to expand that fund further, said Jun Ishii, chief fixed-income strategist at Mitsubishi UFJ Morgan Stanley Securities in Tokyo.
Policy Options
Officials could also cut the key rate, pledge not to change policy until certain economic conditions are met, buy more government bonds from the market or increase a 3 trillion yen program designed to encourage commercial banks to lend more, according to Ishii.
Shirakawa told reporters Aug. 30 the bank won't rule out any policy action. Still, he said that cutting the key rate would hurt the money market, and that the current monthly total for government-bond purchases of 1.8 trillion yen was "appropriate."
"The BOJ remains cautious about more bond buying and it still has strong concern that further reductions in rates would erode market function further," said Mari Iwashita, chief market economist at Nikko Cordial Securities in Tokyo. "The priority for these tools is probably low."