Xerox to Double Ad Spending to Rebrand With Services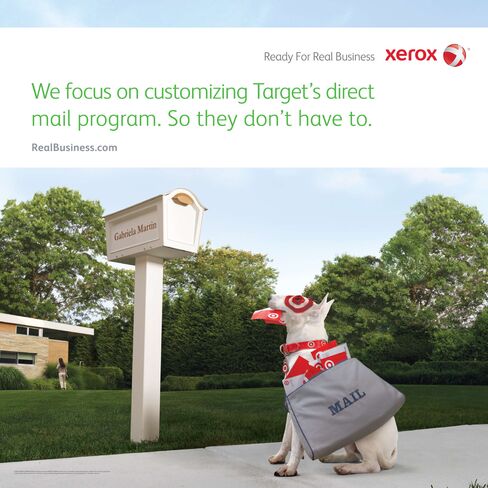 Xerox Corp., trying to shuck its image as only a maker of copy machines, plans to double advertising spending as it makes an effort to show that it also is a business-services company.
The marketing campaign, which starts Sept. 7, features customers including Target Corp. and Marriott International Inc. hiring Xerox to handle tasks like customizing direct mail programs and automating invoices. The ads will run in magazines, on television and in interactive airport billboards, mostly over the next 15 weeks.
Xerox Chief Executive Officer Ursula Burns is trying to change the image of a company so closely associated with copying its name is often used as a verb. Burns bought Affiliated Computer Services Inc. for $6.2 billion this year, the company's largest deal ever, tripling revenue from services and making that segment equal to its equipment unit.
"The perception of the Xerox brand is well-entrenched in a legacy business -- that being the copier business or the printer business," Chief Marketing Officer Christa Carone said in a phone interview this week. "We're trying to broaden it."
The increased advertising spending was accounted for in this year's earnings forecast, Carone said. She declined to comment on the specific amount.
Other featured customers include Procter & Gamble Co., the New York Mets and the University of Notre Dame.
"Competition is so fierce that you really want to be in your customer's face," said Angele Boyd, an IDC analyst based in Boston who's covered Xerox for more than 20 years. "They may not realize what you do in other parts of your business."
Office Processes
Xerox, based in Norwalk, Connecticut, rose 11 cents to $8.93 at 4 p.m. in New York Stock Exchange composite trading. The shares have climbed 5.6 percent this year.
Xerox's acquisition of Affiliated Computer in February added office processes including automating student loans to its document-management services.
The company is ahead of its target to save more than $100 million this year as a result of the takeover, Burns said in July. The number may top $375 million in three years.
New sources of revenue related to the purchase are "on track" as well, Jim Firestone, head of corporate operations, said in an interview. Xerox has signed at least 10 deals by selling ACS services to Xerox customers, the company said in July. In May, ACS signed a $1.6 billion contract to manage California's Medicaid information system for 10 years.
It's not the first time executives have tried to change the image of Xerox, which marketed the first photocopier in 1960. Two years ago the company retooled its logo, ditching the capital letters that had been part of the brand since 1961 and adding a red sphere marked with an "x."
The equipment business and its associated sales of supplies and paper are still an important part of Xerox's image and business, bringing in half of total revenue, Firestone said.
"We don't want to jettison that -- we want to build on that," he said. "It will take time."
Before it's here, it's on the Bloomberg Terminal.
LEARN MORE