Alaska's Murkowski Concedes Defeat in Senate Primary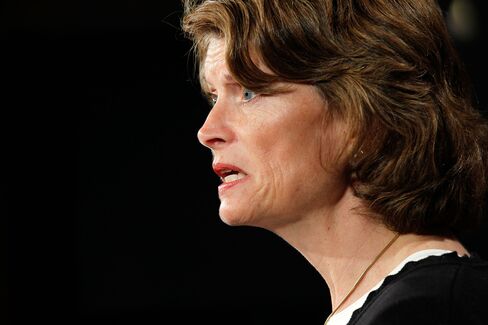 Aug. 31 (Bloomberg) -- U.S. Senator Lisa Murkowski of Alaska conceded defeat to Republican primary challenger Joe Miller, becoming the latest candidate to fall to a Tea Party-backed newcomer.
In what may be the biggest upset so far this year, Murkowski bowed out of the race after failing to overcome Miller's lead from the Aug. 24 primary when absentee ballots were counted today.
"It's been a long week," Murkowski told reporters at her campaign headquarters in Anchorage. "I don't see a scenario where we could win."
Murkowski, 53, the Senate's No. 4 Republican, is the most recent in a series of candidates backed by Republican Party leaders to be rejected by primary voters. Tea Party candidates have defeated party insiders in Nevada, Kentucky, Colorado and Utah, while Republican Florida Governor Charlie Crist dropped out of his party's senatorial primary contest to run as an independent.
The little-known and badly outspent Miller was endorsed by former Alaska Governor Sarah Palin, a Tea Party heroine, and emerged from the primary with a 1,668-vote lead. The Tea Party movement is a loose coalition of voters seeking limits on government spending, taxes and debt.
Absentee Ballots
Last week's vote left Murkowski to pin her hopes on more than 15,000 absentee and other ballots that state election officials began counting today. Though she gained a few hundred votes, she never came within 1,000 of Miller. The latest count showed her behind by 1,630 votes out of 104,346 cast.
Jennifer Duffy, a Senate campaign analyst for the nonpartisan Cook Political Report, said Murkowski didn't take Miller's candidacy seriously enough.
Although Murkowski raised 20 times as much money as Miller, she was reluctant to run negative political ads like those seen in other races even after "Miller said a lot of things about her record during the primary that, to be kind, stretched the truth," Duffy said.
"When you know this is an election cycle that does not favor incumbents," Duffy said, "you take absolutely nothing for granted, and I think Murkowski took a lot for granted."
'Stayed on High Road'
Murkowski said tonight that her campaign "stayed on the high road," and that once she completes her work in Washington, "I'm coming home."
The Tea Party Express political action committee poured money into advertising and e-mail blasts for Miller, who criticized Murkowski for her support of the 2008 federal government bank bailout. The group spent more than $400,000 on such independent expenditures for the race this month, reports to the Federal Election Commission show.
Miller was also aided by support from Palin, who defeated Murkowski's father in the 2006 Republican gubernatorial primary. Frank Murkowski had left the U.S. Senate after winning the governorship in 2002.
Alaska's Senate seat is likely to remain in Republican hands this year. Republican voters outnumber Democrats in Alaska, and Democratic nominee Scott McAdams, the mayor of Sitka, has raised less than $10,000. The national Democratic Party is focusing on other, more competitive Senate races.
Murkowski was hurt during the primary by a state ballot initiative requiring teenagers to notify parents of abortions, which helped draw single-issue voters to the polls, Duffy said. While Murkowski endorsed the proposal, anti-abortion groups have criticized her positions on other abortion-related issues. The proposal was approved with more votes than either Murkowski or Miller received.
Leaders of Alaska's Libertarian Party voted unanimously last weekend to rule out allowing Murkowski to run on its ticket because they considered her views incompatible, said state party vice chairman Harley Brown.
To contact the reporter on this story: Brian Faler in Washington at bfaler@bloomberg.net
To contact the editor responsible for this story: Mark Silva at msilva@bloomberg.net