Slovenia Scraps Bond Sale Plans as Economy Expands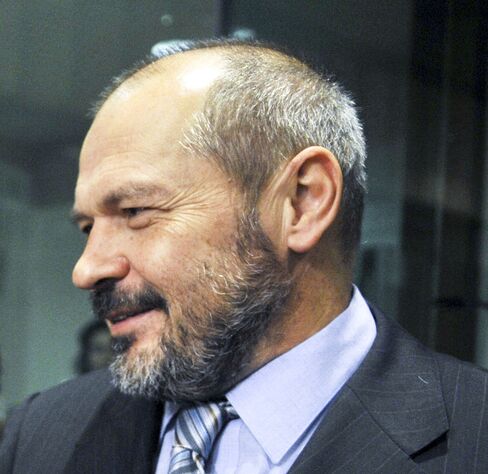 Slovenia has scrapped plans to sell more benchmark bonds this year as the economy's return to growth reduces the need to raise money on international markets, Finance Minister Franc Krizanic said.
The government planned to borrow as much as 4.39 billion euros ($5.6 billion) abroad this year, compared with 4 billion euros in 2009. It sold 1.5 billion euros of 10-year bonds in January and 1 billion euros of five-year securities in March, according to data compiled by Bloomberg.
Proceeds of the bond sales helped strengthen Slovenia's financial system and spur lending after the global credit crunch. Krizanic said in May that Slovenia, the first ex-communist state to adopt the euro, was considering selling bonds or getting a loan to finance its portion of the European Union- led aid package for Greece.
"We don't plan any more bond sales this year since we have enough funds deposited at banks," Krizanic said on Aug. 31 in a phone interview in Ljubljana, the capital. "The next installment of aid for Greece will be taken from funds already deposited at banks from previous debt sales."
Slovenia's export-dependent economy expanded for the first time in six quarters in the April-to-June period, growing 2.2 percent from a year earlier as European demand for its goods increased.
'Quick Growth'
"The result was expected as industrial production data pointed to quick growth and obviously the investment cycle has returned," Krizanic said. "The third-quarter result will also be good as growth will continue."
Gross domestic product will expand 0.6 percent this year, according to the government's economic institute. Central bank Governor Marko Kranjec said in April it may grow 1.3 percent.
The yield on Slovenia's 2.75 percent note maturing in 2015 continued to drop, falling to 2.282 percent at 10:12 a.m. in Ljubljana, down from a high of 3.119 percent on May 7.
The government of the former Yugoslav republic plans to provide 1 billion euros of state-guarantees for Slovenian companies to speed up the economic recovery. The program, which begins this autumn, will back as much as 75 percent of the loans for each project, Krizanic said.
Gorenje Group d.d., Slovenia's second-biggest exporter, is seeing orders for home appliances rise in east Europe as the region emerges from the deepest slump since the fall of communism, Chief Executive Officer Franjo Bobinac said on Aug. 26.
Gorenje seeks to boost sales to more than 1.2 billion euros this year, from 1.19 billion in 2009, when revenue fell 11 percent and the Velenje-based company reported its first full-year loss in two decades.
"This guarantee plan is meant for investment projects," Krizanic said. "We expect this will further accelerate the investment cycle, especially in export-oriented companies."
Before it's here, it's on the Bloomberg Terminal.
LEARN MORE