Obama Says End of Iraq Combat Makes Economy 'Central Mission'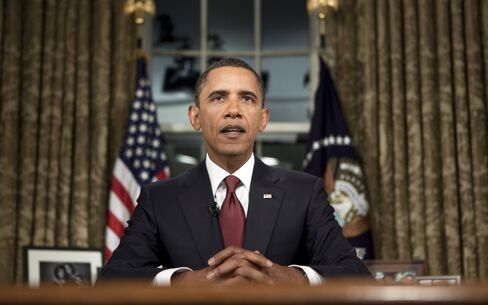 President Barack Obama, declaring the U.S. combat mission in Iraq over, used an Oval Office address to cast economic revival as his "central mission" after almost a decade fighting wars abroad that he said weakened prosperity at home.
The president, in a nationally televised speech last night, underscored that he's focused on the economy at a time when voters are increasingly skeptical of his policies and congressional elections are a little more than two months away.
The more than $1 trillion spent on the wars in Iraq and Afghanistan, along with the sacrifices made by U.S. troops, have "short-changed investments in our own people," Obama said, leading to record budget deficits and putting U.S. global competitiveness at risk.
"So at this moment, as we wind down the war in Iraq, we must tackle those challenges at home with as much energy, and grit, and sense of common purpose as our men and women in uniform who have served abroad," Obama said. "They have met every test that they faced. Now it's our turn."
The president said the drawdown in Iraq also will allow the military to "apply the resources necessary to go on offense" in Afghanistan, where al-Qaeda continues to plot against the U.S. from the border region with Pakistan.
The 17-minute speech, only the second Obama has delivered from the Oval Office, marked the official end of Operation Iraqi Freedom as the U.S. military shifts to a lower-profile Operation New Dawn, providing assistance and training to Iraqi forces before all remaining U.S. troops leave Iraq next year. In seven years of war, at least 4,421 U.S. personnel have died in Iraq, according to Defense Department figures.
Fulfilling Promise
The occasion also fulfilled a promise Obama made during his campaign to end the war there and redirect U.S. military attention to Afghanistan, where the administration is escalating combat operations.
Obama's emphasis on the economy, in an address to mark a milestone for U.S. foreign policy, indicated the importance of jobs and growth to the administration and congressional Democrats.
The U.S. is still struggling in the aftermath of the worst recession in more than 70 years. The economy grew at a 1.6 percent annual rate in the second quarter and the unemployment rate is forecast by the administration to average 9.7 percent this year.
The president said Aug. 30 his economic advisers are examining "additional measures" to boost the economy, such as spending on infrastructure and clean-energy projects and possible additional tax breaks. He proposed no new steps in last night's speech.
Limited Options
The president's options to boost jobs and stimulate growth are limited between now and November by concerns about a deficit projected to hit a record $1.47 trillion this year and by the congressional elections.
"Our most urgent task is to restore our economy and put the millions of Americans who have lost their jobs back to work," Obama said. "This will be difficult. But in the days to come, it must be our central mission as a people, and my central responsibility as president."
Obama, who as a U.S. senator opposed then-President George W. Bush's 2007 decision to add more forces to Iraq, urged opponents and supporters to "turn the page" on the divisions caused by the war. He spoke to Bush yesterday afternoon as he flew to Fort Bliss in El Paso, Texas, to visit with troops returning from Iraq.
"It's well-known that he and I disagreed about the war from its outset," Obama said, sitting behind the same desk used by Bush when he announced the U.S.-led invasion of Iraq in 2003. "Yet no one can doubt President Bush's support for our troops, or his love of country and commitment to our security."
Republican Reaction
Republicans highlighted Obama's opposition to the Iraq war and his criticism of Bush's troop surge, which was designed to quell sectarian violence.
"President Obama was wrong to be against the war in the first place, he was incorrect about the surge, and he still fails to recognize the strategic importance of the United States being in Iraq," Oklahoma Senator Jim Inhofe said in a statement. "Looking back, we see that President Bush made the right decision."
Obama has faced opposition in his own party for increasing U.S. troop strength in Afghanistan, where he said the U.S. will keep more troops "for a limited time."
"We're training Afghan security forces and supporting a political resolution to Afghanistan's problems," he said. "And next August we will begin a transition to Afghan responsibility."
Troops Remain
Even as the combat mission ends in Iraq, Obama cautioned that U.S. involvement with the country continues. Fifty thousand U.S. troops remain to help train Iraqi security forces, protect civilians and pursue terrorists, and civilian workers are helping Iraq form a government following March's parliamentary elections.
"Our combat mission is ending, but our commitment to Iraq's future is not," Obama said. "Only Iraqis can build a democracy within their borders. What America can do and will do is provide support for the Iraqi people as both a friend and a partner."