Landowners Shout 'Bingo' as West Australia's Mining Towns Boom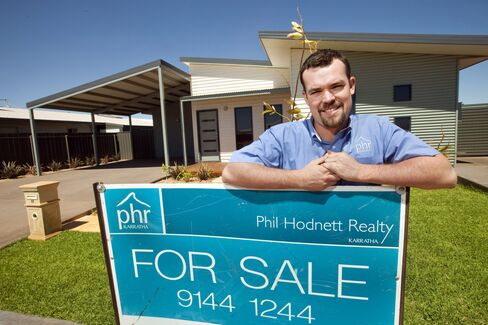 Paul Eaton moved to Karratha 10 years ago with a fledgling building business. Now he and his 40 employees can't build homes quickly enough in the remote Western Australian mining town where demand for land is so hot that the government organizes lotteries to select buyers.
"During ballots people would literally yell out 'bingo' if they got a block of land because instantly they knew they'd made A$100,000 ($90,100)," Eaton, 43, said in between monitoring workers at a building site in the town of 20,000 people. "They'd build a house on it and their profit would go up to A$250,000."
The housing shortage in a region that's one of the world's biggest suppliers of iron ore and natural gas is driving up costs for companies such as Chevron Corp. and BHP Billiton Ltd. as they mine raw materials to feed China's industrialization. Chevron, the second-largest U.S. oil company, was forced to lease seven-year-old cruise liner MS Finnmarken to house 350 workers at its A$43 billion Gorgon gas project.
Karratha, the biggest town in the arid northwest Australian region of the Pilbara, has a median house price of A$775,000, 49 percent more than Sydney's. A four-bedroom home in the fly-ridden, cyclone-prone outpost rents for about A$10,000 a month, triple the average apartment in Manhattan.
Mining Center
The Pilbara -- a region 20 percent bigger than California with just 45,000 people -- generates 23 percent of the nation's merchandise exports. Karratha, about 1,500 kilometers (932 miles) north of the state's capital Perth, is one of the world's remotest locales, making homes twice as costly to build as in the nation's major cities as each brick, roof-tile and sheet of plasterboard must be shipped thousands of kilometers.
The other main town in the region, which is the center of BHP and Rio Tinto Group's iron ore operations, is Port Hedland. Like Karratha, its property prices are booming, giving it a mean housing price of A$908,000, according to Real Estate Institute of Western Australia figures. That compares to A$520,000 in Sydney, according to property researcher RP Data.
"The region has gone ballistic," said Dianne Gilleland, regional manager at the Master Builders Association. "Logistically, it's very expensive to build houses in the Pilbara. Tradesmen don't have anywhere to stay. There are a few caravan parks; hotels charge whatever they like. To even book into a hotel is tough. Prices will rise for a long time."
Fly In, Fly Outs
The mining and energy companies house most of their staff - - known as "fly in, fly out" workers as they reside in cities such as Perth and Sydney when not on-site -- in permanent self-contained units known as Dongas. Due to a shortage of these, other companies are forced to rent hotels or houses.
That's bad news for the towns' non-resources workers, who earn about a third of the miners' wages.
"Some people who have lived in Karratha and Port Hedland all their lives working in low- to moderate-income jobs can't afford to live there anymore," said Bronwyn Kitching, chief executive officer of Shelter WA, a non-government organization dedicated to improving housing opportunities for lower- and middle-income workers in the state.
Other workers, especially in the service industries, can't afford their own room and are forced into "hot-bedding," where they pay rent for a bed that is taken by another worker as soon as they wake up, she said.
"The fly in, fly outs use the town's amenities and services but they don't contribute back to the local economy," Kitching said. "They drive up the price of everything, but don't pay the rates for the local councils to build more infrastructure. So there's more and more need for the hairdressers and shop attendants to live there, but they can't get accommodation at a reasonable price."
Catch-22
Western Australia Premier Colin Barnett, who labels his state "the Saudi Arabia of natural gas," is aware of the problem. His government is planning to turn Karratha and Port Hedland into sustainable cities with populations of about 50,000 by 2035, complete with new marinas and shopping centers.
"We have a Catch-22 situation where we need housing, but the people that build the houses can't afford to live here," said Chris Adams, general manager of the government's new Pilbara Cities initiative. "There is massive demand for housing and community facilities and the supply is just not there. We're fixing up the supply end, but at the same time demand keeps growing. We're always playing catch up."
The region's home prices may be unsustainable, said Cameron Kusher, a Brisbane-based analyst at RP Data.
Voter Backlash
"When a house in the middle of nowhere costs A$950,000, it's a bit tough to say prices will keep going up," Kusher said. "For the miners it's fine, but for the peripheral industries wages aren't there to support it."
That problem is vexing the Reserve Bank of Australia as the mining industry booms while the rest of the nation's economy struggles. Australia would benefit from slower growth in China as that may ease inflationary pressures in the south-Pacific nation, the central bank's Deputy Governor Ric Battellino said in June.
Western Australia's voters punished the incumbent Labor Party's plan to introduce a profits tax on iron ore and coal miners, with a swing of 5.5 percent against it in the Aug. 21 federal election. The poll failed to provide either major party a clear majority, leaving the ruling Labor government and opposition Liberal-National coalition in negotiations with independents to try to form government.
Inhospitable Climate
The Pilbara -- named after pilbarra, an aboriginal word for mullet -- is the main resource center of Western Australia, a state about four times the size of France that accounts for 62 percent of the nation's mineral production, 75 percent of natural gas and 64 percent of crude oil and condensate, according to state government figures.
Mining and petroleum production in the state was worth more than A$60 billion last year and the state has about A$170 billion worth of projects in the investment pipeline over the next five years.
The Gorgon project at Barrow Island, off Karratha, holds more than 40 trillion cubic feet of gas and will supply 8 percent of current global liquefied natural gas capacity, the San Ramon, California-based Chevron said last year. It is the company's largest project.
The LNG that Gorgon will produce will help elevate Australia to second among global suppliers of the fuel from sixth now, according to BP Plc.
The Pilbara includes 12 iron ore mines operated by Rio Tinto and seven by BHP.
Cyclones, Land Claims
Visitors to Karratha, which arose from the arid moonscape and scrub terrain less than a half-century ago, would be forgiven for thinking it an unlikely place for a housing boom. Karratha means "good country" in the language of the local indigenous people.
During the day, mothers and young children shelter in their homes or in the town's lone shopping center, escaping the average maximum temperature of 32.3 degrees Celsius (90.1 degrees Fahrenheit), which often soars above 40 degrees in summer. At night, burly men from the mines in their stained work clothes gulp beers in tatty pubs.
Cyclones buffer the region November to April, further adding to building costs as homes must be made cyclone-proof. Meanwhile, land releases are constrained due to claims by the region's aboriginal population, and reticence to allocate land to housing when it may have minerals underneath.
All of that adds up to a "perfect storm" constraining the supply of new homes, according to Karratha real estate agent Phil Hodnett. Properties that 10 years ago were selling for A$160,000 are now approaching A$1 million, he said.
"The world wants more and more of what we have here in terms of natural resources and every other day there's new stuff found," he said. "The game just keeps going on."
Before it's here, it's on the Bloomberg Terminal.
LEARN MORE