Hurricane Earl Threatens U.S. as More Storms Form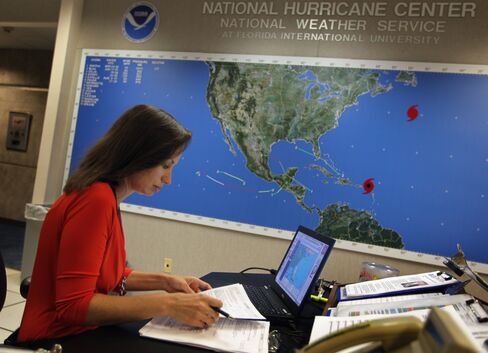 Hurricane Earl churned closer to the U.S. East Coast, threatening an area from North Carolina to Massachusetts with high winds and rain, as two more systems gained strength in the warm Atlantic waters.
North Carolina's Hyde County declared a state of emergency and ordered mandatory evacuations beginning today for all visitors and residents of Ocracoke Island in the Outer Banks. Visitors were also ordered to leave nearby Hatteras Island, site of the nation's tallest lighthouse.
While Earl isn't expected to make landfall in the U.S. on its route north to Canada, its eye could cross the barrier islands if another system doesn't push it east as expected, Bill Read, director of the National Hurricane Center, said in a conference call with reporters. Some visitors were unfazed.
"We think we're going to ride it out," said Curtis Zimmerman, 65, of Millville, New Jersey, vacationing with relatives at Hatteras Village. "They're saying the storm should be in and out in a day."
Earl, with winds of 125 mph (201 kph), is on a track to pass within 50 to 100 miles of the Outer Banks and Massachusetts's Cape Cod before going ashore in Nova Scotia this weekend. It was 680 miles south-southeast of Cape Hatteras as of 2 p.m. and moving northwest at 17 mph, the hurricane center said in an advisory.
New Storm
It's being followed across the Atlantic by Tropical Storm Fiona, with winds of 60 mph, up from 40 mph, and Tropical Depression Nine, which formed today south of Cape Verde off the African coast.
President Barack Obama was briefed about the potential impact of the hurricane by Craig Fugate, Federal Emergency Management Agency administrator. FEMA has placed food, water and other supplies along the East Coast after earlier sending teams to Puerto Rico and the U.S. Virgin Islands, which were brushed by Earl.
A weather system is expected to move into the Atlantic in the next day or two and push Earl away from the coast.
"The worst-case scenario is Earl does make landfall in the Outer Banks and even in New England and brings major hurricane conditions to those places," John Cangialosi, a hurricane specialist at the center in Miami, said today in a telephone interview. "Our forecast is for this to pass just offshore but it wouldn't take much of a turn for it to hit land."
Emergency Declared
In North Carolina, where Governor Bev Perdue declared a state of emergency, evacuations began at Ocracoke at 5 a.m., with ferries traveling from Hatteras Village, Cedar Island and Swan Quarter to pick up vacationers. Cars and minivans from New York, Vermont, Illinois, Virginia and other states were loaded with surf boards, bicycles, coolers and beach towels.
About 1.8 million people in Virginia and North Carolina may be affected by hurricane- or tropical storm-force winds, according to the U.S. Census Bureau.
"We're frustrated that we have to leave, but we understand that they have to play it safe," said Jeff Spivey, 50, of Chesapeake, Virginia, who abided by the evacuation order for Ocracoke.
Earl, now a Category 3 "major" storm on the five-step Saffir-Simpson scale of intensity, down from Category 4 earlier, has hurricane-force winds reaching 90 miles from its eye, according to the center. Winds of at least 39 mph extend as far out as 200 miles.
Watches, Warnings
A 50-foot wave peak was recorded as Earl passed over a U.S. weather buoy yesterday, Read said.
A hurricane warning, meaning winds of at least 74 mph are expected in 36 hours, has been posted from Bogue Inlet, North Carolina, to the Virginia state line, according to the hurricane center. A hurricane watch, an indication that such winds are possible within two days, now extends north from North Carolina to Cape Henlopen, Delaware.
"For the next 24 hours Earl is going to hold its strength," said Allan Huffman, a meteorologist with AirDat LLC in North Carolina, which installs weather-gathering sensors on commercial aircraft.
Earl's impact will be felt mostly along the coast with rain and wind gusts just inland, said Michael Schlacter, chief meteorologist at Weather 2000 Inc. in New York.
'Buzz Saw'
"The degree of nastiness is a very sharp gradient depending on how far out in the Atlantic you are," Schlacter said. "This is like a buzz saw that will be very sharp but will be very coastal."
Rain from Earl will probably start arriving in Boston tomorrow night, with the worst impact the following afternoon, said Bob Thompson, meteorologist in charge of the National Weather Service office in Taunton, Massachusetts.
The hurricane is expected to pass about 50 to 100 miles southeast of Nantucket with gusts of at least 74 mph for the island and Cape Cod, he said. Boston is forecast to receive heavy rain and may see winds from 39 mph to 73 mph, he said.
"The rain could be heavy enough for some localized urban flooding," Thompson said. "That could be the biggest impact for Boston."
When the storm is through with the U.S. East Coast, it is expected to come ashore near Yarmouth, Nova Scotia, about 185 miles west of Halifax, on the morning of Sept. 4, according to the website of the Canadian Hurricane Centre. Yarmouth has a population of about 7,200 and is at the heart of Canada's lobster fishing grounds.
Canada Hit
"It looks like it will take a direct hit on Nova Scotia," AirDat's Huffman said. "By that time it will be a Category 1 or extra-tropical storm but it will be enough to bring hurricane-force winds to that area."
Irving Oil Corp. is "monitoring the situation" at its Saint John refinery in New Brunswick, across the Bay of Fundy from Yarmouth, Sam Robinson, a refinery spokeswoman, said in an e-mail.
Earl may cause insured losses of $100 million, catastrophe forecaster Eqecat Inc. said in a statement on its website yesterday. Losses may approach $500 million if the storm moves 100 miles closer to the mainland, the company said.
The last big storm to hit North Carolina, Hurricane Isabel in 2003, killed at least 16 and caused $3.4 billion in damage on its path up the eastern U.S., according to the National Hurricane Center.
Past Storms
The two most recent hurricanes to damage Massachusetts were Hurricane Gloria in 1985, which killed 8 people, left 2 million without power and caused $900 million in damage; and Bob, which struck in 1991, according to the Massachusetts Executive Office of Public Safety and Security. Bob came ashore near New Bedford and killed 18 people and caused $2.5 billion in damage.
Earl is being followed across the Atlantic by Tropical Storm Fiona, which was about 90 miles northeast of Anguilla and heading northwest at 17 mph, the center said at 2 p.m. Miami time. The storm is predicted to pass between Bermuda and the U.S. East Coast. A hit on Bermuda remains a possibility, graphics on the center's website show.
St. Martin and St. Barthelemy in the Leeward Islands were under a tropical storm warning as Fiona approached and watches were in place for Antigua, Barbuda, Montserrat, St. Kitts, Nevis, Anguilla, St. Maarten, Saba and St. Eustatius.
Behind Fiona is Tropical Depression Nine, which has maximum sustained winds of 35 mph, 4 fewer than the threshold needed to be declared Tropical Storm Gaston. It was located 830 miles west-southwest of the Cape Verde Islands and moving west at 15 mph, the center said.
Before it's here, it's on the Bloomberg Terminal.
LEARN MORE