Goldman Boosts Japan Equity Sales Share to Record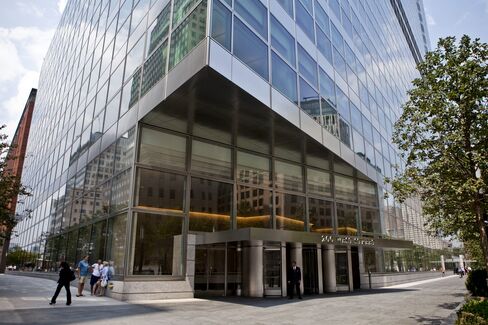 Goldman Sachs Group Inc. is capturing a record share of Japan's equity underwriting market as foreign investment banks benefit from local companies selling a greater proportion of stock overseas.
The New York-based firm has an 18.4 percent share excluding self-led offerings for the fiscal year that started April 1, its best showing since Bloomberg began compiling the data in 1999. Goldman Sachs worked on the $6 billion public offering of Inpex Corp., Japan's largest energy explorer, and Mizuho Financial Group Inc.'s $9 billion share sale.
JPMorgan Chase & Co. is also using its global reach to take market share from local rivals like Daiwa Securities Group Inc. as Japanese companies turn to overseas investors for cash. Japan's five biggest public stock sales in the past 12 months raised 45 percent of proceeds from abroad, up from 32 percent for the largest deals five years ago, Bloomberg data show.
"As domestic institutional appetite remains modest, international firms with strong overseas distribution capabilities are playing an increasingly important role in global offerings," said Jasper Tans, 38, head of the Japan financing group at Goldman Sachs, the most profitable securities firm in Wall Street history.
Japanese pension funds cut domestic equities to 20.1 percent of holdings last fiscal year from 23.5 percent in the same period two years earlier, according to a JPMorgan survey of funds managing a combined 12 trillion yen ($142 billion).
Inpex, Mizuho
Inpex, the operator of a proposed $20 billion natural-gas project in northern Australia, sold half of the 1.3 million shares it issued in July abroad. In its initial public offering in 2004, overseas investors accounted for less than 30 percent of the 160 billion yen raised. Goldman Sachs worked on the IPO.
Mizuho Financial, Japan's third-largest publicly traded bank, collected 50 percent of proceeds in its July sale from outside Japan. In a $6 billion offering in 2005, overseas investors accounted for 40 percent.
Inpex picked Goldman Sachs and Tokyo-based Nomura Holdings Inc. as joint global coordinators from among 13 Japanese and foreign candidates, said Hiroshi Ikeda, head of the company's corporate strategy and planning group.
"We've been reviewing and scoring banks since our IPO in 2004," Ikeda said. "Goldman's global research capability on our industry and its relationships with global investors surpassed others."
More Analysts
Goldman Sachs has 30 senior analysts covering the energy exploration and extraction industries, according to the company. Daiwa, Japan's second-largest securities firm, has four.
Japanese brokerages and the local units of foreign banks such as Goldman Sachs and JPMorgan report earnings on a fiscal-year basis.
Foreign underwriters' share of Japanese equity offerings reached 40.3 percent this fiscal year, the highest since 2002, according to data compiled by Bloomberg. Goldman Sachs ranks second, behind Nomura, after its portion rose from 11.5 percent in the 12 months to March 31.
New York-based JPMorgan, the second-biggest U.S. bank, boosted its share to 12.8 percent from 4.7 percent, putting it in fourth place. Nomura, Japan's largest brokerage, tops the league table for equity underwriting with a 39.2 percent market share, down from 42.5 percent last fiscal year.
Fees on Goldman Sachs's deals averaged 3.4 percent since April 1, compared with 3.8 percent for JPMorgan, according to Bloomberg data. JPMorgan was a joint global coordinator for Mizuho's share sale, and a joint bookrunner for Inpex's global offering.
Underwriting Fees
Goldman Sachs's global equity underwriting fees shrank to $222 million in the three months ended June 30, from $736 million in the same period a year earlier. Daiwa's fees from stock underwriting fell 88 percent to 2.5 billion yen in the quarter from 20.8 billion yen a year earlier.
Daiwa Securities, which dissolved a 10-year investment banking venture with Sumitomo Mitsui Financial Group Inc. last year, has a 4 percent portion of the market, down from 8.8 percent last fiscal year and 25.9 percent in the period to March 2009. It was Daiwa's lowest share since at least 1999.
Getting work on the Mizuho and Inpex deals was key for investment banks' rankings this year, as they accounted for a combined 65 percent of all equity offerings since April 1. That was the highest concentration since Bloomberg began compiling the data in 1999.
"We don't get nervous about the league tables as one big transaction can change the ranking," said Kozue Niida, a spokeswoman at Daiwa Securities' investment-banking unit.
Japan's Decline
Nomura advised on 18 Japanese stock sales this fiscal year and Daiwa has been on nine deals, compared with three each for Goldman Sachs and JPMorgan, Bloomberg data show.
Economic and demographic forces beyond Japanese securities firms' control are playing into the hands of foreign rivals. The economy has barely grown since 1991 without accounting for price changes, and was overtaken in size by China's in the second quarter. The nation's equity benchmark, the Nikkei 225 Stock Average, remains 77 percent below its 1989 peak.
"We expect issuance activity of Japanese corporates to remain fairly high as they increase their focus on mergers and acquisitions and growth funding," Goldman Sachs's Tans said.
Otsuka Holdings Inc., Japan's largest privately owned drugmaker, hired Morgan Stanley, UBS AG and Nomura to manage an IPO in global markets, four people familiar with the matter said.
Nomura Chief Executive Officer Kenichi Watanabe responded by accelerating an overseas expansion in 2008, buying the Asian and European operations of bankrupt Lehman Brothers Holdings Inc. in a deal that added about 8,000 employees. He also earmarked 250 billion yen for investment in Nomura's U.S. business.
Daiwa plans to add 100 people for its underwriting and mergers advisory business in Asia-Pacific outside Japan, CEO Shigeharu Suzuki said in July.
"Given the aging and declining Japanese population and the modest growth of the Japanese economy in comparison with countries such as China and India, it's clear that Japanese corporations increasingly have to seek growth overseas," said Douglas Howland, head of capital markets at JPMorgan in Tokyo.