Toyota, GM, Ford U.S. Sales Drop as Buyers Stay Home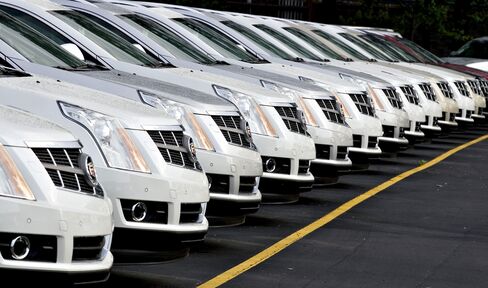 Toyota Motor Corp., General Motors Co. and Ford Motor Co., the three largest sellers of autos in the U.S., reported bigger sales declines than analysts projected as the industry posted its worst August in 28 years.
GM said deliveries fell 25 percent to 185,176 from 246,479 last August, when the U.S. government's "cash for clunkers" incentive program boosted sales. The biggest U.S. automaker was expected to report a 19 percent decrease, including an adjustment for the number of selling days in August, the average estimate of four analysts surveyed by Bloomberg. On that basis, sales fell 22 percent, Detroit-based GM said in a statement.
U.S. auto sales last month were the slowest for an August in 28 years as model-year closeout deals failed to entice consumers concerned about the economy and their jobs. Deliveries industrywide ran at an annual rate of 11.5 million vehicles last month, according to researcher Autodata Corp., based in Woodcliff Lake, New Jersey. That was below the 11.6 million average of eight analysts' estimates compiled by Bloomberg and last year's 14.2 million pace.
"Consumers are being very cautious about where they spend their money," Emily Kolinski Morris, Ford senior economist, said on a conference call. "On big-ticket items, they're undertaking those very carefully."
Toyota, the world's largest automaker, reported a 34 percent drop in its sales of Toyota, Lexus and Scion brand autos. The company sold 148,388 vehicles last month, down from 225,088 a year ago. Adjusted to match analysts' estimates, sales fell 31 percent, exceeding the 29 percent decline predicted by the average of four analysts' estimates.
Ford Decline
Ford sales fell 11 percent to 157,503 from 176,323 a year earlier for the Dearborn, Michigan-based automaker's three main brands. On a daily selling rate basis, sales declined 7.1 percent, more than the expected 5.2 percent decline, the average of six analysts' estimates. Including August 2009 sales by Volvo, which Ford sold for $1.5 billion last month to Zhejiang Geely Holding Co., sales fell 13 percent.
Ford rose 33 cents, or 2.9 percent, to $11.61 at 4:15 p.m. in New York Stock Exchange composite trading. The shares have gained 16 percent this year.
Ford said its car sales fell 14 percent and deliveries of sport-utility vehicles declined 26 percent, while sales of other trucks and vans rose 5 percent in August. Sales of the Focus small car fell 40 percent, while the Escape small SUV dropped 29 percent. Those two models were strong sellers in last year's "cash for clunkers" program, Ford said.
Ford said it plans to build 570,000 cars and trucks in the fourth quarter, down from 574,000 it built in the final three months of 2009.
Chrysler Gained
One exception was Chrysler Group LLC, which saw sales rise more than expected.
Chrysler sales rose 7 percent to 99,611 compared to last August, the company said. It's the Auburn Hills, Michigan-based automaker's fifth-straight month of year-over-year sales increases.
"We have beaten or matched the average industry sales increase for the fifth consecutive month," Fred Diaz, Chrysler's lead executive for U.S. sales, said in a statement. "We are accomplishing our goals."
On an adjusted basis, Chrysler sales rose 11 percent, exceeding the 3 percent average of six analysts' estimates.
Sales of the Jeep, Dodge and Ram vehicles increased last month, while Chrysler brand sales slipped 4 percent.
Chrysler's results are distorted by sales to rental-car companies, businesses and governments, also known as fleet sales, said Paul Ballew, chief economist for Nationwide Mutual Insurance Co. in Columbus, Ohio, in a telephone interview.
'Propped Up'
"They have been propped up by fleet for a long time and certainly this year they've been really, really propped by fleet," he said. "You can make money on fleet. Chrysler's problem is that they are overly dependent on fleet."
Sales of GM's volume brand, Chevrolet, sales fell 22 percent, as Camaro sports-car deliveries tumbled 27 percent and Traverse sport-utility vehicle sales plunged 32 percent.
Its other three U.S. brands showed better results than they did last year. Cadillac gained 83 percent, Buick increased 66 percent and GMC gained 12 percent. The automaker closed or sold four brands since its bankruptcy last year.
GM executives expect a slow recovery in the economy and in auto sales, said Don Johnson, GM vice president of U.S. sales operations. He said sales rates will pick up only modestly through the end of the year. He said that GM will not respond to the slow recovery with incentive deals.
'Bumpy' Road
"We know it's going to continue to be bumpy," Johnson said on a conference call today. "We're not panicking. We don't want to get back to putting incentives into the marketplace to keep plants going."
GM had 16.5 percent of the U.S. retail market in August, Johnson said. This compares with the company's total share of 18.6 percent for the month, reflecting gains from fleet sales. Johnson said he expects GM's retail share to rise in the second half as the company begins selling new models like the compact Chevrolet Cruze, Buick Regal sedan and redesigned heavy-duty versions of its large pickups.
"We definitely are forecasting our share of the retail market to rise," Johnson said.
Dan Akerson replaced Ed Whitacre as the company's chief executive officer today. Akerson, who will become chairman by year-end, is GM's fourth CEO in 18 months.
Retail Decline
While automakers increased discounts by 1 percent from July to an average $2,864 per vehicle, sales to individuals probably fell 7 percent in August from the previous month, according to researcher TrueCar.com, based in Santa Monica, California.
Consumers are avoiding showrooms as fear of a double-dip recession grows following the 27 percent plunge in existing home sales in July, said Jesse Toprak, vice president of industry trends at TrueCar.com. The U.S. unemployment rate in July held at 9.5 percent, near a 26-year high of 10.1 percent. The Conference Board reported yesterday that consumer sentiment rose to 53.5 last month from a five-month low of 51 in July. Fewer Americans said jobs were plentiful in August.
"Home sales are way down, the stock market is way down, the unemployment report is very disappointing and consumer confidence is sputtering," Toprak said. "People just don't want to make big-ticket purchases because they're uncertain about their jobs and the value of their homes."
Fleet Boost
Fleets may have accounted for 20 percent of the industry's August deliveries, up from 15 percent in July, Credit Suisse Group AG auto analyst Chris Ceraso wrote in an Aug. 26 report.
Such sales, especially to rental-car companies, have helped prop up the market as individual customers stay away, said Sophia Koropeckyj, managing director of Moody's Analytics.
"Consumers are still under a considerable amount of strain and they do not have much appetite or ability to purchase new vehicles," said Koropeckyj, who is based in West Chester, Pennsylvania.
Compared with a year earlier, GM reduced its incentives and sold vehicles for an average of $5,600 more, Johnson said.
That doesn't match with TrueCar's analysis, which found that GM increased sales discounts 18 percent to $3,763 per vehicle in August, and Ford boosted discounts by 25 percent to $3,008 per vehicle.
Sales by Japanese automakers, which benefited most from the "cash for clunkers" program, were expected to fall more than the overall market, analysts said.
Honda Sales
Honda Motor Co., the second-biggest Japanese automaker, sold 108,729 Honda and Acura brand vehicles, down 33 percent from a year ago, according to an e-mailed release from the company. Adjusting for one less sales day in the month, Honda's sales fell 30 percent, compared with a decline of 27 percent, predicted by the average of four analysts' estimates.
Nissan Motor Co.'s sales of Nissan and Infiniti vehicles fell 27 percent in August. Adjusting to match analysts' estimates, sales tumbled 24 percent, matching the average of four estimates.
Hyundai Motor Co., South Korea's largest automaker, reported an 11 percent drop in its U.S. sales in August.
Before it's here, it's on the Bloomberg Terminal.
LEARN MORE