Fuld's Lehman 'Peddled Junk,' Betrayed Firm's Founders: Books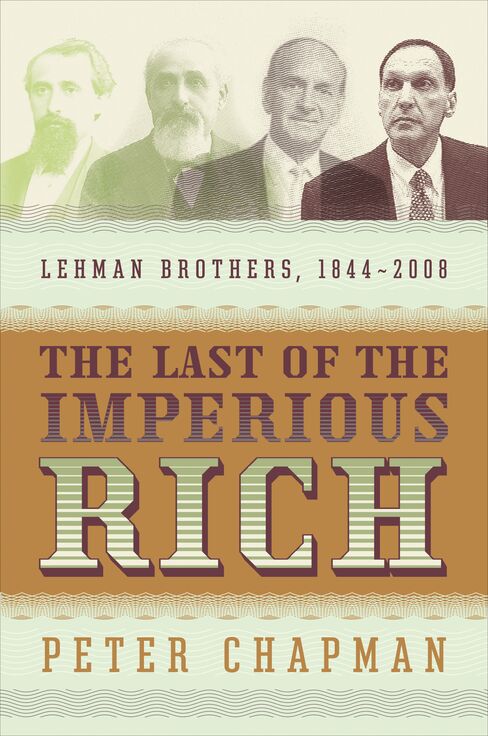 The first Lehman Brother was a Jewish immigrant from the Bavaria of King Ludwig I, a despot whose tastes ran to mistresses and monasteries.
Heyum Lehmann sailed to America in 1844 and became Henry Lehman, a peddler plying the plank roads of antebellum Alabama. He was a proud and honest risk taker, not one of the "huddled masses," writes Peter Chapman in "The Last of the Imperious Rich," a new history on the rise and ruin of Lehman Brothers Holdings Inc.
Henry sold simple wares of real value to farm folk, Chapman says. The ruination came only a century and a half later, when the Lehman of Richard S. Fuld Jr. "was caught peddling junk."
That barbed epitaph befits an institution that prospered and became entwined in U.S. history -- from selling Confederate bonds to taking famous retailers such as Sears, Roebuck & Co. public and financing Boeing 747s -- before short-term thinkers such as Fuld took control and abandoned the company's founding principles, as Chapman argues. His book lends needed perspective to Fuld's attempt this week to shift the blame for Lehman's collapse onto regulators working with "flawed information."
Another title on Lehman, you say? A groan escaped me when the book hit my desk. What could Chapman add to a shelf that already includes Ken Auletta's "Greed and Glory on Wall Street," Lawrence G. McDonald's "A Colossal Failure of Common Sense" and Vicky Ward's "The Devil's Casino"?
Alternative History
The simple answer is context. Chapman brings little original reporting to bear, yet in a sense it doesn't matter. Because "The Last of the Imperious Rich" turns out to be an alternative history of U.S. business, politics and economics as refracted through the prism that was Lehman.
Chapman, who writes for the Financial Times, has synthesized his wide reading into a narrative suitable for a college course on business history. The canvas is vast, spreading from the Lehmans' slave-owning, cotton-trading roots in Montgomery, Alabama, and on through the glory days of Robert "Bobbie" Lehman, the salmon-fishing, polo-playing art collector who ran the shop from 1925 to 1969, the year Neil Armstrong did his first moon walk.
When the Great Depression came, the Lehmans rolled up their shirtsleeves, politically as well as financially. Bobbie's cousin, Herbert Lehman, had become Franklin Delano Roosevelt's right-hand man in the late 1920s, when Roosevelt was elected New York governor and Herbert the lieutenant governor. When FDR moved into the White House, Herbert was elected governor in his own right and countered the Depression with what came to be called the Little New Deal, including measures on minimum wages and unemployment relief.
Lindbergh and Goya
Bobbie Lehman, another man of his era, rubbed shoulders with Charles Lindbergh and Joseph Kennedy. His clients included RCA, Philip Morris and Pan Am. He staged exhibitions of his collection, which included works by Rembrandt and Goya, at the Metropolitan Museum of Art in New York and at the Orangerie in Paris. His collection now fills a Metropolitan wing.
Bobbie's death in 1969 marked the moment when Lehman Brothers began losing its way, Chapman argues. That was, tellingly, the same year Fuld joined Lehman full-time.
Chapman jogs through the years when Peter G. Peterson joined the firm in 1973 and was offered the top job following a boardroom coup. Peterson soon found himself pulling Lehman back from the brink after its government-bond traders lost between $15 million and $20 million before taxes, as he writes in his own memoirs.
Glucksman Showdown
Peterson's reward was to be shoved aside by Fuld's mentor, Lewis Glucksman, a rumpled, overweight trader sowing a whirlwind of expletives. From there, it's but a short step to Fuld's massively leveraged wagers and, when they went awry, his rage at anyone who bet against Lehman's survival.
Lehman's final act became a sad morality tale familiar to students of corporate governance: A great family firm succumbed to outsiders more interested in making fast money than in providing a valuable service and building lasting wealth. Here, too, Lehman reflected broader trends, notably Wall Street's drift from its core purpose of funneling capital from investors to companies.
This greedy reader yearned for more firsthand reporting and more sifting through archives. Yet Chapman has succeeded in holding up a mirror to America's past -- and what its future might hold.
"Lehman Brothers was like a Zelig of modern American history," he writes. "It has been present at almost all of the momentous occasions. It was indeed sad that it should be present at this one."
"The Last of the Imperious Rich: Lehman Brothers, 1844-2008" is from Portfolio (308 pages, $27.95). To buy this book in North America, click here.
(James Pressley writes for Muse, the arts and culture section of Bloomberg News. The opinions expressed are his own.)