Wachovia Rescue Relied on 'Usurpation' of Tax Law, Thomas Says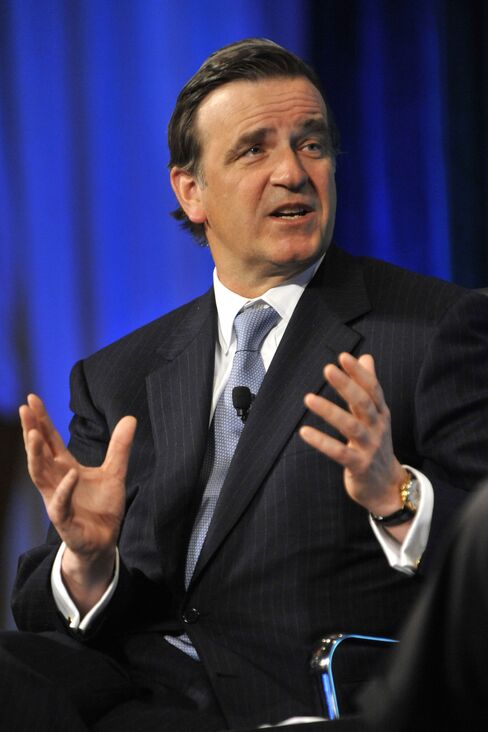 Wachovia Corp.'s 2008 rescue by Wells Fargo & Co. relied on a tax break that Congress never approved, adding to the cost of U.S. bailouts, according to the vice chairman of a panel investigating the financial crisis.
An interpretation of Internal Revenue Service rules during the meltdown that helped Wells Fargo amounted to "an unprecedented executive branch usurpation of tax law," former U.S. Representative Bill Thomas said at today's hearing of the Financial Crisis Inquiry Commission in Washington.
The panel is probing the government's decision to salvage firms such as Wachovia and American International Group Inc. as the financial system teetered, while leaving others such as Lehman Brothers Holdings Inc. to collapse. In addition to direct bailouts, such as the Troubled Asset Relief Program, the panel is looking at subsidies such as the tax break, which analysts said may have been worth billions of dollars to Wells Fargo.
The IRS issued a notice in September 2008 allowing tax breaks to companies that acquire struggling banks. The issue was never debated by Congress and was later reversed. The change enabled acquiring banks to write off more losses from the merged bank and shelter profits from the IRS, and helped Wells Fargo top a competing bid for Wachovia from Citigroup Inc.
"It changed the fundamental rules of the game," Thomas said.
Rescue Effort
Former Wachovia Chief Executive Officer Robert Steel told the panel he never discussed the tax-law change as he negotiated the company's sale with New York-based Citigroup and San Francisco-based Wells Fargo. Two other witnesses, Scott Alvarez, general counsel of the Federal Reserve System, and John Corston, acting deputy director of supervision and consumer protection at the Federal Deposit Insurance Corp., also said they weren't involved in discussions before the change was made.
Steel, a former U.S. Treasury Department official and Goldman Sachs Group Inc. executive, was brought in to lead Charlotte, North Carolina-based Wachovia in 2008 as the lender struggled to recover from the aftermath of its $24 billion purchase of Golden West Financial Corp.
Prodded by FDIC Chairman Sheila Bair, Wachovia agreed on Sept. 29, 2008, to sell most of its assets to Citigroup with government assistance for $2.16 billion. San Francisco-based Wells Fargo then swooped in with a $15 billion stock offer that didn't include direct U.S. support, depriving Citigroup of a chance to bolster its own faltering health. Citigroup later required a $45 billion bailout.
FDIC's View
Thomas focused on the possibility that the tax break for Wells Fargo also helped the FDIC by relieving the agency of the need to support Citigroup's offer. Corston's analysis projected less impact on the deposit insurance fund from the Wells Fargo bid, which he said "would be better for us or at least less risky."
Thomas responded, "So, if I line up your loyalty, responsibility, it is to the FDIC first and then the American taxpayer second."
The tax law change didn't provide any money to Wells Fargo and didn't harm U.S. taxpayers, Wells Fargo spokeswoman Mary Eshet said. "We do not believe it affects the company's total tax deductions allowable," she said. "It simply may accelerate the time when the tax deduction for certain loan losses can be taken."
Treasury spokesman Steve Adamske didn't immediately respond to an e-mailed request for comment. In a Sept. 3, 2009, letter, Treasury Inspector General Counsel Rich Delmar said there was no evidence that the change "was driven by a request or plan to affect or assist any particular corporate transaction."
Steel is now deputy mayor for economic development in New York City. Michael Bloomberg, the city's mayor, is founder and majority owner of Bloomberg News parent Bloomberg LP.