ADP Estimates Companies in U.S. Unexpectedly Cut Jobs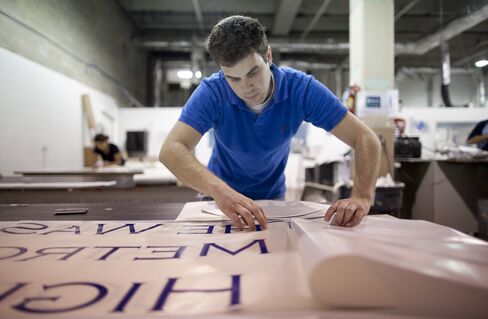 Companies in the U.S. unexpectedly cut workers in August, data from a private report based on payrolls showed.
Employment fell by 10,000, the first drop since January, according to figures today from ADP Employer Services. The median estimate of 35 economists surveyed by Bloomberg News called for a gain of 15,000. Forecasts ranged from a decline of 50,000 to a 55,000 increase.
A loss of jobs raises the risk that consumer spending, the largest part of the economy, will retrench and halt the recovery. A Labor Department report in two days will show companies added 42,000 workers last month, economists projected.
"The labor market is really in peril as businesses are just being very cautious," said David Semmens, an economist at Standard Chartered Bank in New York, the only economist surveyed to accurately forecast the loss in private jobs. Today's figures "will drag down expectations for the Friday payrolls report. The stability surrounding the recovery is declining."
Over the previous six reports, ADP's initial figures were closest to the Labor Department's first estimate of private payrolls in February, when they overestimated the drop in jobs by 2,000. The estimate was least accurate in April, when it underestimated the employment gain by 199,000.
Shares Climbing
Stock-index futures held earlier gains after the report, buoyed by reports out of China and Australia that showed those economies expanding. The contract on the Standard & Poor's 500 Index rose 1.2 percent to 1,061.2 at 8:52 a.m. in New York. Treasury securities dropped, sending the yield on the benchmark 10-year note up to 2.53 percent from 2.47 percent late yesterday.
The Labor Department's report on Sept. 3 will also show the jobless rate increased to 9.6 percent from 9.5 percent, according to the survey median.
"This number is disappointing and maybe even a little disconcerting," Joel Prakken, chairman of St. Louis-based Macroeconomic Advisers LLC, which produces the figures with ADP, said on a conference call with reporters. "The weakness was pretty much across the board. Employment is going to be lethargic through the second half of the year."
Overall payrolls probably fell by about 100,000 in August, reflecting a drop in federal census workers as the decennial population count began to wind down, according to the Bloomberg survey median ahead of the Labor Department's Sept. 3 report.
Employment Slowdown
After boosting payrolls by 200,000 workers on average in March and April, companies scaled back the pace of hiring to an average 51,000 the following three months. Unemployment is hovering near a 26-year high of 10.1 percent in October.
Today's ADP report showed a decrease of 40,000 workers in goods-producing industries including manufacturers and construction companies. Factories subtracted 6,000 jobs.
Service providers added 30,000 workers.
Companies employing more than 499 workers boosted payrolls by 1,000 in August. Medium-sized businesses, with 50 to 499 employees, subtracted 5,000 and small companies decreased payrolls by 6,000, ADP said.
While private payrolls have increased each month this year, it may take years to recoup the more than 8 million jobs lost since the recession began in December 2007, the most of any downturn in the post-World War II era.
Manufacturing, the industry that helped lead the U.S. out of the worst recession since the 1930s, is showing signs of a slowdown. Northrop Grumman Shipbuilding, a unit of Northrop Grumman Corp., said this week that it expects to cut 350 jobs at a facility in Pascagoula, Mississippi, by the end of the year.
The ADP report is based on data from about 500,000 businesses with more than 21 million workers on payrolls.