Dr. Dog Plays Governors Island Freebie, Oberhofer Makes a Name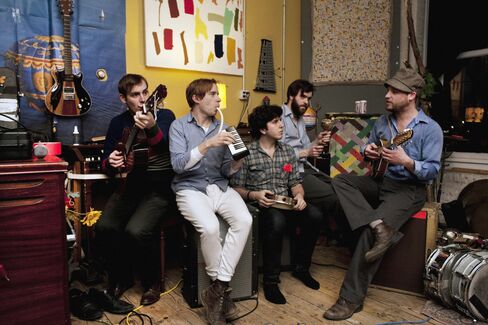 With sand at your feet, palm trees made of multicolored lights lining the water and a view of the Manhattan skyline, the Beach at Governors Island was a refreshing place to be on a warm Sunday night.
Fans who made the four-minute ferry ride from lower Manhattan Aug. 15 caught the last free concert in a summer series: Philadelphia's '60s rock revivalists Dr. Dog.
"Shadow People," a slow, steady number that builds to a march helped the band and audience loosen up. The keyboard led quickly into "Stranger," which has hints of Beatles and showed that straight and simple can make the best music.
Guitarist Scott McMicken, on theme with a Hawaiian shirt, shared lead vocals with bassist Toby Leaman for the six-piece band. McMicken's youthful voice shone on bubbly numbers such as "Mirror, Mirror," while Leaman's rugged rasp was well-suited to the darker tone of "The Ark." The tune from their fourth album, "Fate," was an excellent change of pace, and the smooth guitar jam set us up for a cascading harmony.
Dr. Dog hit its stride on the fifth and most recent album, "Shame, Shame." The lyrics are sharp and the tunes capture the essence of their energetic live show. It is one of 2010's best and should gain this perennial underdog the praise it deserves.
The group played for almost two hours, with the crowd of about 1,500 dancing and singing along. Just after midnight we boarded the ferry back to Wall Street -- where some may have found themselves just a few hours later.
'Special Moment'
A 19-year-old student at New York University, Brad Oberhofer greeted the Mercury Lounge on Aug. 11 with a warm "We're glad to share this special moment with you."
Far from his home in Tacoma, Washington, Oberhofer has caught on in the New York indie scene with recordings made as a one-man band. Live, he has a bassist, drummer and guitarist who doubles on keyboards, all playing as a group named, inevitably, Oberhofer.
He opened with the typographically challenging "o0O0o0Oo," in which the vocals stretched out over fast-paced guitar. His voice is reminiscent of Avey Tare of Animal Collective, while the music is tough to categorize.
During "Awy Frm U," he combines infectiously catchy guitar riffs with a jolly whistled line that sticks in your head long after it is over. For "Dead Girls Dance," a rickety drum intro bleeds into a unison jam filled with haunting vocals.
The set ended with the warm and jingly "Gold" and the repeated line "shine like gold" may reflect Oberhofer's bright future. Keep him on your radar as he is sure to get bigger. The band will be performing at Brooklyn's Monster Island Basement on Sept. 17.
Pavement Five Times
For the month ahead, the reunited indie pioneer Pavement has an unusual five gigs in the New York area. Catch them Sept. 19 at the Williamsburg Waterfront or Sept. 21-24 at the Central Park SummerStage. Tickets are available for all shows except the final night.
Here's a selection of New York-area shows in September. Please note that opening bands aren't always listed. Shows marked (SO) are sold out, although online services such as Craigslist often have tickets:
Sept. 1
Lou Barlow/Wye Oak at Mercury Lounge
Sept. 2
Built to Spill at Rocks Off Concert Cruise
Sept. 3
BEAK> at Bowery Ballroom
Sept. 4
The Dutchess & the Duke/The Wailing Wall at Mercury Lounge
Sept. 5
Black Francis at Joe's Pub
Sept. 6
Big Boi at Brooklyn Bowl (SO)
Sept. 7
Hot Hot Heat at Bowery Ballroom
Sept. 8
Les Savy Fav at Mercury Lounge (SO)
Sept. 9
School of Seven Bells/Active Child at Brooklyn Bowl
Sept. 10
The Soft Pack/Beach Fossils at Bowery Ballroom
Sept. 11
The Dirty Projectors/Owen Pallett at Terminal 5
Panda Bear at Governors Island
Sept. 13
Spoon/Sean Bones at Music Hall of Williamsburg
Sept. 14
Modest Mouse at Williamsburg Waterfront
Sept. 15
Screaming Females at Knitting Factory
Sept. 16
Those Darlins/Strange Boys/Gentlemen Jesse at Bowery Ballroom
Sept. 17
Ween at Central Park SummerStage
Sept. 18
Of Montreal/Janelle Monae at Terminal 5
Sept. 19
Superchunk at Music Hall of Williamsburg
Sept. 20
Sea Wolf at Knitting Factory
Sept. 21
The Oh Sees at Santos Party House
Sept. 22
Caribou at Webster Hall
Sept. 23
LCD Soundsystem/Sleigh Bells at Wellmont Theater
Sept. 24
Ra Ra Riot at Music Hall of Williamsburg
Sept. 25
Titus Andronicus/Free Energy at Webster Hall
Sept. 26
Modeselektor at Music Hall of Williamsburg
Sept. 27
The Tallest Man on Earth/S. Carey at Webster Hall
Sept. 28
El Guincho at Mercury Lounge
Albert Cross at Joe's Pub
Sept. 29
Rogue Wave/Midlake at Webster Hall
Sept. 30
The Gaslight Anthem/Rival Schools at Radio City Music Hall
(Jaime Widder works in sales for Bloomberg News. Any opinions expressed are his own.)
Before it's here, it's on the Bloomberg Terminal.
LEARN MORE