China Manufacturing Bounces Back From Low in Stabilization Sign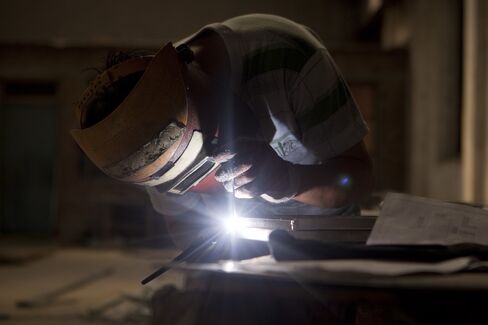 Manufacturing in China grew at a faster pace in August after the weakest performance since early 2009 in July, signaling that the economy's slowdown is stabilizing.
The purchasing managers' index rose to 51.7 from 51.2, exceeding forecasts, a government-backed report showed. Seasonal factors might have had an effect because the index typically gains as factories restart following July maintenance, Mizuho Securities Asia Ltd. said. A separate PMI released by HSBC Holdings Plc and Markit Economics gained to 51.9 from 49.4.
Stocks in Asia advanced after the release offered reassurance that China's moderation in growth isn't deepening; any steeper slowdown would hurt a global recovery already hindered by elevated American unemployment. Signs of faster gains in prices in the report also underscored the need for policy makers to be on guard against inflation.
"China's economic activity is decelerating, albeit gradually, on the way to realizing a soft landing," said Shen Jianguang, an economist at Mizuho in Hong Kong. "Investment and production are decelerating less than feared."
The MSCI Asia Pacific index of stocks gained 1.4 percent as of 5 p.m. Hong Kong time. At the same time, the Shanghai Composite Index, which tracks the bigger of China's stock exchanges, retreated 0.6 percent at the close.
Economists' Forecasts
The August reading for the government index was more than the median 51.5 forecast in the Bloomberg survey of 17 economists. Fifty is the dividing line between expansion and contraction.
The HSBC PMI for July had showed the first shrinking in manufacturing in 16 months, and the government gauge, published by the Federation of Logistics and Purchasing, was the weakest since February 2009.
Domestic demand could help to support production and boost the economy. China's passenger-car sales rose 59 percent in August from a year earlier, more than three times July's pace, the China Automotive Technology & Research Center said today, helped by higher incentives by dealers.
Production and orders both accelerated in August, the federation's report showed. The output index rose to 53.1 from 52.7 in July. A measure of new orders gained to 53.1 from 50.9 and an export-order index climbed to 52.2 from 51.2, according to today's report from the federation.
U.S. Weakness
The U.S., China's second-biggest trading partner after the European Union, said last week its economy expanded less than initially anticipated in the second quarter. China's exports may also be hurt by moderation in growth of Europe's services and manufacturing industries last month, as governments step up spending cuts to trim budget deficits.
America's benchmark PMI gauge is forecast to drop to 52.7 in August from 55.5 in July, according to the median forecast in a Bloomberg survey before the report later today. India saw its manufacturing expansion cool "marginally" last month as exports and new factory orders weakened, according to a separate PMI released by HSBC. A euro-region factory PMI fell to 55.1 from 56.7 in the previous month.
China's gross domestic product grew 10.3 percent from a year earlier in second quarter, lower than the 11.9 percent in January to March, as Premier Wen Jiabao's government trims credit growth from last year's record 9.59 trillion yuan ($1.4 trillion) and discourages multiple-home purchases to restrain a surge in property prices.
Rio Tinto Concern
Economic expansion in China, the world's biggest metals user, will slow to as low as an annual 6 percent pace this decade after a three-decade run of 10 percent on average, according to Rio Tinto Group, the world's third-biggest mining company. "China's growth rates, as amazing as they are, are bound to flatten," Tom Albanese, chief executive officer at Rio, said last month.
Contrasting the official manufacturing data, an export- order index in the HSBC PMI dropped to 49.5 last month from 49.8, indicating that "external demand is more likely to turn worse in the coming months" as domestic demand remains "resilient," according to HSBC economist Qu Hongbin.
China's demand remains a stimulus for economies including Australia's, which a government report today showed grew at a faster pace than forecast in the second quarter. The nation's GDP gained 1.2 percent from the previous three months, helped by Chinese purchases of iron ore and coal.
China won't change its economic policies as growth slows this year, said Chinese central bank adviser Xia Bin, according to a Shanghai Securities News report on Aug. 30.
Inflation Watch
"The small rebound in August PMI indicated that China's economy won't see a steep correction," said Zhang Liqun, a researcher at the State Council's Development and Research Center, in today's release. "Attention needs to be paid to the large rebound in the input price index, which may create pressure on companies' costs."
An input price index jumped 10.1 points in August to 60.5, according to today's report.
It's possible for China's manufacturing to "temporarily" contract for one month or so as global trade softens and China's economy slows, said Huw McKay, a Sydney-based senior economist for Westpac Banking Corp. He also said the government may boost fiscal spending and adopt a "more accommodative policy" in the fourth quarter.
The PMI, released by the logistics federation and the Beijing-based National Bureau of Statistics, covers more than 820 companies in 20 industries, including energy, metallurgy, textiles, automobiles and electronics.
Chinese officials may loosen the nation's 7.5 trillion yuan loan target for 2010 to sustain growth, according to Wang Qing, chief economist for China at Morgan Stanley Asia Ltd. At Societe Generale SA, Hong Kong-based economist Glenn Maguire said there's a 60 percent likelihood of China relaxing the loan target.