Best Restaurant Award Won by El Bulli-Style East London Eatery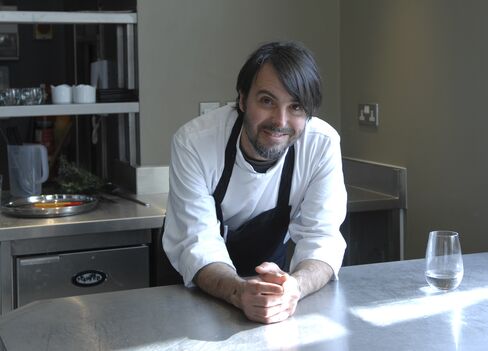 An experimental eatery in east London where dishes may include set crab milk with cauliflower, cucumber hearts and beach herbs, is the city's best new restaurant, according to "Harden's London Restaurants."
Diners at Viajante, in Bethnal Green's old town hall, pick from six, nine or 12 course-menus prepared by Lisbon-born chef Nuno Mendes, 37, whose resume includes Jean Georges in New York and El Bulli, north of Barcelona. The 12-course option may feature 21 plates and take 4-1/2 hours. It costs 85 pounds ($130). Viajante opened in April.
It was chosen by readers of Harden's, which collates 85,000 reports on meals from more than 8,000 diners across the U.K. It beat higher-profile openings such as Caprice Group's Dean Street Townhouse. There's a wait of up to two months for a table for dinner at Viajante, which seats 35 customers.
"It's very encouraging to win an award like this," Mendes said in a telephone interview. "We've had some very good reviews but also some very bad reviews and this is reassuring and helps motivate and inspire the whole team. This gives us the drive to keep going. Awards like this are amazing."
The Wolseley again won Best for Business, followed by Coq d'Argent, the Square and Bleeding Heart, Harden's said today in an e-mailed news release. Marcus Wareing at the Berkeley was named best restaurant, followed by Le Gavroche, La Trompette and the Ledbury. Wareing also won for best dessert: warm chocolate moelleux, salted caramel. Chez Bruce was named Londoners' favorite for the sixth straight year.
The runners-up for the Remy Martin VSOP Award for best-rated newcomer were Mooli's, Manson, Kitchen W8 and Bistrot Bruno Loubet. Last year's winner was Murano.
"The award shows London diners' readiness to embrace experimental cuisines," the publishers said. Such restaurants have generally been outside the capital, including the Fat Duck, in Bray, whose chef Heston Blumenthal opens a venue in London later this year.
Remy Martin XO Award for best all-round restaurant:
1. Marcus Wareing at the Berkeley (1)
2. Le Gavroche (3)
3. La Trompette (5)
4. The Ledbury (4)
5. Chez Bruce (2)
6. The Square (-)
   Oslo Court (-)
   The Ritz (-)
9. Pied a Terre (-)
10. Trinity (-)

Best for Business:
1. The Wolseley (1)
2. Coq d'Argent (4)
3. The Square (5)
4. Bleeding Heart (2)
5. The Don (3)
6. L'Anima (6)
7. Galvin Bistrot de Luxe (9)
8. Scott's (8)
9. Galvin La Chapelle (new)
10. The Ivy (-)

Favorite:
1. Chez Bruce (1)
2. Galvin Bistrot de Luxe (7)
3. La Trompette (6)
   Le Caprice (2)
5. The Wolseley (4)
6. J Sheekey (3)
7. The Ivy (4)
8. Moro (9)
9. The Ledbury (-)
10. River Cafe (-)
"Harden's London Restaurants 2011" costs 11.99 pounds and is available from bookshops and at http://www.hardens.com/.
(Richard Vines is the chief food critic for Muse, the arts and leisure section of Bloomberg News. Opinions expressed are his own.)
Before it's here, it's on the Bloomberg Terminal.
LEARN MORE