HarperCollins Unmasks Top Gear's 'Stig' After BBC Loses Ruling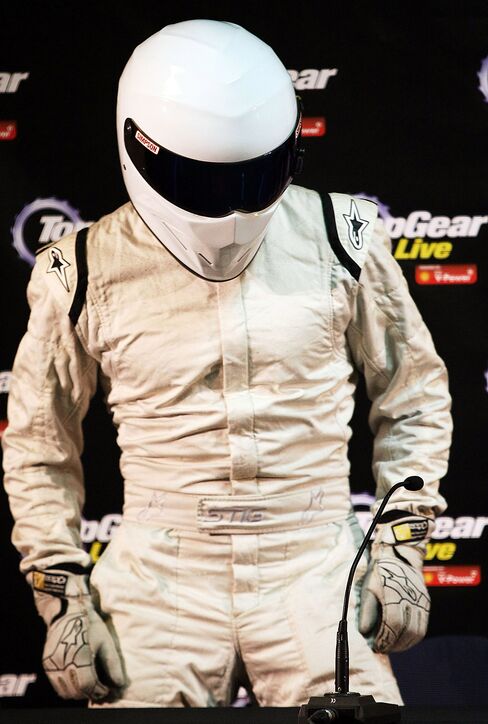 News Corp.'s HarperCollins revealed the identity of the "Stig," a test driver who appears on the television show "Top Gear," after the British Broadcasting Corp. lost a ruling to keep his identity secret.
The publisher said racing driver Ben Collins is the masked man who tests the performance of cars on one of the U.K.'s most popular television shows. The announcement came after High Court Judge Paul Morgan in London refused a request from the BBC to keep the character's identity secret. HarperCollins plans to publish the driver's autobiography on Sept. 16.
"This is a victory for freedom of speech," HarperCollins said in an e-mailed statement. "Ben Collins has a great story to tell about his seven years as The Stig which will appeal to a wide audience beyond the world of motoring enthusiasts."
"Top Gear" episodes in its latest series attracted an average of 5.3 million viewers, a 20 percent share, according to the BBC. In the show, the Stig wears white overalls and a white helmet with a black visor that he always keeps down, obscuring his face.
"It just shows that you have to have a real need to have an injunction, rather than, 'wouldn't it be nice,'" said Duncan Lamont, a media lawyer at Charles Russell in London who isn't involved with the case.
The BBC sued over the planned autobiography.
Andy Wilman, Top Gear's producer, said after the hearing that he was disappointed by the ruling.
'Mystery' of the Stig
"The 'Top Gear' audience has always made it clear that they enjoy the mystery surrounding the identity of the Stig and the BBC felt it important to do all it could to protect that anonymity," the BBC said in a statement. "Viewers of 'Top Gear' shouldn't worry. The Stig lives on and will be back in the new year."
Lamont said in a telephone interview the BBC was "optimistic" to seek an order banning publication of the name when the "proper remedy" was a lawsuit seeking damages. If the BBC does decide to sue Collins for breach of contract, it isn't clear they would win, Lamont said.
"Lots of people have confidentiality clauses in their contracts that aren't worth the paper they are written on," he said.
The case is British Broadcasting Corporation v. HarperCollins & ors, No. HC10C02684, High Court of Justice Chancery Division.
Before it's here, it's on the Bloomberg Terminal.
LEARN MORE