Andy Roddick Loses Temper, Second-Round Match at U.S. Open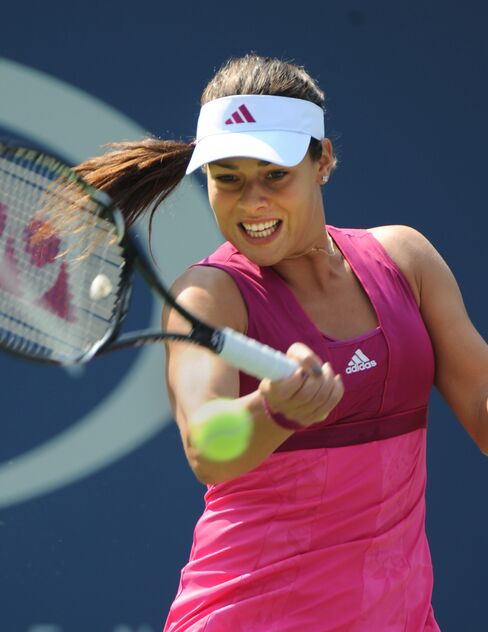 Andy Roddick lost his temper and then his second-round match at the U.S. Open, his worst performance at a Grand Slam tennis tournament since 2008.
Serbia's Janko Tipsarevic beat Roddick, the ninth seed and 2003 champion, 3-6, 7-5, 6-3, 7-6 (7-4) in a match that finished one minute before midnight at the National Tennis Center in New York.
Roddick, who launched a verbal tirade after being called for a foot fault during the third set, last lost in the second round of a major at Wimbledon two years ago -- also to Tipsarevic. He'd never lost in the second round at the U.S. Open, though he had first-round exits in 2005 and his 2000 debut.
"He was in a groove," Roddick said during a news conference. "He was taking risky cuts at the ball and it seemed like all of them were dropping."
Roddick was the highest-ranked American in the men's draw and one of seven in action yesterday, when No. 19 John Isner and No. 20 Sam Querrey advanced along with 220th-ranked qualifier Ryan Harrison, who upset 15th-seeded Ivan Ljubicic of Croatia. Roddick's loss capped a day that started with a scare in the on-court collapse of Victoria Azarenka.
U.S. women also had a mixed day. Third-seeded Venus Williams reached the third round with a straight-set win, while Melanie Oudin was unable to match her success from a year ago, losing to Alona Bondarenko, the 29th seed from Ukraine.
Murray, Clijsters
Andy Murray, the fourth seed from the U.K., started his pursuit of a first Grand Slam title with a straight-set win, and defending women's champion Kim Clijsters cruised into the third round last night.
The No. 2 seed from Belgium, Clijsters was on the court for 56 minutes in a 6-2, 6-1 win over Australia's Sally Peers, a 19-year-old qualifier who idolized Clijsters growing up.
Five-time champion Roger Federer is back in action today, as the second-seeded Swiss plays 104th-ranked German Andreas Beck in a second-round match in Arthur Ashe Stadium.
Caroline Wozniacki, the women's No. 1 seed from Denmark, also plays on Ashe, as do former champion Maria Sharapova, the Russian 14th seed, and Serbian No. 3 seed Novak Djokovic.
Roddick, who has been slowed by a recent bout of mononucleosis, won the first set against Tipsarevic before losing the next three. Trailing 5-2 in the third set, Roddick berated a lineswoman after being called for a foot fault on a serve and then repeatedly complained about the officiating.
Rent-a-Ref
At one point, Roddick shouted for someone to call 1-800-RENT-A-REF, a mocking reference to toll-free service numbers.
In the fourth set, the players went to a tiebreak and Tipsarevic, 26, opened a 5-2 lead before finishing Roddick off at the net with a backhand winner.
The 44th-ranked Tipsarevic, who hadn't advanced past the second round in his previous six U.S. Open appearances, dropped his racket and put his hands to his head.
"Playing Roddick in a night session in New York with 20,000 people, it doesn't get better than that," Tipsarevic said. "It doesn't intimidate me, it makes me play better."
Tipsarevic, coming off a three-week break because of ankle problems, had 66 winners to 40 for Roddick and was able to break the former champion's serve three times.
"He played very high risk and executed for four sets," Roddick said. "I kept telling myself this had an expiration date on it, but I think I needed another set for that."
Azarenka's Collapse
Roddick's loss capped a third day of competition that started with Azarenka's collapse. The No. 10 seed from Belarus was trailing 5-1 when she slumped to the ground and had to withdraw from her match with Gisela Dulko of Argentina.
Although temperatures for the second straight day were in the mid-90s Fahrenheit (mid-30s Celsius), Azarenka's problem wasn't primarily heat-related. She later said she suffered a mild concussion when she fell while running a sprint during her warm-up.
"I felt worse as the match went on, having a headache and feeling dizzy," Azarenka said. "I also started having trouble seeing and felt weak before I fell."
Roddick wasn't the only top-10 men's player to get bounced yesterday from the season's final Grand Slam.
Tomas Berdych, the No. 7 seed from the Czech Republic, lost in straight sets to unseeded Frenchman Michael Llodra.
Mikhail Youzhny, the 12th seed from Russia, Gael Monfils, the 17th seed from France, Stanislas Wawrinka of Switzerland, seeded 25th, and Nicolas Almagro, the 14th seed from Spain, won.
Sixth-seeded woman Francesca Schiavone dropped three games in beating fellow Italian Maria Elena Camerin in their second-round match, while Elena Dementieva, the 12th seed from Russia, also won in straight sets.
Virginie Razzano ousted fellow Frenchwoman and the 13th seed Marion Bartoli. Former French Open champion Ana Ivanovic, a Serbian ranked 40th on the WTA Tour, needed 56 minutes to top 21st-seeded Zheng Jie of China in straight sets.
Before it's here, it's on the Bloomberg Terminal.
LEARN MORE