Tennis Pros Wade, Spadea Give Amateurs Glimpse of Court Glory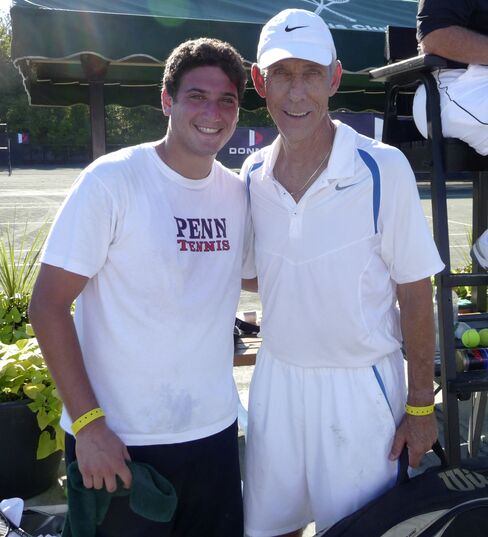 Aug. 31 (Bloomberg) -- Organizers of the Alan King Pro-Am tennis tournament in Manhasset, New York, have a message for Guillermo Vilas, the Argentinian player once ranked No. 2 in the world: Please cash that $2,000 check you received after last year's event.
"We've left tons of messages," Donna Bernstein, the lead sponsor, said at the event. "We can't reach him. He's a poet and wanderer."
Vilas didn't play Sunday at the third-annual tournament, named for the tennis-loving comedian and actor who died in 2004 of lung cancer. But 17 retired players did, including 1977 Wimbledon champion Virginia Wade, singles journeyman Vince Spadea and doubles specialists Mark Woodforde, Peter Fleming and Murphy and Luke Jensen. The event raised about $20,000 after expenses -- such as paying the pros -- for the Wheelchair Sports Federation, a Queens, New York, nonprofit.
The U.S. Open, which began yesterday, inspires many lesser contests at this time of year, as past champions mix it up with money managers, bankers and other well-heeled tennis obsessives at private courts and clubs in the region.
Fantasy tennis doesn't come cheap. Sunday's entry fee for amateurs was $2,000. The previous weekend a $15,000 donation and an auction bid were required at East Hampton's Ross School. Benefiting the Prostate Cancer Foundation founded by Michael Milken, that tournament included Jimmy Connors and a dinner party at the Meadow Lane estate of industrialist David Koch in Southampton. It raised about $700,000.
On Sept. 8, the Real Estate Board of New York hosts a $3,000-a-head tournament at Sportime at Randall's Island, a year-old facility that's home to John McEnroe's new youth academy.
Broiling Day
At the member-owned Shelter Rock Tennis & Country Club, the veterans taking part in the King event finessed brilliant shots and found unlikely angles on a broiling day that exceeded 90 degrees Fahrenheit. Six hours elapsed from when 72-year-old club member Elaine Bernstein (no relation to Donna Bernstein) sang the national anthem, to pro Dick Stockton and amateur Adam Schwartz winning the final round 5-3. (The final was an unorthodox set of eight games.)
Stockton, 59 and once ranked No. 8 in the world, was all touch, court smarts and wry taunting. ("This is supposed to be a pro-am, not pro-pro," he kidded Woodforde and former Merrill Lynch & Co. banker Ed Weiss, now a dean at Molloy College.) In the final, Stockton and 21-year-old Schwartz, a former University of Pennsylvania singles player who interns at the New York brokerage BTIG LLC, beat hard-hitting Spadea, 36, and Peter Halperin, a 45-year-old doubles specialist who works in real estate and wholesale gas distribution.
'Like a Wall'
"The kid was even better than Stockton," Halperin said of Schwartz. "And Stockton was like a wall. He got everything back."
Morris S. Levy, a 48-year-old film producer and family friend of King, helped organize the clay-court tournament. Donna Bernstein, a 60-year-old retired entrepreneur, donated an undisclosed sum. She said she was temporarily paralyzed following three car accidents over three decades and has since become a wheelchair tennis coach. The Wheelchair Sports Federation presents a tournament each June at the National Tennis Center.
No Couch Potatoes
"It helps keep me in shape," said Angelo Cardinale, 50, who had polio as a child and regularly plays wheelchair tennis. "Otherwise I'd become a couch potato."
(Cardinale and other wheelchair athletes played at Shelter Rock Sunday but not in competition.)
As for the Open, the pros, many of them working as coaches and commentators, said Roger Federer, 29, has an edge over 24-year-old Rafael Nadal on the National Tennis Center's fast, hard courts. The two may meet in the men's singles final on Sept. 12.
"Roger is a playmaker," Woodforde, 44, said. "Rafa is more reactive. On these courts you have to be proactive. There are many players who can pick Rafa off."
Pros were generally paid $1,500 for the event. They said they enjoy seeing old friends and rivals and lamented that there are fewer pro-am tourneys in a rough economy.
"This is not high on the food chain of necessary expenditures," said Fleming, 55, who won four Wimbledon doubles titles with McEnroe.
With Brad Cohen, a 42-year-old neurologist, Fleming won two matches and lost one.
"Peter was great," Cohen said yesterday from his office in Mineola, New York. "We tried to start off noncompetitively, but every team was very aggressive. We had to pick things up."
To contact the writer on this story: Philip Boroff in New York at pboroff@bloomberg.net;
To contact the editor responsible for this story: Manuela Hoelterhoff at mhoelterhoff@bloomberg.net.