RIM's India Deal Likely to Fuel More Concessions, Analysts Say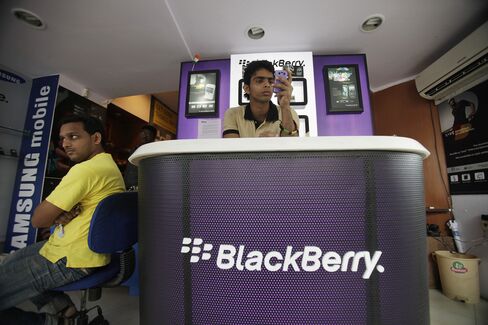 Research In Motion Ltd.'s concession in giving Indian authorities access to BlackBerry e-mail and instant-messenger correspondence means it's likely to do the same for other governments, analysts said.
The agreement sets a precedent that will make it difficult for RIM to refuse countries seeking similar conditions, said Romal Shetty, executive director of the telecommunications division at KPMG's Indian unit. RIM spokesman Satchit Gayakwad declined to comment.
RIM's proposal, disclosed by the Indian government on Aug. 30, means the company may be willing to compromise on the privacy of corporate customers to placate regulators, said Prashant Singhal, head of the telecommunications division at Ernst & Young India Pvt. in New Delhi. Saudi Arabia and the United Arab Emirates threatened to shut off BlackBerry services unless RIM opened its encrypted client data for the sake of national security.
"With some of the countries where discussions were on or are still on, like Saudi Arabia, governments may go back and ask for security codes, following in India's footsteps," Singhal said. "Most governments are going to ask for the same security solution RIM has offered."
'Consistent Standard'
The company maintains a "consistent global standard" for lawful access to its messaging system that "does not include special deals for specific countries," RIM said last week.
RIM fell 6 percent to $42.84 in Nasdaq Stock Market trading yesterday, the biggest decline since June 29, after a Sanford C. Bernstein Ltd. survey found more companies opting for rival devices such as Apple Inc.'s iPhone. The shares have declined 37 percent this year, as Apple gained 15 percent.
In the U.S., the Federal Bureau of Investigation can monitor the mobile e-mail of particular people with authority from a judge, as they do in wiretapping phone calls, said Roger Entner, an analyst with IAG Research Inc. American officials would go to a company for access to an employee's messages or to an Internet service provider for non-corporate e-mail.
India accounts for about 2 percent of RIM's 46 million customers worldwide. Concerns that regulators in the Middle East and India would ban BlackBerry services contributed to Morgan Stanley cutting its investment rating on RIM on Aug. 20.
60-Day Test
India's telecommunications department will test RIM's proposal for 60 days to see whether it allows security agencies to tap its messenger- and corporate e-mail services, Onkar Kedia, an Indian Home Ministry spokesman, said Aug. 30 without providing further details.
RIM's tussle with the Indian government dates back to 2008, when negotiations with the Department of Telecommunications ended with the company agreeing to allow monitoring of e-mail on its handsets.
Discussions resumed last month, with the nation's Home Ministry setting a deadline of yesterday for the company to resolve the concern over BlackBerry services or face a ban.
India is one of the nations voicing concern this year that the devices may be used by terrorists to plan attacks and other illegal activity because end-to-end encryption doesn't allow intelligence agencies to tap mail traffic.
The nation has fought insurgencies from Kashmir in the north and Assam in the east. The 2008 terrorist attacks in Mumbai that killed 166 people, as well as October's Commonwealth Games in New Delhi, the nation's first attempt to host a major international sporting event, have heightened security concerns.
U.A.E., Saudi Arabia
India was one of three nations that in July demanded the BlackBerry maker provide monitoring capabilities for some services. The U.A.E. said Aug. 1 it may halt e-mail, BlackBerry Messenger and web-browsing services, while Saudi Arabia asked for access to BlackBerry's instant messaging service.
The U.A.E. is making "good progress" in talks with RIM to resolve the issue, Yousef Al Otaiba, the Gulf state's ambassador to the U.S., said Aug. 17. Given the "positive development" in meeting Saudi regulators' demands, BlackBerry service was allowed to continue in the nation, Saudi Arabia said Aug. 10.
Indonesia and Turkey also expressed security concerns about the BlackBerry.
India plans to find ways to track voice-over-Internet protocol services run by companies such as Skype Technologies SA and Google Inc., an official with direct knowledge of the negotiations said Aug. 13.
Nokia Cedes Access
Nokia Oyj, the world's largest mobile-phone maker, agreed to set up servers in India by Nov. 5, allowing the nation's security agencies to monitor its customers' e-mail, Indian unit Managing Director D. Shivakumar said Aug. 30.
India had 636 million mobile-phone subscribers as of June, second only to China's 805 million. Mobile-phone companies, including Bharti Airtel Ltd. and Vodafone Group Plc's Indian unit, this year invested $14.4 billion in third-generation wireless spectrum, pinning betting companies such as RIM can win them more high-end subscribers.
India contributes about 1.1 million BlackBerry users to RIM's 46 million customers worldwide, according to Mike Abramsky, an analyst at RBC Capital Markets in Toronto.
"India as a market is small today for BlackBerry phones but the opportunity space for RIM is very, very large," Shetty said. "They can't walk away from a market like India. It's not something anybody can afford to do."
Before it's here, it's on the Bloomberg Terminal.
LEARN MORE