Motorola Unit to Be Spun Off With $3.5 Billion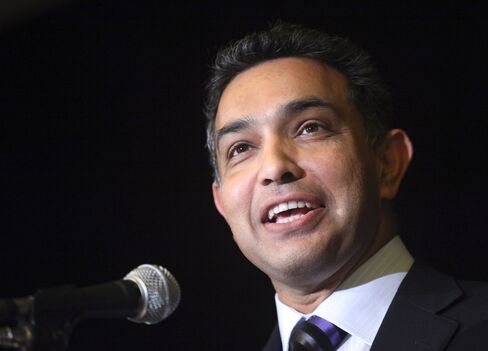 Motorola Inc., the communications-equipment maker that's splitting in two, said it plans to put $3.5 billion into the mobile-phone and set-top box units that will be spun off together in the first quarter of next year.
Motorola will distribute stock in the spinoff to existing shareholders and provide $3.5 billion in cash and cash equivalents to capitalize it, the company said in a securities filing today. The Motorola Mobility unit is applying for a separate listing on the New York Stock Exchange.
The money will be used to operate and expand the business and will probably help pay for acquisitions, Marc Rothman, chief financial officer of the company to be spun off, said in an interview today. He said any purchases would likely be small and may be for software makers.
After three years of falling sales, Motorola co-Chief Executive Officer Sanjay Jha is rebuilding its mobile phone unit around devices that run Google Inc.'s Android software. Android smartphones compete against Apple Inc.'s iPhone and Research In Motion Ltd.'s BlackBerry.
"They need some cushion until the handset business breaks even and this provides them that," said Matt Thornton, an analyst with Avian Securities LLC in Boston, who has a "positive" rating on the stock.
In the first half of 2010, the net loss at the units that will become Motorola Mobility narrowed to $132 million from $885 million a year earlier, Motorola said in a regulatory filing today. Sales slid 10 percent to $5.09 billion. Jha said in July that he expects the handset business to turn a profit in the fourth quarter.
Remaining Business
The remaining networks business will be combined with the two-way radios and bar-code scanner units, and will continue to be known as Motorola Solutions. It will be run by co-Chief Executive Officer Greg Brown. The legacy business, which will assume all of the company's debt and pension liabilities, should have an investment grade after the spinoff, Edward Fitzpatrick, CFO of Motorola Inc., said in the joint interview.
The spinoff company does not plan to pay any cash dividends "for the foreseeable future" as it retains earnings to finance the business, Motorola said in the filing.
The company first announced plans for a corporate split in March 2008 under pressure from billionaire investor Carl Icahn. Icahn has boosted his stake as the spinoff has approached. He disclosed today in regulatory filings that he bought an additional 3.29 million Motorola shares over the past five days, bringing his total holdings to 250.4 million shares or about 10.7 percent in the company.
Motorola was unchanged at $7.52 at 4:15 p.m. in New York Stock Exchange composite trading. The stock has dipped 3.1 percent this year.
(Corrects name of business in seventh paragraph.)
Before it's here, it's on the Bloomberg Terminal.
LEARN MORE