Initial Offering Fees Reach Record Low in Hong Kong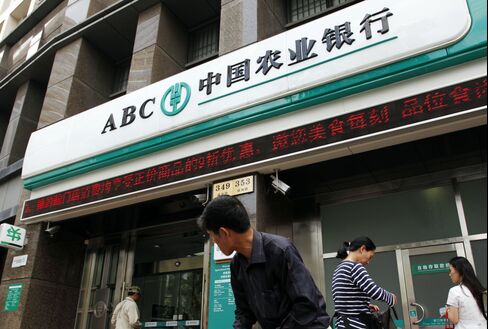 Hong Kong bankers are charging the lowest fees on record to arrange initial public offerings as firms vie for deals in a market where IPOs are raising more than in the U.S. and U.K. combined.
Initial sales by 37 companies in Hong Kong have paid average fees of 2.2 percent in 2010, the lowest level since Bloomberg began tracking the data in 1999. While companies going public raised $18.7 billion, 64 percent more than American IPOs, banks earned about 43 percent less underwriting in the territory, the data show.
Goldman Sachs Group Inc., JPMorgan Chase & Co. and Deutsche Bank AG are leading Wall Street in reducing fees and winning sales where Chinese companies go public to help finance the fastest growth among the world's biggest economies. The firms are facing more competition from mainland banks that have boosted their share by 50 percent since the start of the financial crisis.
"For the big global bank there really isn't much choice," said Christopher Turner, head of capital markets at New York- based private-equity firm Warburg Pincus LLC, which oversees about $30 billion. "In Hong Kong the IPO business has been growing, and therefore it's ever more important for the banks to establish beachheads in these markets so they can bring deals."
Agricultural Bank of China Ltd., China's largest lender by customers, paid fees of 1.96 percent to Goldman Sachs of New York, Beijing-based China International Capital Corp. and five other banks to lead the $12 billion Hong Kong portion of the world's biggest IPO in July, data compiled by Bloomberg show.
ICBC, Visa
That was 0.5 percentage point lower than the fees for the $16.1 billion Hong Kong part of Beijing-based Industrial & Commercial Bank of China Ltd.'s initial offering in 2006. ICBC's $21.9 billion IPO was the world's largest until Beijing-based Agricultural Bank's $22.1 billion sale, according to data compiled by Bloomberg.
Visa Inc. of San Francisco paid JPMorgan, Goldman Sachs and six other companies fees of 2.8 percent to arrange its $19.7 billion initial sale in March 2008, the biggest U.S. IPO.
Agricultural Bank's offering exaggerated the size of the overall fee reduction in Hong Kong this year. Excluding that sale, payouts to banks have averaged 2.96 percent on a market capitalization basis, data compiled by Bloomberg show.
"Mega-deals tend to pay a smaller percentage of fees but Agricultural Bank's figures show that competition escalated," said Terence Ho, a Shanghai-based partner at Ernst & Young LLP who oversees the firm's IPO research and strategy for China, Hong Kong and Taiwan.
U.S. Fees
Underwriters have received fees of $417 million in Hong Kong to raise HK$145.6 billion ($18.7 billion) through initial offerings this year, data compiled by Bloomberg show. U.S. companies have paid banks $733 million to arrange $11.4 billion of share sales, while U.K. offerings produced fees of $103 million for $4.96 billion of IPOs, the data show.
U.S. underwriting fees rose to 6.4 percent this year from 5.6 percent in 2009, data compiled by Bloomberg show.
JPMorgan, this year's biggest manager of Hong Kong IPOs, increased its share to 10.3 percent from 6.6 percent. The New York-based firm lowered its average fee for Agricultural Bank and two other deals to 2.1 percent from 2.6 percent in 2009. Without weighting the offerings for market value, this year's average fee was 2.5 percent, data compiled by Bloomberg show.
JPMorgan, Deutsche Bank
The bank was paid 2.5 percent to co-lead manage the HK$1.4 billion sale from Guangzhou, China-based Chu Kong Petroleum & Natural Gas Steel Pipe Holdings Ltd. in February. That's less than half the payout for any of the 23 offerings JPMorgan helped arrange in the U.S. this year, data compiled by Bloomberg show.
Hong Kong-based spokesman Ray Bashford declined to comment.
Deutsche Bank, the second-largest Hong Kong underwriter, more than doubled its share to 10.1 percent after the firm cut fees to 2.1 percent on three deals from 2.9 percent on five sales. Mark Bennewith, a spokesman in Singapore for the Frankfurt-based company, declined to comment.
Goldman Sachs has more than doubled its share of Hong Kong IPOs to 9.7 percent as its fees fell to less than 2 percent from 2.9 percent. Edward Naylor, Hong Kong-based spokesman for Goldman Sachs, declined to comment.
UBS AG, which kept its Hong Kong fees virtually unchanged at 2.8 percent this year, has seen its market share drop to 5.1 percent from 18.5 percent, data compiled by Bloomberg show. The Zurich-based bank, which has arranged seven IPOs, the most of any underwriter, didn't participate in Agricultural Bank's sale. UBS spokesman Chris Cockerill declined to comment in Hong Kong.
Global Fees
Banks worldwide have charged an average fee of 3.2 percent this year for IPOs globally, down from 3.5 percent in 2009, data compiled by Bloomberg show. Deutsche Bank's average fee globally has dropped to 2.9 percent from 4 percent, while JPMorgan's declined to 3.1 percent from 3.9 percent. Fees at Goldman Sachs have fallen to 3.4 percent from 4.7 percent, while UBS raised fees to 4.2 percent from 2.8 percent, the data show.
Mainland banks are helping push down fees in Hong Kong by using connections with Chinese companies looking to go public to win deals, according to Komal Sri-Kumar, chief global strategist at TCW Group Inc. in Los Angeles.
Companies from mainland China have raised a combined $15 billion in Hong Kong IPOs this year, 80 percent of the total, according to data compiled by Bloomberg.
CICC, Beijing-based Bank of China Ltd. and seven other Chinese firms have a combined 26 percent market share for Hong Kong offerings this year, versus 17 percent in 2007, data compiled by Bloomberg show.
'Other Ways'
U.S. and European banks "have to use some other ways to compete with those local entities by offering lower fees," said Sri-Kumar, who helps oversee $109 billion. Banks see Asia as "where the big increase in IPOs is going to take place over the next 20 years," he said.
Hong Kong IPOs so far this year have raised 4.4 percent more than the same period in 2007, while initial sales in the U.S. are still 68 percent below the level before credit markets seized up. Offerings in Hong Kong may reach a record HK$370 billion in 2010 as stronger economic growth boosts the earnings of Chinese companies that account for the majority of the city's deals, according to accounting firm Ernst & Young.
China's economy will expand 10 percent this year, compared with growth of 3 percent in the U.S. and 1.5 percent for the 16 countries using the euro, economists' estimates compiled by Bloomberg show.
'Only One Area'
Hong Kong's Hang Seng Index has rallied 81 percent since the end of the bear market in global stocks on March 9, 2009. That's more than the 57 percent gain in the MSCI World Index of 24 developed countries and the 55 percent rise in the Standard & Poor's 500 Index, the benchmark gauge for U.S. equities, data compiled by Bloomberg show.
"If there's only one area that has deals, bankers from all over the world will be looking at that one spot," said Greg Lesko, the head of emerging-market equity at Deltec Asset Management in New York, which oversees $800 million. "It's going to be hypercompetitive. It means they'll make less money, I don't think there's any doubt."