Fed Officials Saw Risk of Sending Wrong Policy Signal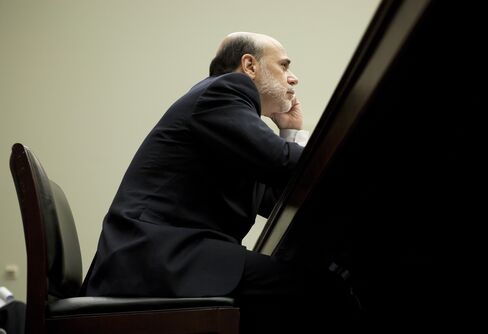 Some Federal Reserve officials were concerned that a decision to keep securities holdings unchanged would inadvertently signal an intention to resume large-scale asset purchases, minutes of the Aug. 10 meeting showed.
Also, a few policy makers said the economic effects of the decision "likely would be quite small," the Fed's Open Market Committee said in a report today in Washington. At the same time, some officials saw "increased downside risks to the outlook for both growth and inflation" and voiced concern that further shocks would cause "significant slowing in growth."
The debate shows the challenge Fed Chairman Ben S. Bernanke may face in achieving consensus for any additional monetary stimulus to reverse a slowdown in growth and reduce joblessness more quickly. Policy makers haven't agreed on "specific criteria or triggers for further action," Bernanke said in a speech last week.
"A few members worried that reinvesting principal from agency debt and MBS in Treasury securities could send an inappropriate signal to investors about the Committee's readiness to resume large-scale asset purchases," the Fed said in the report, referring to mortgage-backed securities.
Fed officials agreed at the meeting to put a $2.05 trillion floor on securities holdings and buy Treasuries to replace an estimated $395 billion of mortgage assets that would be repaid from August 2010 through the end of 2011.
Range of Zero
The central bank left its benchmark rate in a range of zero to 0.25 percent and reiterated its pledge since March 2009 to keep rates very low for an "extended period."
The Fed bought the housing debt to reduce borrowing costs and revive the economy after the worst downturn since the Great Depression. As borrowers paid off or refinanced loans at an increasing pace, policy makers grew concerned longer-term rates would rise, the minutes said. "Most members thought that the resulting tightening of financial conditions would be inappropriate, given the economic outlook," the report said.
Several officials said the Fed would need to consider ways to add monetary stimulus "if the outlook were to weaken appreciably further," the minutes said. The Fed also said it may start reinvesting mortgage payments in MBS instead of Treasuries "if conditions were to change."
Kansas City Fed President Thomas Hoenig was the only voting member to dissent, saying the recovery would continue at a "moderate pace" and didn't "require support from additional accommodation in monetary policy," according to the minutes. He disagreed with the previous four decisions to retain the low-rate pledge.
Stocks Fell
U.S. stocks pared gains after the report. The Standard & Poor's 500 Index rose less than 0.1 percent to 1,049.33 at 4:05 p.m. in New York. The yield on 10-year Treasury securities fell 0.05 percentage point to 2.47 percent.
Policy makers are grappling with what to do, if anything, about economic and employment growth in recent months that's slower than they would like. Bernanke, 56, told central bankers and scholars at the Fed's Jackson Hole, Wyoming, symposium on Aug. 27 that using any more policy tools comes with potential costs.
"Despite the weaker data seen recently, the preconditions for a pickup in growth in 2011 remain in place," Bernanke said in the speech. If the outlook deteriorates, the Fed will act, the former Princeton University economist said. The issue is not whether additional tools will be effective; it's whether the benefits outweigh the costs, he said.
Officials at the meeting "generally saw both employment and inflation as likely to fall short of levels consistent with the dual mandate for longer than had been anticipated," the minutes said.
Economic Recovery
Fed staff economists said at the session the pace of the economic recovery had slowed in recent months and lowered their projection for growth in the second half of 2010. They "continued to anticipate a moderate strengthening of the expansion in 2011," the minutes said.
"The hurdle is not all that high" for further easing, said Neal Soss, chief economist at Credit Suisse in New York, who worked as an aide to former Fed Chairman Paul Volcker. "Even the optimistic forecasts have unemployment at a very high level, unacceptable to this society, for a very long time, and inflation not being a problem by most people's standards."
Last week, the Commerce Department reported the economy grew at a revised 1.6 percent pace in the second quarter, down from the prior month's estimate of 2.4 percent.
'Remain Restrained'
Policy makers were unsure whether revisions to data on gross domestic product indicated that growth in consumer spending "could remain restrained for some time" because of higher saving or whether lower debt would allow "stronger growth in consumer spending as the recovery proceeds."
A measure of confidence among U.S. consumers rose more than forecast in August, according to a report today by the Conference Board. Consumer spending accounts for about 70 percent of the economy.
Central bank policy makers disagreed over the cause of slow hiring, with some saying that businesses claimed fiscal and regulatory uncertainty was restraining hiring. Others said that "slow growth in sales and uncertainty about the strength and durability of the recovery likely were more important factors," according to the report.
Jobs Report
The Labor Department's jobs report for August, to be released Sept. 3, may say private payrolls probably rose by 42,000 in August after a 71,000 July gain, while the unemployment rate increased to 9.6 percent from 9.5 percent, according to the median estimates of economists surveyed by Bloomberg News.
Factories expanded at the weakest pace in almost a year, an Institute for Supply Management report is forecast to show tomorrow, and other releases may reveal slowing vehicle purchases and a deceleration in service industries, the biggest part of the economy.
One improving area was financial conditions, which "had become somewhat more supportive of growth over the intermeeting period, in part reflecting perceptions of diminished risk of financial dislocations in Europe," the minutes said.
The committee's view of inflation was little changed, and officials viewed the "risk of deflation as quite small."
"A number judged that the risks of further disinflation had increased somewhat," the report said.
The Fed's preferred price index, which excludes food and energy costs, rose 1.4 percent in July from a year earlier. Including food and energy, Fed officials have a long-range inflation goal of about 1.7 percent to 2 percent.
Before it's here, it's on the Bloomberg Terminal.
LEARN MORE