Facebook Chief Calls Ceglia Motion a Ploy to 'Harass'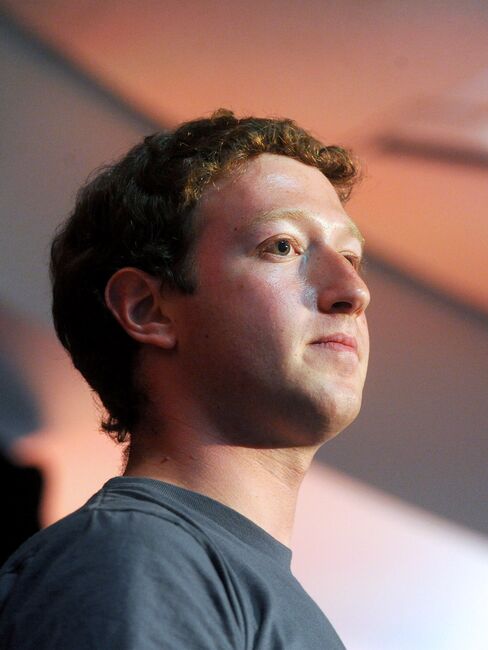 Facebook Inc. Chief Executive Officer Mark Zuckerberg claimed the man suing him for 84 percent of the company he founded is using a request to return the case to state court "solely to burden and harass" him.
Lawyers for Paul Ceglia said the 26-year-old CEO's legal residence is his parents' Dobbs Ferry, New York, home, not Palo Alto, California, where Facebook is based. They claim the federal court in Buffalo, New York, lacks jurisdiction over the suit because both men live in the same state.
"Mark Zuckerberg lives year-round in California and has made California his permanent home," lawyers for Facebook and Zuckerberg, who had the case moved from state to federal court July 9, argued in papers filed yesterday asking U.S. District Judge Richard Arcara to keep the case.
Federal courts that otherwise wouldn't have jurisdiction can hear civil suits between parties from different states. Ceglia, who lives in Wellsville, New York, is trying to have the case moved back to state court, where a judge entered an order June 30 blocking Facebook from transferring company assets. That order expired July 23.
Terrence Connors, a lawyer for Ceglia, declined to comment immediately on the Facebook filing.
In papers asking for the case to be returned to state court, Ceglia's attorneys claimed Zuckerberg argued in an earlier suit over Facebook's ownership that New York was his permanent residence. Facebook lawyers have responded that while New York was Zuckerberg's home when the earlier suit was filed, he had since moved.
Seeking Information
Ceglia, 37, also asked Arcara to allow his lawyers to seek information from Zuckerberg about his legal residence.
Facebook lawyers called the request a pretext to look into Zuckerberg's private life. Zuckerberg, who lived in Dobbs Ferry, New York, until 2004, now lives within walking distance of Facebook's Palo Alto headquarters, his lawyers said.
"This court has all the facts it needs to conclude that Zuckerberg and Facebook are citizens of California," they said.
The June 30 lawsuit claims Zuckerberg signed a contract in 2003 that entitles Ceglia to control of what has become the world's most popular social-networking website.
In court papers, Zuckerberg said he pays utility bills and taxes in California, where he has registered his car, obtained a driver's license and registered to vote.
"California has been my permanent home" since before 2006, he said. "I intend to continue living and working here for the indefinite future."
Facebook, which called Ceglia's claim "absurd," added two former U.S. Justice Department officials to its legal team in the past week. In papers filed with the court, Terrance Flynn, the former chief federal prosecutor for Western New York, and Thomas Dupree Jr., a former principal deputy assistant attorney general, joined the defense.
The case is Ceglia v. Zuckerberg, 10-cv-00569, U.S. District Court, Western District of New York (Buffalo).
Before it's here, it's on the Bloomberg Terminal.
LEARN MORE