Nordics Slam Basel for Worsening Mortgage-Bond Risk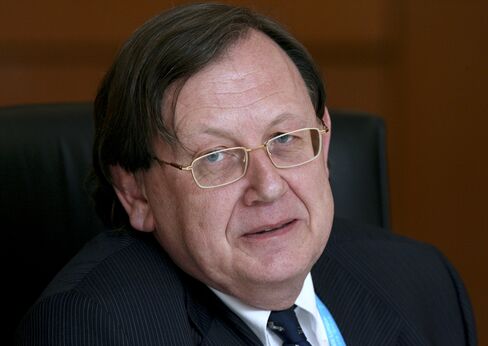 Danish and Swedish regulators are fighting post-credit-crisis proposals from the Basel Committee on Banking Supervision that they say risk trashing their mortgage bond markets by forcing banks to pare their holdings.
The new rules, designed to bolster bank capital, say how much non-government debt financial institutions can own and set thresholds for valuing securities. Denmark's $450 billion covered bond market, the world's third biggest after its U.S. and German counterparts, and Sweden's $220 billion of bonds will be penalized because of their size relative to domestic government debt, the two countries' regulators say.
"We could see a selloff," said Jens Peter Soerensen, chief analyst at Danske Bank A/S, Denmark's biggest bank. "If you remove or reduce the biggest investor in the Danish and Swedish mortgage market, i.e. the banks, and change the funding rules, then there will be significant changes in the Swedish and Danish systems for issuers." Danske Bank owns Realkredit Danmark, the country's second-biggest mortgage bond issuer.
The proposal, which the Basel Committee says is open to revision before the 2018 deadline, treats highly-rated sovereign bonds as the most valuable debt and requires banks to limit what it calls Level 2 debt, including covered bonds, to 40 percent of liquid assets. The committee also suggests Level 2 assets should be listed at 85 percent of their market value. About one third of Denmark's mortgage bonds are held by the country's banks.
'Basel Will Understand'
"I expect that the Basel Committee will understand and come up with a solution, but if there were no changes to these proposals, there would be quite serious consequences for the Danish covered bond market," said Jesper Berg, senior vice president and head of regulatory affairs at Copenhagen-based Nykredit A/S, Denmark's biggest issuer of mortgage-backed covered bonds, in an interview. "The interest rate on covered bonds would increase to attract new buyers."
The 40 percent rule means "there will be hard competition for government bonds and that could influence the covered bond market and make it less attractive," said Kristian Vie Madsen, assistant director general at the Danish Financial Supervisory Authority, in an interview.
Trading in Denmark's covered bonds -- securities backed by the cash flow from a pool of mortgage loans -- rose during the financial crisis, both in the total value of securities traded and in the median size of individual trades, according to the Copenhagen-based central bank. It was easier to trade short-term mortgage bonds than government notes, the bank estimates.
'Very, Very Safe'
"Our view on Danish mortgage bonds, as it's always been, is that they are a very, very safe investment," said Anders H. Svennesen, a portfolio manager and vice president at Denmark's biggest pension fund ATP, in an interview. "It's not as though, now that Basel III is coming, that we start thinking we might change our view on Danish mortgage bonds -- our stance is completely unchanged."
ATP has about 65 billion kroner ($11.1 billion) invested in Danish mortgage bonds, he said.
"Firstly, Danish covered bonds are actually liquid, and secondly, there are not enough government bonds in Denmark so the result will be more expensive loans and more financial instability," said Jan Knoesgaard, deputy director general at the Association of Danish Mortgage Banks, in an interview. "That is exactly the opposite of the aim of the proposal from the Basel Committee."
Negative Impact
Denmark's mortgage bond market is about 1 1/2 times the size of the country's economy and more than seven times the size of the government bond market, according to the central bank. Sweden's covered bond market is half the size of its economy, and more than twice the size its sovereign debt market. Denmark, which unlike Sweden isn't one of the Basel Committee's 27 members, has been one of the most vocal critics of the liquidity proposal.
"Requiring Danish financial institutions to hold such a very large proportion of the government bonds in circulation in a liquidity buffer would in itself negatively impact the liquidity of these bonds," the nation's central bank said.
Denmark's banks held more than six times as much mortgage debt at the end of 2008 as government bonds, according to Denmark's central bank. Sweden's FSA said an equivalent figure for its banks isn't available. Complying with the Basel Committee's current proposal would require Danish banks to plug a $35.6 billion gap in their balance sheets, according to the central bank.
Unlikely to Sell
Investors aren't likely to sell their mortgage bonds on the liquidity proposal just yet as "there's a sense in the market that Basel will listen," said Jacob Skinhoej, chief fixed-income analyst at Nordea Bank AB, the biggest Nordic lender.
Danish mortgage bonds returned 5.90 percent in the first eight months, compared with a 13.53 percent return on Denmark's government bonds with maturities longer than 1 year, data available on Bloomberg show.
According to Danske Bank's Soerensen, the final proposal, which is due to be thrashed out in Seoul in November, may be changed to allow covered bonds to make up as much as 75 percent of lenders' assets. "The process surrounding Basel III is by no means finished," he said.
Sweden's Financial Supervisory Authority has "been fighting hard" to persuade the Basel Committee to give covered bonds a bigger share in the liquidity buffer, said Lars Frisell, chief economist at the Stockholm-based regulator, in an interview.
"The property markets are so big in many European countries today that one can generally say that it's the same as having exposure to the state," Frisell said. "In practice, covered bonds are very close to the credit risk that exists in government bonds."
Denmark's central bank and financial watchdog in an Aug. 23 joint statement said the Basel Committee must revisit its liquidity proposal, otherwise the rule is "more likely to increase the risk of instability in the Danish financial system and thus run counter to the overall aim of the reform package."