Delta May Revive NYC Bid as Southwest Enters Newark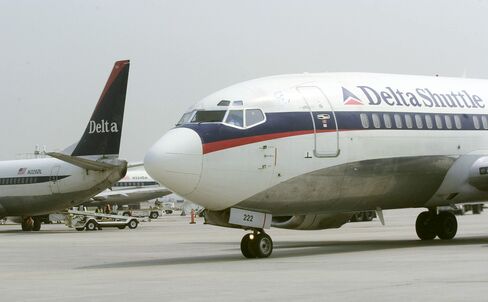 Delta Air Lines Inc. may revive its bid to bulk up at New York's LaGuardia airport after Southwest Airlines Co., the largest discount carrier, won the right to add service at nearby Newark, New Jersey, three analysts said.
Southwest's expansion, announced last week, broadens competition in the busiest U.S. aviation market, said Helane Becker, an analyst at Dahlman Rose & Co. in New York. That opens the door for Delta to renew its case for more LaGuardia flight slots under a swap with US Airways Group Inc., she said.
New York is pivotal for Delta, which uses LaGuardia as a base for domestic flights and has an overseas hub at Kennedy airport. Delta and US Airways said in July they wouldn't pursue their trade after the Federal Aviation Administration said they had to cede some operating rights to rivals. Southwest was excluded and urged regulators to kill the deal.
"Southwest is happy about Newark," Becker said. "Now Delta and US Airways could go back to the FAA and say 'Look, Southwest got what it wanted, so let us try again.'"
A Delta spokesman, Trebor Banstetter, wouldn't discuss the airline's LaGuardia strategy beyond saying that the Atlanta- based carrier is appealing the FAA decision. US Airways' Jim Olson said: "We're continuing to pursue our appeal."
What's new since Delta and US Airways walked away from their plan on July 2 is Southwest's move into Newark. Dallas- based Southwest said Aug. 27 it would receive slots for 18 daily round trips there as UAL Corp.'s United Airlines and Continental Airlines Inc. scaled back to win approval of their merger.
'New Fact'
"It's certainly a new fact that should be taken into consideration," said Jim Corridore, a Standard & Poor's equity analyst in New York.
Flights are capped at LaGuardia and Washington's Reagan National, so carriers must swap slots in order to grow. Delta, the biggest airline at LaGuardia, proposed in March getting 110 new flight slots there in exchange for giving 37 slots to US Airways at Reagan, along with routes to Tokyo and Sao Paulo.
The FAA wanted Delta and Tempe, Arizona-based US Airways to make available 34 pairs of takeoff and landing slots to carriers with little or no service at LaGuardia or Reagan, saying the airports needed more competition. The 2 airlines offered 19 1/2 pairs and chose recipients including AirTran Holdings Inc. and JetBlue Airways Corp. Southwest wasn't on their list.
Delta and US Airways may seek a settlement with regulators to keep more flights on the grounds that Southwest's new slots at Newark enhanced New York-area competition, said William Swelbar, a research engineer at Massachusetts Institute of Technology who specializes in airline economics.
'No Doubt'
"Those conversations will happen, there is no doubt about that," Swelbar said.
Bill Mosley, a Transportation Department spokesman, declined to comment on the matter because of the ongoing litigation.
Southwest, which has failed to obtain space for more than eight daily flights at LaGuardia, is "still very interested in getting more slots" there should they become available, said Beth Harbin, a spokeswoman. The airline has declined to disclose the terms of the Newark transaction.
Delta rose 9 cents to $10.46 at 4:01 p.m. in New York Stock Exchange composite trading, while US Airways gained 17 cents, or 1.9 percent, to $9.04. Southwest climbed 6 cents to $11.05.
Swelbar said other airlines are watching the Delta-US Airways appeal because the outcome will set a precedent for future attempts at slot trading, he said.
'So Altered'
"The terms of the Delta-US Airways deal were so altered that it raised the question as to whether these slots are the property rights of the owners or not," Swelbar said. "We still don't know. If Delta and US Airways win that appeal, it would be a tremendous win for the whole industry."
The two airlines also may argue that while they couldn't pick which carriers received their divested slots, the U.S. Justice Department let merger partners United and Continental do so with Southwest, said Bert Rein, a partner at Wiley Rein LLP in Washington who specializes in antitrust and aviation law.
Winning a court appeal isn't a sure thing, he said. Nor is it clear that the FAA would see Southwest's new slots at Newark as injecting enough competition to temper Delta's No. 1 position at LaGuardia, he said.
"Even though the two airports compete and overlap, I don't know if the FAA is going to say 'Good enough,'" Rein said. "They may still be worried about airport dominance."
Before it's here, it's on the Bloomberg Terminal.
LEARN MORE