Blair Says Bank of England Independence His Idea, Not Brown's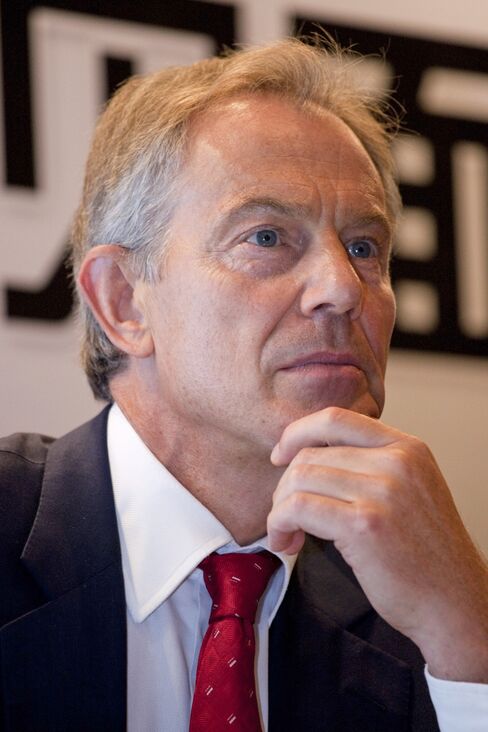 Former U.K. Prime Minister Tony Blair said giving independence to the Bank of England in 1997 was his idea, not that of his chancellor of the exchequer, Gordon Brown, who succeeded him as prime minister.
"When I suggested it, he readily agreed," Blair, 57, wrote in his memoir "A Journey," published by Random House today. "I allowed Gordon to make the statement and indeed gave him every paean of praise and status in becoming the major economic figure of the government. In truth, too, as with the Bank of England independence, the broad framework of the economy, never mind anything else, was set by me."
Brown, 59, has often pointed to the decision to give the central bank control over monetary policy as one of his greatest achievements. The step, taken immediately after Blair led the Labour Party to victory in the 1997 election, made it impossible for governments to cut interest rates to gain support before future votes and coincided with the start of a period of low and stable rates in Britain.
The step also helped convince investors that Blair's party could be trusted with the economy after previous Labour administrations presided over a series of crises. Harold Wilson was forced to devalue the pound in 1967 and in 1976, the previous time Labour was in power, James Callaghan had to turn to the International Monetary Fund for assistance.
Blair said he let Brown make the announcement because he wanted his chancellor to be a "big beast" who was respected as a statesman. He said this had the "unfortunate and long-lasting consequence" that people came to think Blair had no control over economic policy.
Blair's comments may disappoint Ed Balls, an adviser to Brown during the run-up to Labour's 1997 election win and now a contender for the Labour leadership. Balls wrote a pamphlet for the Fabian Society, a research group linked to Labour, in 1992 advocating independence for the central bank.
Blair "probably knows that Bank of England independence was one of the defining achievements of his first term in government and, I don't know, maybe he'll give me a thumbs-up for that one," Balls said in an interview last week.
Before it's here, it's on the Bloomberg Terminal.
LEARN MORE