Treasuries Rise, Oil Slips as Fed Saw Growth Risks; Stocks Gain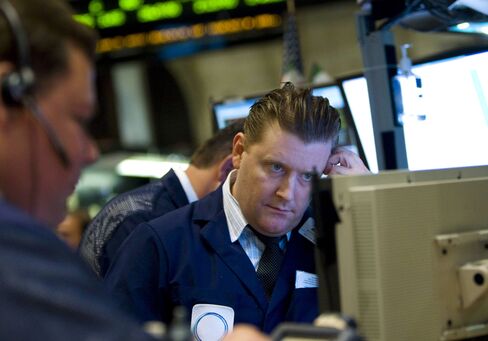 Treasuries rallied, extending the biggest monthly gain for the 10-year note since the end of 2008, and commodities slid as the Federal Reserve said some policy makers saw greater risks to the economic recovery. U.S. stocks rose, trimming the largest August slump in nine years.
The 10-year Treasury yield slipped 6 basis points to 2.47 percent at 4:33 p.m. in New York. Oil tumbled below $72 a barrel. The Standard & Poor's 500 Index rose less than 0.1 percent to 1,049.33, reducing its August slide to 4.7 percent. The dollar pared losses versus the euro and extended declines versus the yen after the Fed released the minutes of its last meeting.
U.S. equities pared earlier gains as the minutes disappointed investors speculating the central bank would resume "quantitative easing," or the purchase of debt to safeguard the economic recovery. Ten-year Treasuries extended their advance as the minutes showed some Fed officials saw "increased downside risks" to economic growth and inflation.
"Investors unfortunately keep looking to the Fed for help," said Richard Sichel, who oversees $1.4 billion as chief investment officer at Philadelphia Trust Co. "The words were more guarded this time from the Fed. You want to be reminded that they're there and will step in if they need to, that the Fed is trying to give a little extra direction to the economy and using money wisely."
More than $2 trillion has been wiped off the value of global equities since the Fed said Aug. 10 that the pace of U.S. economic recovery will likely be "more modest" than forecast.
Dow Leaders
AT&T Inc. and JPMorgan Chase & Co. gained at least 1.4 percent to lead the Dow Jones Industrial Average higher. Financial companies pulled the S&P 500 to a gain after dropping as much as 0.8 percent earlier.
Benchmark indexes rallied this morning after the Conference Board's confidence index increased to 53.5, rebounding from a five-month low and suggesting the biggest part of the economy may avoid a slowdown. Homebuilders advanced after the S&P/Case Shiller index of home prices in 20 U.S. cities climbed a more-than-forecast 4.2 percent in the second quarter.
Financial stocks in the S&P 500 rose 0.9 percent collectively after the Federal Deposit Insurance Corp. said U.S. lenders posted their biggest quarterly profit in almost three years, even as the number of banks at risk of failure rose to 11 percent of insured institutions. Bank profits totaled $21.6 billion in the second quarter, up from $18 billion in the first quarter, the FDIC said.
Treasury Yields
The 10-year note yield had an August drop of 43 basis points, the biggest monthly decrease since December 2008, when the yield fell 71 basis points after the Fed cut its target lending rate to a range of zero to 0.25 percent. The yield touched 2.42 percent on Aug. 25, a 19-month low.
Two-year note yields fell 2 basis points to 0.469 percent, within 4 basis points of a record low reached on Aug. 24, before reports this week forecast to show employers cut payrolls for a third month and manufacturing growth slowed.
Treasuries rallied on Aug. 10, when the Fed said it would purchase U.S. debt securities to keep the central bank's portfolio from shrinking as its mortgage bonds mature to support the economic recovery.
German Bunds
The 10-year German bund yield slipped 2 basis points to 2.1 percent. German government bonds were headed for their best month since November 2008, rallying 3.8 percent, according to indexes compiled by Bank of America Corp.'s Merrill Lynch unit. U.S. notes returned 1.7 percent, while U.K. gilts earned 4.2 percent.
The Markit CDX North America Investment Grade Index, which investors use to hedge against losses on corporate debt or to speculate on creditworthiness, rose 0.7 percent to a mid-price of 114.27 basis points. It earlier rose to 115.18 basis points, the highest since July 7. The index typically rises as investor confidence deteriorates and declines as it improves.
Oil for October delivery plunged $2.78, or 3.7 percent, to $71.92 a barrel on the New York Mercantile Exchange, the biggest drop since June 4. Prices have tumbled 8.9 percent this month and have risen 2.8 percent in the past year.
The dollar weakened 0.1 percent to $1.2680 per euro after earlier sliding 0.6 percent to $1.2743. The U.S. currency retreated 0.8 percent to 83.94 yen.
The Swiss franc strengthened against all 16 major peers, rallying as much as 1.1 percent against the euro. The yen rose against all its peers except the franc.
New Zealand Dollar Slumps
The New Zealand dollar weakened against all 16 major counterparts, losing at least 1.6 percent versus the euro, yen and Swiss franc, after South Canterbury Finance Ltd., a lender to small businesses and farms, filed for receivership. The so-called kiwi declined 1.4 percent to 69.7 U.S. cents after the government said it would repay all the bank's depositors in the country's biggest bailout under its state guarantee program.
Soybeans fell the most in more than a week on speculation that Chinese and U.S. demand is slowing after prices rose as much as 16 percent since the end of June. Corn fell for the first time in four sessions.
Copper futures for December delivery fell 5.65 cents, or 1.7 percent, to close at $3.37 a pound on the Comex in New York, the biggest drop for the contract since Aug. 11.