Apple Said to Plan Netflix Service on New TV Product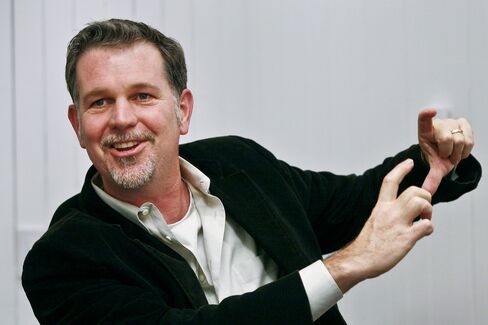 Apple Inc., preparing to announce a new set-top box that delivers video to consumers' TVs, will include programming from Netflix Inc., according to three people with knowledge of the plans.
The streaming service would be available on the revamped version of Apple TV, due to be introduced tomorrow in San Francisco, said two of the people, who asked not to be identified because the plans haven't been made public. Users would pay a subscription fee to Netflix for the service, the people said.
Programming from Netflix may enhance the appeal of a product that has been called a "hobby" by Apple executives and hasn't resonated widely with consumers. The Cupertino, California-based company is due to release a $99 version of Apple TV, $130 less than the current model, people familiar with the plans said last week.
Netflix, which distributes TV shows and movies by mail and online to subscribers starting at $8.99 a month, has provided a free downloadable application to users of Apple's Macintosh and iPad computers. On Aug. 26, it released new apps that let subscribers stream shows to the iPhone and iPod Touch.
Netflix, based in Los Gatos, California, rose 2 percent in extended trading. It had gained $2.42 to $125.52 by 4 p.m. in Nasdaq Stock Market trading. Apple gained 60 cents to $243.10.
Apple, at tomorrow's annual event devoted to music and media, will also introduce a revamped iTunes site and an upgraded iPod Touch that boasts a higher resolution screen, people said last week.
Netflix Adds Movies
Netflix, whose movie streaming service is available via TiVo Inc. players, video-game players and other Internet- connected devices, this month reached a deal to add movies and TV shows from the new pay-television channel Epix, starting Sept. 1.
Chief Executive Officer Reed Hastings will pay $900 million over five years for online rights to films from Viacom Inc.'s Paramount Pictures, Lions Gate Entertainment Corp. and Metro-Goldwyn-Mayer Inc. That made available more than 3,000 titles from the three studios.
More than 61 percent of Netflix's 15 million subscribers streamed movies and TV shows, the company said last month.
The company also streams films and TV shows from Liberty Media Corp.'s Starz pay-channel service, and select TV programs from CBS Corp.'s Showtime channel.
Time Warner Inc.'s HBO, which airs shows like "True Blood" and "Entourage," has said it won't provide its TV shows to Netflix. HBO also controls the online rights to movies from Warner Bros., Twentieth Century Fox and Universal Pictures.
Before it's here, it's on the Bloomberg Terminal.
LEARN MORE