Afghan Police's Lack of Guns and Gas Shows U.S. Exit Plan Flaw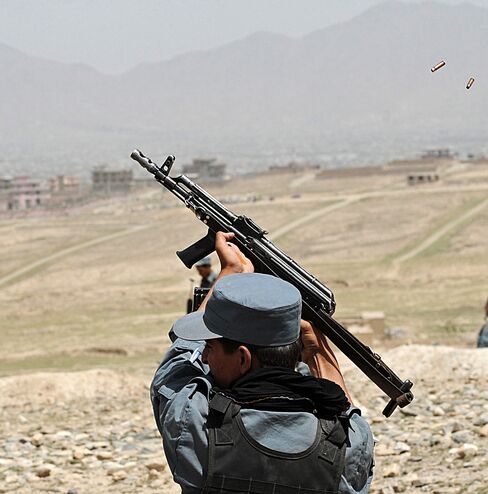 Sept. 1 (Bloomberg) -- The Afghan police unit rated best by U.S.-led forces last year now can't function on its own and has ceded up to half its district to the Taliban, showing how hard it will be for U.S. troops to carry out a planned withdrawal.
Only half of 285 policemen at Baghlan-e-Jadid in northern Afghanistan received U.S.-sponsored training, at least 40 percent are illiterate and their Kalashnikov rifles are too few, often jam and lack ammunition, district police chief Amin Mangal said in an interview at his office July 28. Each police vehicle gets five liters (1.25 gallons) of gasoline a day to help patrol 2,200 square kilometers (850 square miles) of mountainous terrain, he said.
While U.S. mentors last year rated the police unit capable of independent operations, now "our capabilities are very low," and Taliban dominate between 30 percent and 50 percent of the district, Mangal said.
Such deficiencies buttress a U.S. general's statement Aug. 23 that Afghan police and troops won't be ready to take over security next July when President Barack Obama has vowed to begin removing soldiers. At best, by October 2011, Afghan forces "in small, isolated pockets" might "have the lead, with coalition enablers supporting them," Army Lieutenant General William Caldwell, who oversees their training, told reporters at the Pentagon.
A Defense Department auditor says the U.S. has spent more than $25 billion over eight years, half of its reconstruction funding for Afghanistan, to build the police and army.
'Lose a War'
Flaws in that effort have left the Afghan forces weak, and mean the U.S. and its allies may "lose a war they had once won," said a July draft report by Anthony Cordesman of the Washington-based Center for Strategic and International Studies.
In Baghlan-e-Jadid, a mountainous farming district centered 275 kilometers (170 miles) north of Kabul that is part of a key transport corridor, the recent arrival of 450 Afghan troops means there is one policeman or soldier for every 211 of the 155,000 residents.
Suppressing armed conflict and building governance -- as in Bosnia, Kosovo and Northern Ireland -- typically has required one such "force provider" for every 20 residents, according to James Quinlivan, an analyst at the Santa Monica, California-based RAND Corporation.
Afghanistan's police face an extra burden after President Hamid Karzai said Aug. 17 the force must take over protection of foreign embassies and offices in Kabul from private security firms that he ordered closed.
Training Mission
While the 10-month-old project headed by Caldwell, the NATO Training Mission-Afghanistan, "is already far more effective than in the past," it has too few resources and "may require one or two extra years" to meet even preliminary U.S. goals toward Afghan forces taking over, Cordesman wrote.
Caldwell says his mission has exceeded this year's target for expanding Afghan security forces even though it remains short of trainers.
DynCorp International Inc., based in Falls Church, Virginia, is the largest provider of civilian trainers to the North Atlantic Treaty Organization's police-building program, the mission's spokesman, U.S. Air Force Major Lindsay Logsdon, said in an e-mail. He and DynCorp spokeswoman Ashley Burke said they had no current information on the state of the Baghlan-e-Jadid police force.
Baghlan province, where Afghanistan's main north-south highway crosses the Hindu Kush mountain range, is critical in plans to develop a trade route between Central Asia and the Indian Ocean, and make the country a center for mining.
Taliban 'Taxes'
Afghanistan has discussed with Beijing-based Metallurgical Corp. of China Ltd. building a railroad through Baghlan that would export copper ore from the Aynak mine south of Kabul, former Transport Minister Hamidullah Farooqi said in May.
After fighting almost entirely in the south for seven years, the Taliban since 2008 have moved north into Baghlan, levying "taxes," killing government officials, and forcing cellular companies to shut networks at night to keep residents from reporting fighters' movements to authorities.
The U.S. Army's 10th Mountain Division, part of Obama's strengthened force, this year began patrols in the province. American-led forces said May 29 that they killed the Taliban's chief representative in the province in an air strike in Baghlan-e-Jadid.
The district's police passed the U.S.-led training program in 2008 and became the first unit to win the top rating from mentors, meaning it was judged capable of basic operations with little or no support from U.S.-led forces, said a June 29 Defense Department auditor's report. After the unit held that grade for nine months, advisers were withdrawn in June 2009.
Unstable Leadership
Baghlan's police suffer unstable leadership because of power struggles among ethnic Pashtun and Tajik clans that have seen 10 provincial governors and numerous police chiefs appointed in nine years, said Fabrizio Foschini of the Afghanistan Analysts Network, a research group in Kabul. Clan-based militias defy government authority with roadblocks at which they extort money from travelers, merchants and nomads moving their herds, Foschini said.
Many police are corrupt and "take bribes from powerful families to settle disputes in their favor," said Khwaja Mohammed Dawood, 43, a Pashtun tribal leader in Baghlan-e-Jadid. U.S. officials say they are fighting police corruption with a 38 percent pay increase last year and literacy training for officers.
To contact the reporters on this story: Eltaf Najafizada in Kabul at enajafizada1@bloomberg.net; James Rupert in New Delhi at jrupert3@bloomberg.net
To contact the editor responsible for this story: Bill Austin at billaustin@bloomberg.net